What is the National Airline of Canada?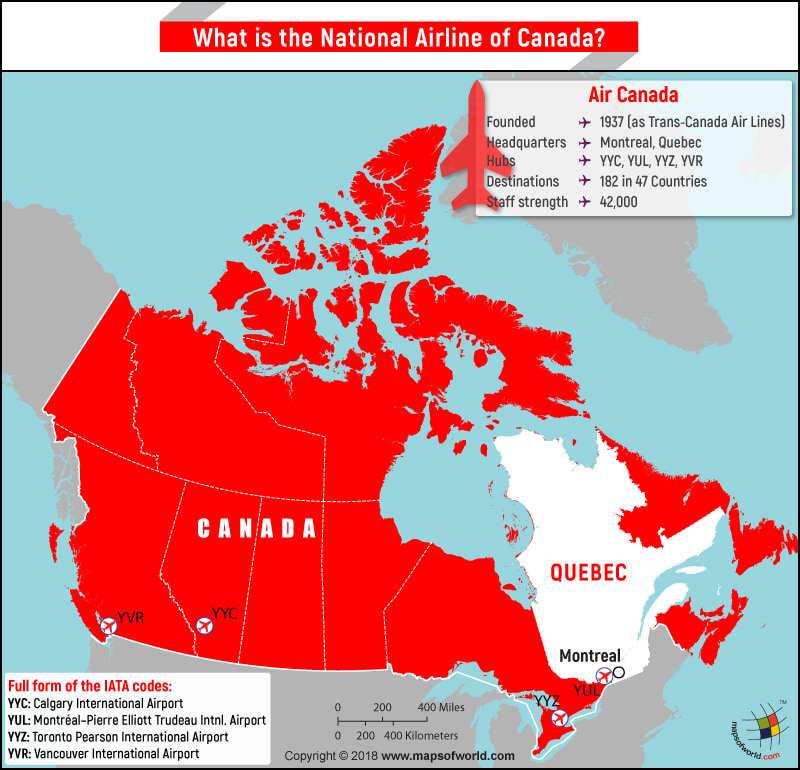 Air Canada is the flag carrier of Canada.
Air Canada, which is the country's largest airlines in terms of the number of passengers carried as well as the fleet size, is headquartered in Montreal, Quebec, Canada. The airline has a fleet of 403 aircraft, which makes it the eighth-largest passenger airline in the world by the number of aircraft. Currently, the airline flies to 182 destinations in 47 countries.
The airline was established in 1937 as Trans-Canada Air Lines and was headquartered in Winnipeg in the province of Manitoba. In 1949, the government shifted the headquarters of the airlines to the present location of Montreal. The airline witnessed rapid expansion, and by 1964 had become the national airline of the country. Following the passing of a bill, on January 1, 1965, the name of the airlines was changed to Air Canada.
Today, Air Canada is a leading airline and as per the SKYTRAX 2017 World Airline Awards, and is ranked 29th out of the top 100 airlines.
Air Canada provides high-quality and comfortable service to its customers through its wide range of aircrafts. The airline provides long-haul and short-haul services and uses different aircrafts for both mediums of transport. On its long-haul routes, Air Canada uses Boeing 777, Airbus A330, Boeing 787, and Boeing 767 aircraft. For the short-haul routes, the Airbus A320 family of aircraft, and the Embraer E190 family of aircraft are used. The airlines also provide cargo, leisure travel packages, and other services through its subsidiaries, which include Air Canada Cargo, Air Canada Express, Air Canada Rouge, and Air Canada Vacations.
Visit the following to learn more about Canada:
Related Maps: