Where are the Best Amusement Parks Around the World Located?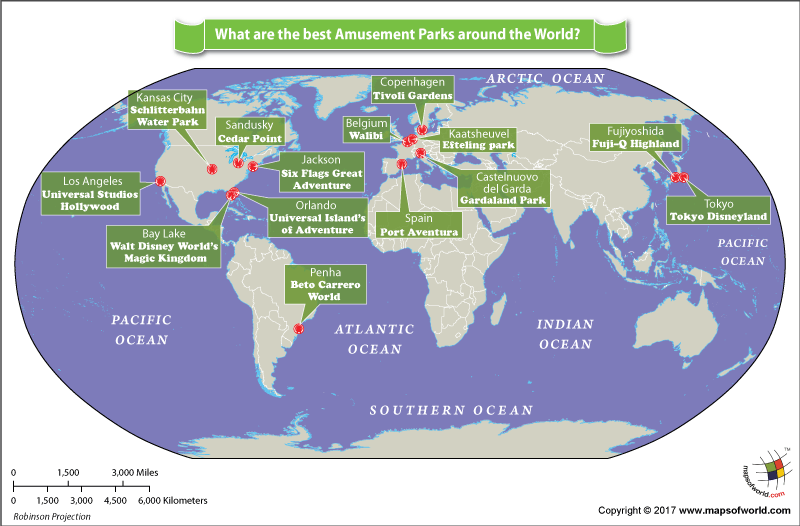 If you are an adrenaline seeker and thrill is in your blood, or the world of fantasy and magic excites you, then heading to some of the breathtaking amusement parks around the world is your best bet. Amusements parks globally are one of the major attractions for a city and help in attracting tourists from all over the world, hence this ever-growing demand pushes the boundaries of many theme parks, and pressures the amusement park industry to explore and innovate new concepts year after year.
According to the International Association of Amusement Parks and Attractions (IAAPA), the average guest demographic of theme parks are families with children from two to 18 years of age. Orlando, Florida, site of Wrestle Mania 33 this past year, seems to be the most likely destination given its affinity for tourism and attractions. Orlando brought in 68 million visitors in 2016. Euro Disney, near Paris, is Europe's most-visited tourist attraction with 14.8 million visitors last year. Surprisingly, a significant amount of this foot traffic comes from business travelers, as it is the fifth-largest convention facility in France. The resort hosts around 850 corporate events each year with clients including food giant Nestlé, Air France, and McDonald's. Asia has exceeded North America to become the world's largest theme park market in attendance, and the region is expected to attract 540 million visitors by 2019. Total spending at parks, although behind North America, is projected to increase from $16 billion to $20 billion over the same period. China's park spending accounts for over a fourth of Asia's spending this year and is pegged at $6 billion in 2019, making it the fastest growing market in the area, although still second to Japan in size.
Preliminary estimates indicate the successful Asian Attractions Expo (AAE) 2017 in Singapore, attracted more than 7,500 participants, including 5,100 qualified buyers and 375 exhibiting companies. The continued growth of the attractions industry within the Asia-Pacific region was evident at the Expo. More than 50% of the buyers attended AAE for the first time. Participation in education sessions nearly doubled from 2016 and the event featured the second largest trade show floor in event history at 100,000 square feet. Based on this high demand, and the ever-growing scope of amusement parks globally, we give you a lowdown on some of the best amusement parks around the world and where are they located:
What: Universal Studios Hollywood
Where: Los Angeles, California
Highlight: The Wizarding World of Harry Potter
What: Universal Islands of Adventure
Where: Orlando, Florida
Highlight: Wizarding non-alcoholic beverage, butterbeer
What: Tokyo Disneyland
Where: Tokyo, Japan
Highlight: "Minnie Oh! Minnie" Show and a dinner theatre production called "Mickey & Company."
What: Cedar Point
Where: Sandusky, Ohio
Highlight: 17 roller coasters
What: Port Aventura
Where: Spain
Highlight: Historic Civilization including King Khajuna and highest fall slide in Europe.
What: Tivoli Gardens
Where: Copenhagen, Denmark
Highlights: Tivoli Symphony Orchestra, amusement arcades, Tivoli festival and Jackpot aquarium.
What: Walibi
Where: Belgium
Highlights: The staggering Werewolf, Vampire and Dalton terror, Fibi's bubble swirl flashback, Flying carpet, Gold river adventure, Challenge of Tutankhamon, Haaz Garage and Squad taxi.
What: Walt Disney World's Magic Kingdom
Where: Bay Lake, Florida
Highlight: The Kingdom of Disney
What: Fuji – Q Highland
Where: Japan
Highlight: The majestic coaster
What: Efteling park
Where: Kaatsheuvel, Netherlands
Highlight: Baron 1898 dive coaster where a three-row train bolts down a 123-foot, 90-degree drop into a mineshaft
What: Beto Carrero World
Where: Penha, Brazil
Highlight: The action-packed stunt car show inspired by the film 'The Fast and the Furious.'
What: Gardaland Park
Where:  Castelnuovo del Garda, Italy
Highlight: Kung Fu Panda Master Coaster
What:  Schlitterbahn Water Park
Where: Kansas City, USA
Highlight: Uphill water coaster ride
What: Six Flags Great Adventure
Where: Jackson, New Jersey
Highlight: 4D free spin Coaster called The Joker
The oldest operating amusement park in the world is Bakken, in Klampenborg, Denmark which opened in 1583. The oldest in the U.S. is Lake Compounce in Bristol, Conn., which opened in 1846. But we have chosen to pick a variety of amusement parks from different countries all over the world so as to show the high demand for such theme parks.
Note for Map: Each State and City mentioned under Where Category. Apart from that the location of AAE which is Singapore. Klampenborg, Denmark, and Bristol, Conn where the oldest amusements parks are located.
Related Maps and Info: