Which US State has Produced The Most Presidents?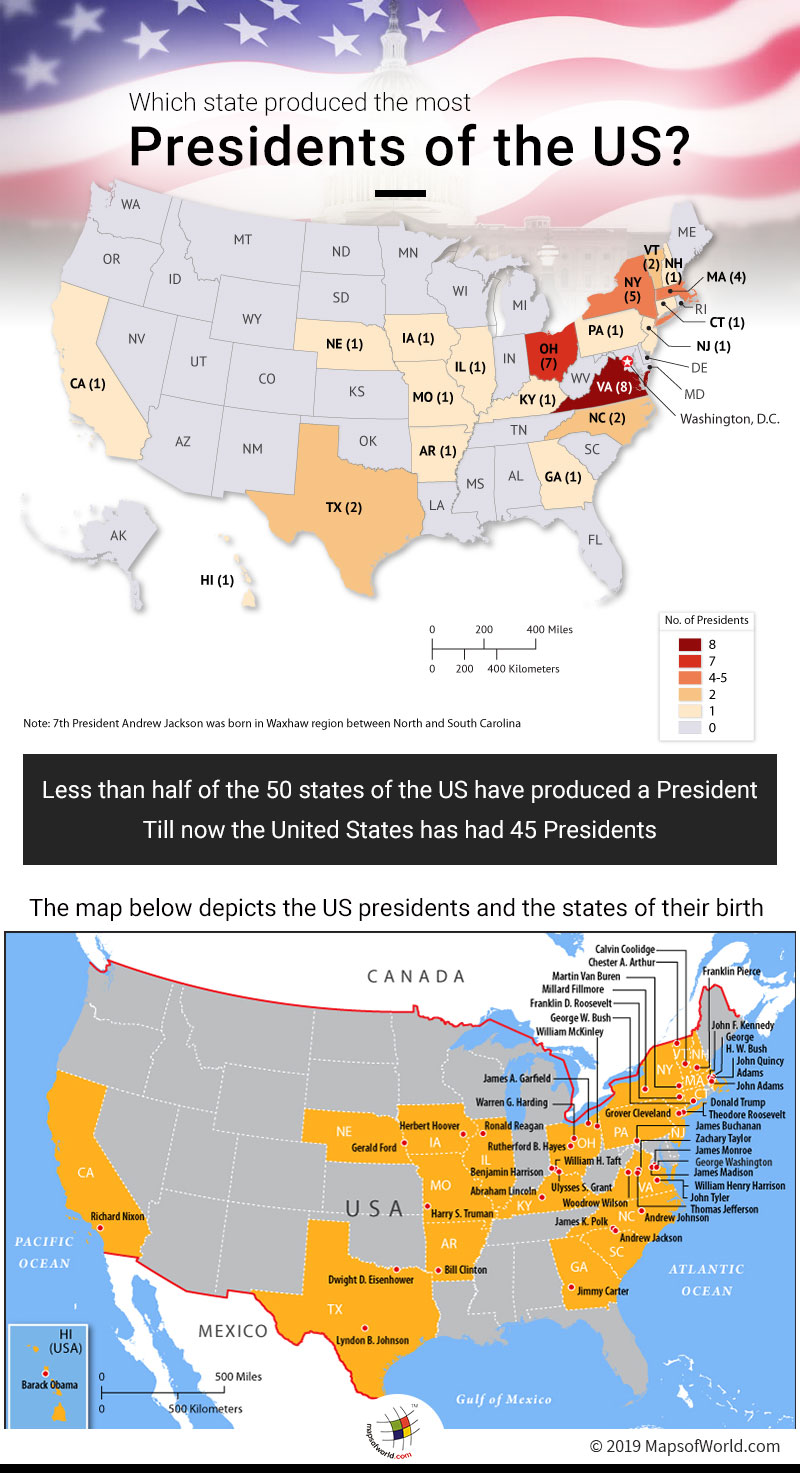 The United States is a huge nation comprising 50 states and a federal district, apart from self-governing territories and possessions. But, only less than half of these states have produced a president. Till now the United States has had 45 presidents. While many states have produced just one president, one state has been the birthplace of eight presidents of the country.
Which State Has Produced the Most Presidents?
As of 2019, Virginia has produced the most presidents. The state has been the birthplace of eight presidents, including the first president of the United States, George Washington who was in office from 1789 to 1797. The other seven presidents who were born in Virginia include Thomas Jefferson (1801 to 1809), James Madison (1809 to 1817), James Monroe (1817 to 1825), William Henry Harrison (March 4, 1841 to April 4, 1841), John Tyler (1841 to 1845) Zachary Taylor (1849 to 1850) and Woodrow Wilson (1913 to 1921). Woodrow Wilson is the only President of the 20th century who was born in Virginia. These presidents have been instrumental in establishing the US as a major power.
Ohio is close behind Virginia and has been the birthplace of seven presidents who have played a significant role in the development of the nation. These include Ulysses Grant (1869 to 1877), Rutherford Hayes (1877 to 1881), James Garfield (March 4, 1881 to September 19, 1881), Benjamin Harrison (1889 to 1893), William McKinley (1897 to 1901), William Taft (1909 to 1913), and Warren Harding (1921 to 1923).
New York has been the birthplace of five Presidents, including the incumbent Donald Trump who was sworn into office in 2017. The other four presidents from New York are Martin Van Buren (1837 to 1841), Millard Fillmore (1850 to 1853), Theodore Roosevelt (1901 to 1909), and Franklin D Roosevelt (1933 to 1945). Roosevelt, who steered the country through the Great Depression and the World War II, is the only president in the history of the country to have served three terms.
Massachusetts has been the birthplace of four presidents, including the second president of the United States. John Adams was the second president of the United States and served from 1797 to 1801. The rest are John Quincy Adams (1825 to 1829), John F. Kennedy (1961 to 1963), and George H. W. Bush (1989 to 1993).
The map above depicts the US presidents and the states of their birth.
Related Map: