What country produces the most commercial vehicles?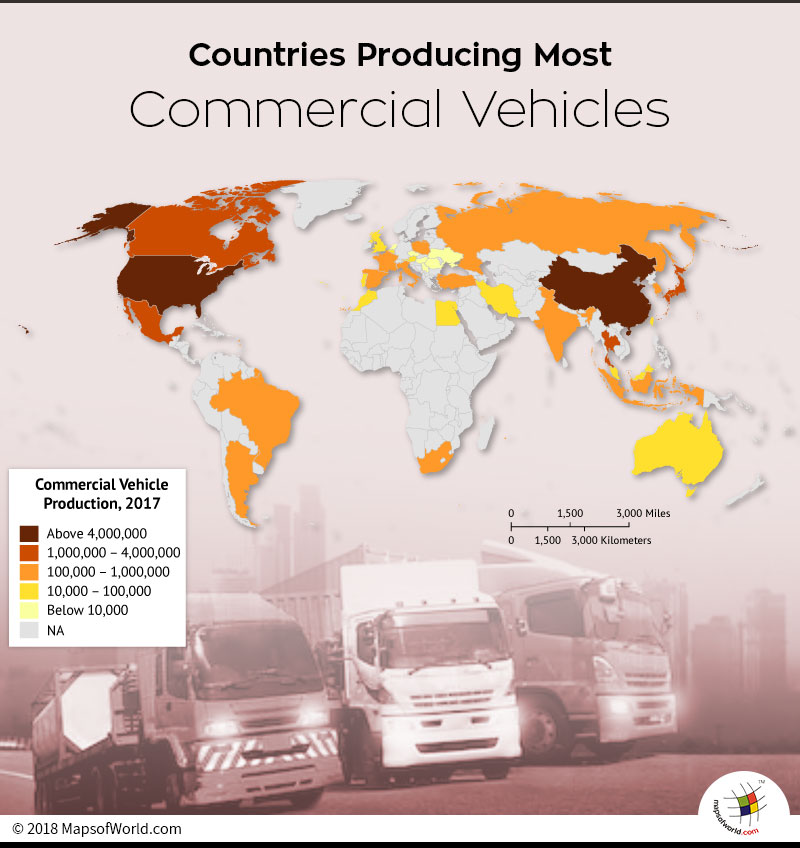 Commercial vehicles, that is, the bulky trucks that can be seen on the road, are imperative for the transportation industry. Playing a dominant role in small and big businesses around the world, these vehicles are an aid to economic growth. From the transport of light-packaged materials to heavy goods like fleet vehicles and cars, it's commercial vehicles that keep the markets running.
The classification of these vehicles is done based on gross vehicle weight rating (GVWR). It is a safety standard set to prevent the overloading of trucks and vans. Before its sale, the manufacturer needs to ensure the maximum acceptable weight of a truck. It is determined after considering the combined weight of components used in designing the vehicle, in accordance with frame, tires and suspension.
The size and weight of a truck can be lethal in case of an accident, because the average passenger vehicle can face a complete destruction in a collision. This could result in severe injuries, or death. The danger has prompted governments in different countries to set standards for the operation of these vehicles. For example, a person needs to have enough knowledge, a specialized license in commercial driving, and special training, before he or she attains to the responsibility of a driver.
The manufacture and sale of commercial vehicles is an ever-growing industry, and in 2017, its global production was more than 23 million. According to data by the International Organization of Motor Vehicle Manufacturers (OICA), the United States of America is the world's largest manufacturer. It produced 8,156,769 commercial vehicles in 2017. It is followed by China and Mexico, which produced 4,208,747 and 2,168,386 number of vehicles, respectively.
The table below gives an idea about the number of commercial vehicles produced in countries in the year 2017.
| | |
| --- | --- |
| Country | Commercial vehicles (2017) |
| United States of America | 8,156,769 |
| China | 4,208,747 |
| Mexico | 2,168,386 |
| Canada | 1,450,331 |
| Japan | 1,345,910 |
| Thailand | 1,170,383 |
| India | 830,346 |
| Spain | 556,843 |
| Turkey | 552,825 |
| France | 479,000 |
| Brazil | 430,204 |
| Italy | 399,568 |
| South Korea | 379,514 |
| South Africa | 268,593 |
| Argentina | 268,458 |
| Indonesia | 234,259 |
| Russia | 203,264 |
| Poland | 175,029 |
| Iran | 96,846 |
| United Kingdom | 78,219 |
| Taiwan | 61,207 |
| Portugal | 49,118 |
| Belgium | 43,140 |
| Malaysia | 35,260 |
| Morocco | 34,484 |
| Egypt | 26,670 |
| Austria | 18,880 |
| Australia | 10,437 |
| Czech Republic | 6,112 |
| Hungary | 3,400 |
| Netherlands | 2,280 |
| Ukraine | 2,246 |
| Serbia | 552 |
| Romania | 10 |
Know more:
Related maps: