Where are the Best Places in North Carolina to view the Total Solar Eclipse 2017?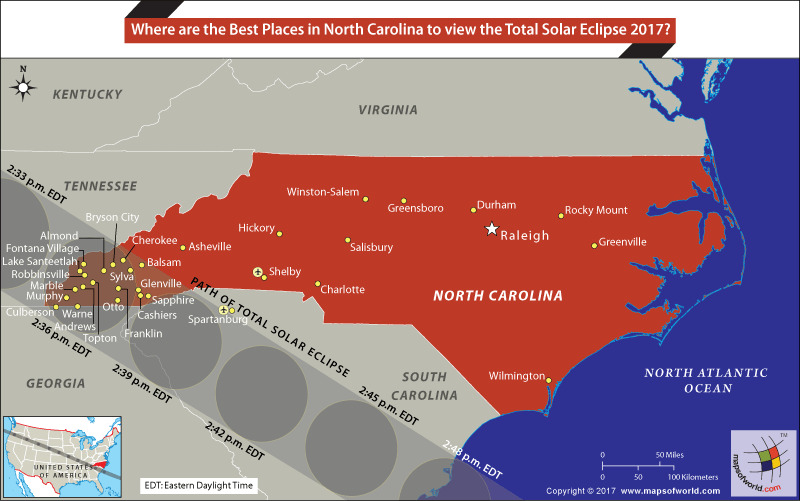 2017 Solar Eclipse Map North Carolina
The much-awaited Great American Eclipse, is a total solar eclipse that will be visible from many parts of the United States on August 21st 2017. Making its way from the Pacific Coast, the eclipse will travel across the contiguous US to reach North Carolina. Unlike other states, such as Oregon, Idaho, Wyoming, Nebraska, Missouri, Tennessee, and even South Carolina, the complete shadow of the moon is only visible from a small part of southwestern North Carolina.
Best Places in North Carolina to view the Total Solar Eclipse 2017
Almond
Andrews
Balsam
Brasstown
Bryson City
Cashiers
Cherokee
Coker creek
Culberson
Dillsboro
Fontana Village
Franklin
Glenville
Lake Santeetlah
Marble
Murphy
Otto
Robbinsville
Sapphire
Sylva
Topton
Warne
Webster
Passing through the part of the state that is wedged between Georgia, Tennessee, and South Carolina, the Great American Eclipse passes through Great Smokey Mountain National Park. Great Smoky Mountains National Park officials have announced an eclipse viewing event at Clingmans Dome. At an elevation of 6,643 feet, Clingmans Dome is the highest point of the park and the view from here is expected to be excellent.
Most of the other primary cities of the state do not fall in the path of total eclipse. If you are in any of the following cities, it would be wise to move closer to the path of totality to be able to witness the much-awaited celestial event.
Asheville
Charlotte
Durham
Greensboro
Hickory
Raleigh
Rocky Mount
Salisbury
Wilmington
Winston-Salem
The total solar eclipse first enters North Carolina at 2:33 pm EDT, and leaves the state at 2:49 pm EDT. Most of the places falling within the path of totality will be able to view the total eclipse between 1 minute, and 2 minutes 39 seconds. Andrews is on the centerline of the path of totality and will witness 2 minutes and 39 seconds of darkness. The moon's shadow will keep Franklin in the dark for about 2 minutes and 30 seconds.
Shelby-Cleveland County Regional Airport in Shelby (NC) and Greenville-Spartanburg International Airport (SC) are closest to the eclipse path in the state.
Related Maps: