Where are the Best Places in Illinois to view the Total Solar Eclipse 2017?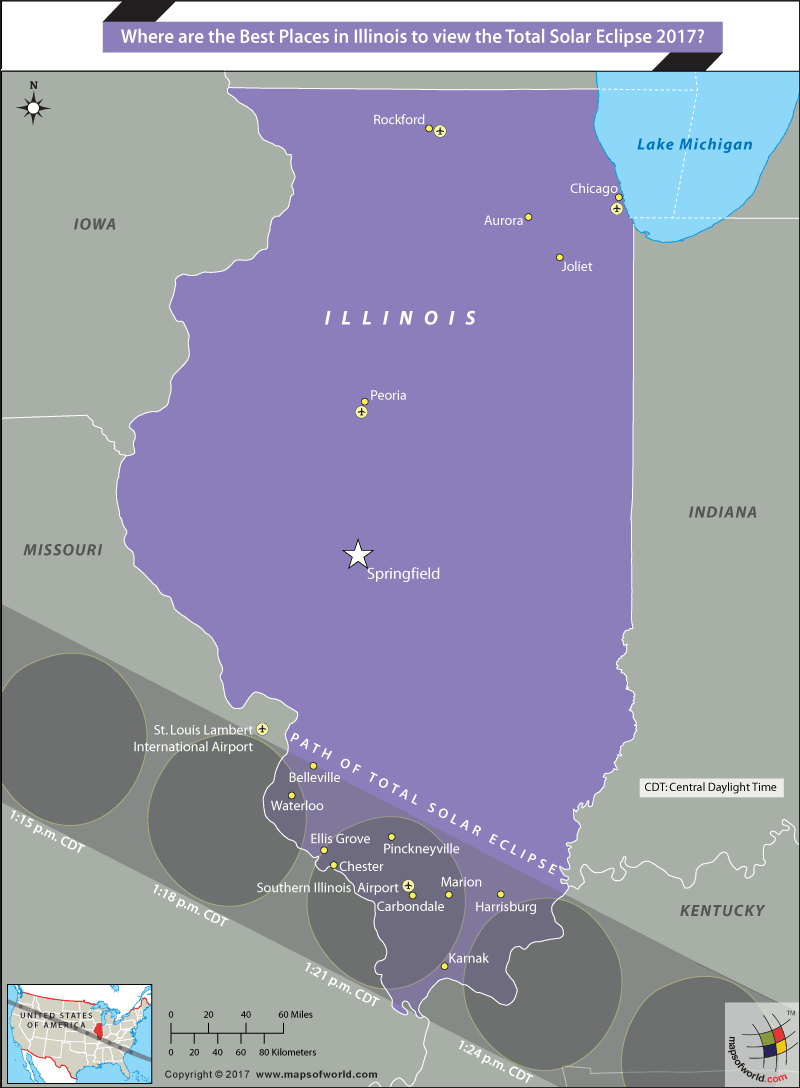 2017 Solar Eclipse Map Illinois
The Great American Eclipse is a total eclipse of the sun that will be visible from many states in the contiguous United States on August 21st, 2017. The last time a total eclipse of the son was visible from the US was in 1991 (visible only from Hawaii). In 1979, the last solar eclipse visible from continental US occurred and it was about a century ago in 1918 that a total solar eclipse made its way across from the Pacific coast to the Atlantic coast. Going through the midwest, the 70 mile wide path of totality passes through the southern part of Illinois state. Those in the northern counties of Illinois may miss the eclipse altogether and those in the center may be able to witness a partial eclipse. If you wish to witness the glorious spectacle of a total solar eclipse head south to the following cities, towns, and communities –
Belleville
Carbondale
Chester
Ellis Grove
Harrisburg
Karnak
Marion
Pinckneyville
Waterloo
The Great American Eclipse will be visible in Illinois between 1:18 pm CDT and 1:24 pm CDT for between a minute and 2 minutes 41 seconds depending on where you are. The Southern Illinois Airport in Jackson County (IL) and the St. Louis Lambert International Airport (MO) serve the region that falls in the path of the total eclipse. While the airport in St. Louis is in the state of Missouri, East St. Louis is in southern Illinois, across the Mississippi River, and also falls in the path of totality making it a very convenient location in the state to watch the eclipse from.
Southern Illinois has a number of places that hold great attraction for the adventurous traveler. Here are some of these attractions that you may not want to miss –
Cahokia Mounds State Historic Site
Cedar Bluff, Drapers Bluff
Jackson Falls
Fountain Bluff
Mermet Springs
Giant City
Southern Illinois Wine Trail
Related Maps: