Why is the 4th of July Independence Day in the US?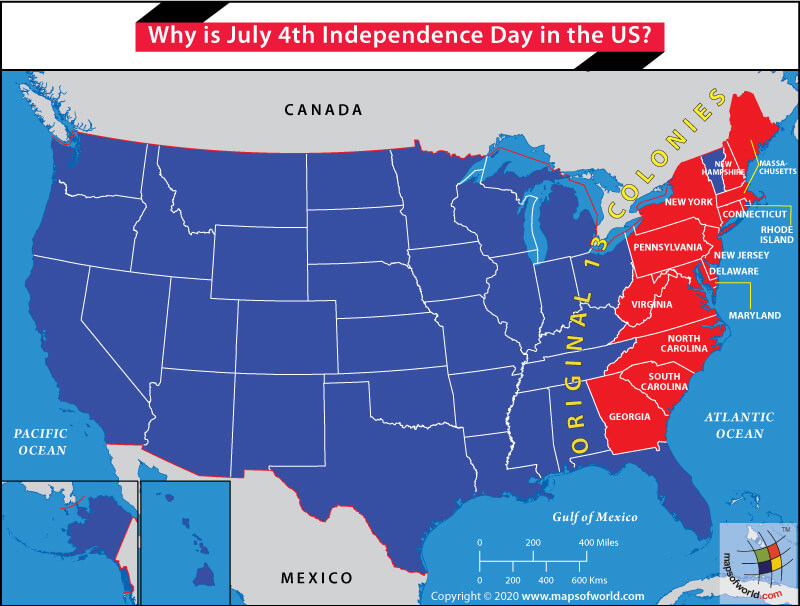 4th July is celebrated as the Independence Day in the United States. It is a commemoration of the Declaration of Independence which was adopted by the Continental Congress on July 4th, 1776. The Continental Congress formed by the thirteen colonies declared the United States independent of the British Empire and its King. This heralded the creation of the United States of America as an independent country, despite the fact that the American Revolution continued for some time after this date. It is a day of immense historic significance in US history, and is celebrated each year with great enthusiasm across the country. The 4th of July is a national holiday and is marked by parades, firework displays, carnivals and picnics. To learn more, check 4th of July History.
The British colonization of the Americas began in the early 17th century. Between 1623 and 1732, the thirteen colonies came to be, they are: Connecticut, Delaware, Georgia, Maryland, Massachusetts Bay, New Hampshire, New Jersey, New York, North Carolina, Pennsylvania, Rhode Island and Providence Plantations, South Carolina, and Virginia. The British were not the only European power to colonize the Americas, but they gained considerable power in these colonies.
The colonies were highly dependent on agriculture, and the produce from the land directly benefited the colonizers. The resources of the colonies were ruthlessly exploited, and the British started to impose untenable taxes to meet their own financial needs. The colonies were also denied representation in the legislative process, and laws such as the Sugar Act were unilaterally passed. By 1765, the resentment against was British was boiling over, and combined with a growing sense of nationalism, triggered the American Revolution.
As the British further tried to suppress all dissent with might and restrictive laws, acts of violence and rebellion (such as the Boston Tea Party) increased. The First Continental Congress with members from the colonies met in 1774, and united in their grievances but did not demand independence at the time. By the time the Second Continental Congress convened in 1775, violence between the British and the colonies had already broken out. Armed with supplies from France and Spain, George Washington led the American forces against the British, and in 1776 the Declaration of Independence was adopted by the colonies.
July 4th, Independence Day, was celebrated in some form or other starting in 1777, but it wasn't until 1938 that the Congress declared it a paid federal holiday.
Related Links:
Related Map: