What are the Top 10 Countries with the Highest FDI Inflows?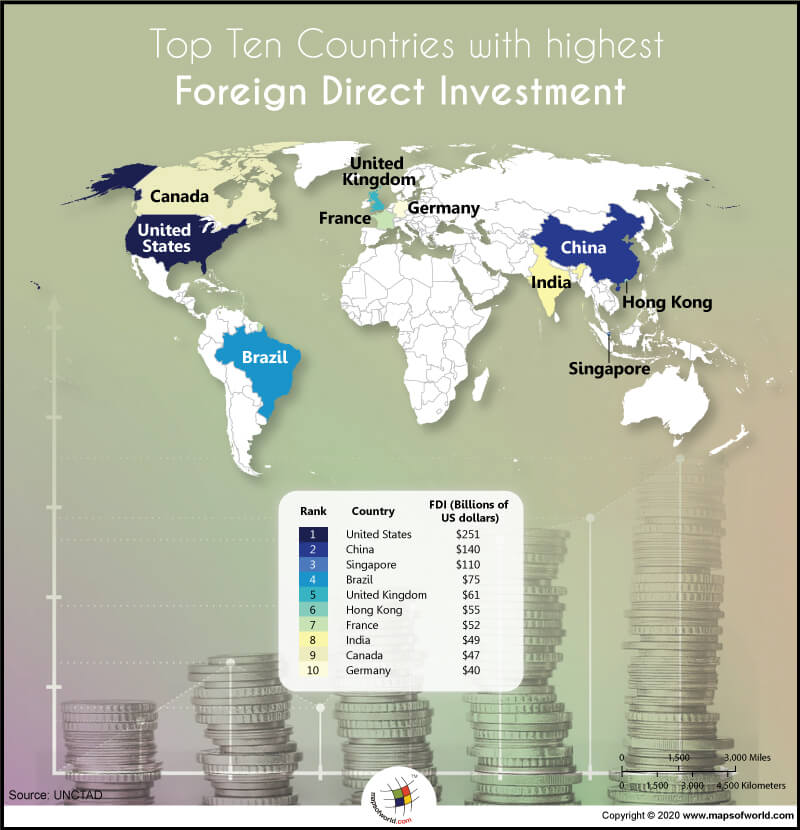 Currently, the global economy has been passing through uncertainty. The macroeconomic indicators are weak. Trade tensions and policy uncertainty have affected economic growth all over the world. As per the World Bank, the global economy grew by 2.4% in 2019 and is projected to grow by 2.5% in 2020. Due to weaker economic conditions, the global foreign direct investment (FDI) in 2019 has declined compared to the previous year in 2018.
Foreign direct investment is a kind of expenditure made by an individual or a firm into the business interests of another country. It takes place when an investor establishes foreign business operations or acquires foreign assets including, ownership or control. Another type of foreign investment is 'Portfolio Investment,' which differs from FDI since the former is the mere purchase of equity of foreign-based companies.
The prevalence of FDI is seen in open market economies, with little regulations like tariffs, taxes, or government interventions, operated by the free market forces of demand and supply. The motive that runs foreign investment is that companies can seek markets outside their domestic economy.
It often promises higher returns and sound markets than a saturated domestic market. The availability of cost-saving factors of production for a company outside their local economy can help them in cutting costs and gaining an advantage over their competition. In the process of foreign investment, the exchange of technology aids in building strategic assets. This underlying consequence of foreign investment incentivizes the MNCs to invest abroad.
The FDI process is carried out by considering broader concerns before their beginning: The political stability of any country and a pro-investment government is a welcoming sign to the direct investors. With the WTO regulations, economies with flexible government policies that permit and promote FDI by expanding ports, captive power, developing highways, and more, attract direct investors.
The currency of a state is a variable in determining the level of FDI, which should not have large variations in the exchange rates, which could result in losses for the investor in case of a currency devaluation.
Below is the table which depicts the top 10 nations with the highest FDI inflows in 2019:
| | | |
| --- | --- | --- |
| Rank | Country | FDI in billions of US dollars |
| 1 | The United States | $251.00 |
| 2 | China | $140.00 |
| 3 | Singapore | $110.00 |
| 4 | Brazil | $75.00 |
| 5 | The United kingdom | $61.00 |
| 6 | Hong Kong | $55.00 |
| 7 | France | $52.00 |
| 8 | India | $49.00 |
| 9 | Canada | $47.00 |
| 10 | Germany | $40.00 |
Related Links:
Related Map: