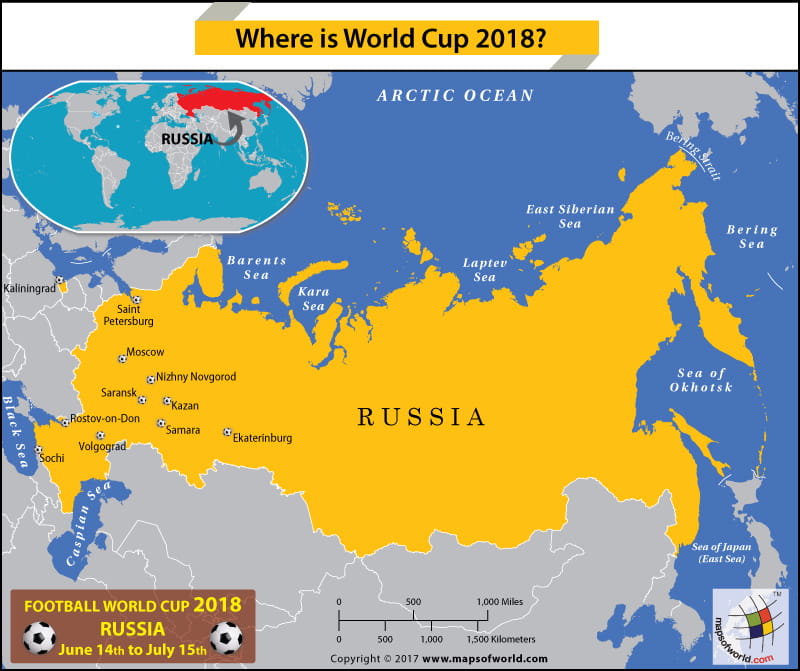 The 2018 FIFA World Cup will be held in Russia.
One of the world's most prestigious tournaments, the 21st edition of the FIFA World Cup will be held from June 14th to July 15th, 2018. The tournament will host 32 teams vying for the World Cup. Among these, 31 teams have been determined through qualifying competitions, with the host of the tournament is an automatic qualifier.
The event will be held in 12 venues in 11 cities in Russia, and a total of 64 matches will be played. With one exception, all the stadium venues are located in the European part of Russia. The choice of the venues has been made for the effective management of time.
The 12 venues include Luzhniki Stadium (Moscow), the Otkrytiye Stadium (Moscow), Saint Petersburg Stadium, Sochi, Kazan, Nizhny Novgorod, Samara, Rostov-on-Don, Volgograd, Kaliningrad, Yekaterinburg, and Saransk.
Two teams – Panama and Iceland – will be appearing for the first time in World Cup competition. Italy, which won the World Cup in 1934, 1938, 1982, and 2006, failed to qualify for the 2018 FIFA World Cup, for the first time since 1958. The Netherlands, which took third place at the 2014 World Cup, also did not qualify for the 2018 edition. Other prominent teams which did not qualify include Cameroon, Chile, the United States, and New Zealand.
The 32 teams will be divided into eight groups. Each group will comprise four teams. The top two teams from each group will advance to the next stage, which is the Round of 16. This will begin on June 16th. Among these, eight will advance to the quarter-finals stage, that starts July 6th. The four winners in the quarter-finals will battle it out in semi-finals, held on July 10th and 11th. The two teams that lose in the semi-finals will compete in for the third place in a match. The final will be held at the Luzhniki Stadium in Moscow on July 15th, 2018. The winners of the tournament will pick up the World Cup and automatic qualification for the 2021 FIFA Confederations Cup.
Related Maps: