Why the world observes 'International Widows Day'?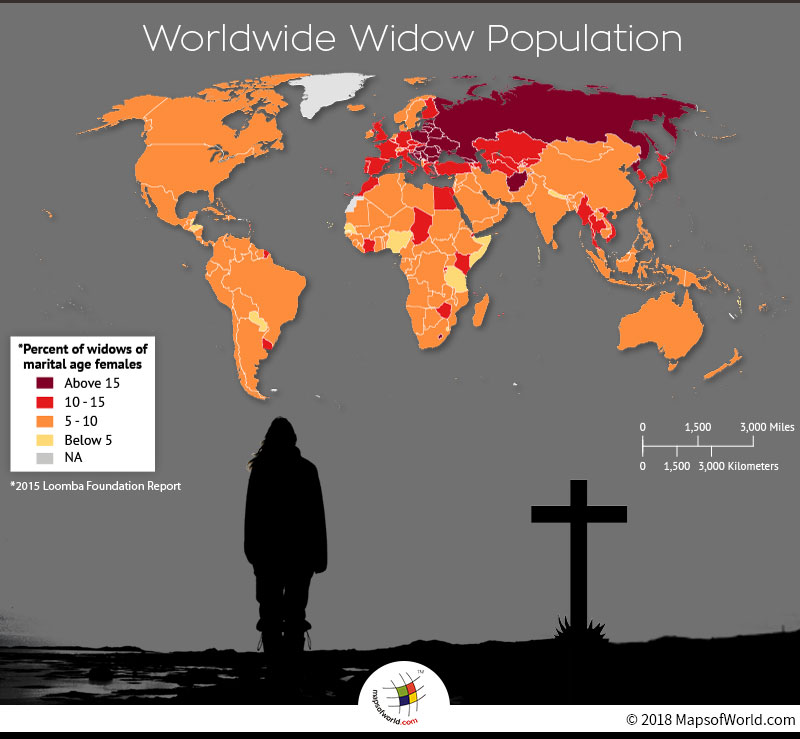 It might be the 21st century, which is globalized and has an open-mind, but there are many underdeveloped or developing countries where extreme deprivation is faced by widows. In some nations, these women are rendered helpless, as they face issues like denial of land and inheritance rights. While struggling with poverty, they are forced to spend their lives in segregations, harassment, and extortion. They are invisible in the eyes of public, and even their children are pushed into child labor, prostitution etc.
The only ray of hope is the work done by numerous non-governmental organizations and researchers who focus on the issue, and with the help of the United Nations aim to eliminate the inhuman practices. Loomba Foundation seeks to address this deprivation, and raised the issue enough that the world now observes International Widows Day on June 23rd, to raise awareness and help widows attain their full rights.
Report released by them in year 2015 stated that around 38,261,345 million widows, that accounts for 14.8% of all widows, live in extreme poverty where basic needs are not met. Widows in India, Nepal, Papua New Guinea and in sub-Saharan African regions, are often accused of being the cause for the death of their spouse. It is suggested that negligence and insufficient care is the reasons for the death of their husbands. Moreover, the old religious myths are still believed and supernatural factors are linked to put the blame on the women. In Angola, Botswana, Republic of Congo, Democratic Republic of Congo, and numerous other African regions, widows are forcefully evicted from the homes by the family members of the husband.
In the developed countries like the United States of America, women who have low educational qualifications face economic insecurity as good income jobs for lesser skilled workers are not available. This leads to massive impact on childcare, for the families are usually depended on two incomes.
Here is the percentage of global widow population who have a maritable age, as per 2015 census of Loomba Foundation: 
| Country | Age Range | Percentage of widows (2015) | Year used in 2015 LF report |
| --- | --- | --- | --- |
| Afghanistan | 10+ | 21.3% | 2007 |
| Ukraine | 15+ | 19.2% | 2001 |
| Belarus | 15+ | 18.4% | 2009 |
| Lesotho | 10+ | 18.3% | 2006 |
| Bosnia-Herzegovina | 15+ | 18.2% | 2011 |
| Bulgaria | 15+ | 18.2% | 2011 |
| Croatia | 15+ | 18.2% | 2011 |
| Lithuania | 15+ | 18.2% | 2011 |
| Hungary | 15+ | 18.1% | 2011 |
| Russia | 15+ | 17.8% | 2010 |
| Serbia | 15+ | 17.5% | 2011 |
| Georgia | 15+ | 17.3% | 2002 |
| Latvia | 15+ | 16.2% | 2011 |
| Korea, North | 15+ | 15.6% | 2008 |
| Moldova | 15+ | 15.6% | 2004 |
| Poland | 15+ | 15.6% | 2011 |
| Romania | 15+ | 15.6% | 2011 |
| Estonia | 15+ | 15.3% | 2011 |
| Montenegro | 15+ | 15.1% | 2011 |
| Greece | 15+ | 14.7% | 2011 |
| Comoros | 18+ | 14.3% | 2003 |
| Italy | 15+ | 14.3% | 2011 |
| Mauritius | 15+ | 13.9% | 2011 |
| Armenia | 15+ | 13.9% | 2011 |
| Slovakia | 15+ | 13.8% | 2011 |
| Japan | 15+ | 13.7% | 2010 |
| Czech Republic | 15+ | 13.6% | 2011 |
| Slovenia | 15+ | 13.5% | 2011 |
| Germany | 15+ | 13.2% | 2011 |
| Portugal | 15+ | 13.2% | 2011 |
| Zimbabwe | 15+ | 12.9% | 2012 |
| Korea, South | 15+ | 12.9% | 2005 |
| Austria | 15+ | 12.9% | 2011 |
| Finland | 15+ | 12.8% | 2011 |
| Kazakhstan | 15+ | 12.7% | 2009 |
| Chad | 18+ | 12.4% | 2003 |
| France | 15+ | 12.2% | 2010 |
| Belgium | 15+ | 12.1% | 2011 |
| Spain | 15+ | 12.0% | 2011 |
| Djibouti | 10+ | 11.7% | 2002 |
| Kenya | 18+ | 11.6% | 2003 |
| Turkmenistan | 15+ | 11.3% | 1989 |
| Uruguay | 12+ | 11.3% | 2011 |
| Myanmar | 15+ | 11.2% | 1991 |
| Tuvalu | 15+ | 11.2% | 2002 |
| Uzbekistan | 15+ | 11.1% | 1989 |
| Rwanda | 12+ | 10.9% | 2012 |
| Kyrgyzstan | 15+ | 10.8% | 2009 |
| Egypt | 16+ | 10.7% | 2006 |
| Azerbaijan | 15+ | 10.7% | 2009 |
| Luxembourg | 15+ | 10.7% | 2011 |
| Vietnam | 15+ | 10.6% | 2009 |
| Turkey | 15+ | 10.6% | 2011 |
| Macedonia | 15+ | 10.5% | 2002 |
| United Kingdom | 16+ | 10.5% | 2011 |
| Thailand | 13+ | 10.3% | 2010 |
| Cote d'Ivoire | 18+ | 10.2% | 2003 |
| Morocco | 15+ | 10.1% | 2004 |
| Argentina | 14+ | 10.0% | 2010 |
| Mongolia | 15+ | 9.9% | 2000 |
| Lebanon | 15+ | 9.8% | 2007 |
| Denmark | 15+ | 9.8% | 2011 |
| Netherlands | 15+ | 9.8% | 2011 |
| Palau | 15+ | 9.7% | 2005 |
| Switzerland | 15+ | 9.7% | 2011 |
| United States of America | 18+ | 9.6% | 2010 |
| Malta | 15+ | 9.6% | 2011 |
| Kiribati | 15+ | 9.4% | 2010 |
| Burkina Faso | 12+ | 9.3% | 2006 |
| Norway | 15+ | 9.3% | 2011 |
| Sweden | 15+ | 9.3% | 2011 |
| Indonesia | 10+ | 9.2% | 2010 |
| Canada | 15+ | 9.2% | 2011 |
| India | 10+ | 9.1% | 2011 |
| Fiji | 15+ | 9.0% | 2007 |
| Timor-Leste | 15+ | 9.0% | 2010 |
| Samoa | 15+ | 8.9% | 2011 |
| Iran | 10+ | 8.8% | 2011 |
| Taiwan | 15+ | 8.7% | 2010 |
| Liechtenstein | 15+ | 8.7% | 2010 |
| Angola | 10+ | 8.5% | 2010 |
| Democratic Republic of the Congo | 10+ | 8.5% | 2010 |
| Eritrea | 10+ | 8.5% | 2010 |
| Guinea | 10+ | 8.5% | 2010 |
| Guinea-Bissau | 10+ | 8.5% | 2010 |
| Australia | 15+ | 8.5% | 2011 |
| New Zealand | 15+ | 8.5% | 2006 |
| Israel | 15+ | 8.5% | 2008 |
| Tunisia | 15+ | 8.5% | 2004 |
| Mozambique | 12+ | 8.4% | 2007 |
| Togo | 10+ | 8.4% | 2010 |
| Zambia | 12+ | 8.4% | 2000 |
| Singapore | 15+ | 8.4% | 2010 |
| Cameroon | 12+ | 8.3% | 2005 |
| Cambodia | 15+ | 8.3% | 2008 |
| Iraq | 12+ | 8.3% | 1997 |
| Tajikistan | 15+ | 8.2% | 2010 |
| Albania | 15+ | 8.2% | 2011 |
| Cyprus | 15+ | 8.2% | 2011 |
| Burundi | 10+ | 8.1% | 2008 |
| Ghana | 12+ | 8.1% | 2010 |
| Chile | 15+ | 8.1% | 2002 |
| Ireland | 15+ | 8.1% | 2011 |
| Gabon | 10+ | 8.0% | 1993 |
| China | 15+ | 8.0% | 2010 |
| Tongo | 15+ | 8.0% | 2011 |
| Trinidad & Tobago | 14+ | 8.0% | 2011 |
| Sierra Leone | 10+ | 7.9% | 2004 |
| Laos | 15+ | 7.9% | 2005 |
| Malawi | 10+ | 7.8% | 2008 |
| Mauritania | 15+ | 7.8% | 1991 |
| Brazil | 10+ | 7.8% | 2010 |
| Micronesia | 15+ | 7.7% | 2000 |
| Philippines | 15+ | 7.7% | 2010 |
| Central African Republic | 10+ | 7.6% | 1988 |
| Cuba | 10+ | 7.3% | 2012 |
| Guyana | 15+ | 7.3% | 2002 |
| Ethiopia | 10+ | 7.2% | 2007 |
| Malaysia | 15+ | 7.2% | 2010 |
| Papua New Guinea | 15+ | 7.2% | 2010 |
| Algeria | 15+ | 7.0% | 2008 |
| Uganda | 15+ | 6.9% | 2002 |
| Dominican Republic | 15+ | 6.9% | 2010 |
| Republic of the Congo | 18+ | 6.8% | 2003 |
| Nauru | 15+ | 6.8% | 2011 |
| Dominica | 15+ | 6.8% | 2001 |
| Botswana | 15+ | 6.7% | 2011 |
| South Africa | 10+ | 6.7% | 1996 |
| Bahrain | 15+ | 6.7% | 2010 |
| Oman | 15+ | 6.7% | 2003 |
| Niger | 10+ | 6.6% | 2001 |
| Libya | 15+ | 6.6% | 2006 |
| Sri Lanka | 15+ | 6.6% | 2012 |
| Mexico | 12+ | 6.6% | 2010 |
| Bangladesh | 10+ | 6.5% | 2011 |
| Barbados | 15+ | 6.5% | 2010 |
| El Salvador | 10+ | 6.5% | 2007 |
| Suriname | 15+ | 6.5% | 2012 |
| Benin | 10+ | 6.4% | 2013 |
| Solomon | 15+ | 6.4% | 2009 |
| Columbia | 10+ | 6.4% | 2005 |
| Jordan | 15+ | 6.3% | 2004 |
| Kuwait | 15+ | 6.3% | 2011 |
| Yemen | 15+ | 6.3% | 2004 |
| Grenada | 15+ | 6.3% | 2001 |
| Qatar | 15+ | 6.2% | 2010 |
| United Arab Emirates | 15+ | 6.2% | 2005 |
| Haiti | 15+ | 6.2% | 1996/2006 |
| Syria | 15+ | 6.1% | 2009 |
| Bolivia | 15+ | 6.1% | 2012 |
| Namibia | 15+ | 6.0% | 2011 |
| Saudi Arabia | 15+ | 6.0% | 2007 |
| Liberia | 10+ | 5.9% | 2008 |
| Bahamas | 15+ | 5.9% | 2010 |
| Equatorial Guinea | 10+ | 5.8% | 2002 |
| Seychelles | 15+ | 5.8% | 2010 |
| Pakistan | 10+ | 5.7% | 2007 |
| Jamaica | 16+ | 5.7% | 2011 |
| Guatemala | 12+ | 5.7% | 2002 |
| Ecuador | 12+ | 5.7% | 2010 |
| Peru | 12+ | 5.7% | 2007 |
| Madagascar | 10+ | 5.6% | 1993 |
| Mali | 12+ | 5.6% | 2009 |
| Panama | 15+ | 5.6% | 2010 |
| Venezuela | 15+ | 5.6% | 2011 |
| Palestine | 12+ | 5.5% | 2007 |
| Nicaragua | 12+ | 5.5% | 2005 |
| Sudan | 12+ | 5.3% | 2008 |
| Iceland | 15+ | 5.3% | 2012 |
| Bhutan | 10+ | 5.2% | 2005 |
| St. Lucia | 15+ | 5.2% | 2010 |
| Antigua and Barbuda | 15+ | 5.1% | 2001 |
| Costa Rica | 12+ | 5.1% | 2011 |
| South Sudan | 12+ | 5.0% | 2008 |
| St. Vincent & Grenadines | 15+ | 4.9% | 2001 |
| Honduras | 12+ | 4.7% | 2001 |
| Senegal | 10+ | 4.6% | 2002 |
| Nepal | 10+ | 4.6% | 2011 |
| Vanuatu | 15+ | 4.5% | 2009 |
| Belize | 15+ | 4.5% | 2010 |
| Brunei Darussalam | 15+ | 4.4% | 2001 |
| Paraguay | 10+ | 4.4% | 2002 |
| Somalia | 10+ | 4.2% | 2002 |
| Tanzania | 15+ | 4.2% | 2012 |
| Marshall Islands | 15+ | 4.2% | 1999 |
| Cape Verde | 12+ | 4.0% | 2010 |
| Swaziland | 12+ | 4.0% | 2007 |
| Gambia | 10+ | 3.5% | 2013 |
| Nigeria | 10+ | 3.5% | 2006 |
| Maldives | 15+ | 1.7% | 2006 |
| Sao Tome and Principe | 12+ | 0.8% | 2012 |
Know more:
Related maps: