If Catalonia gets independent, what places might be next?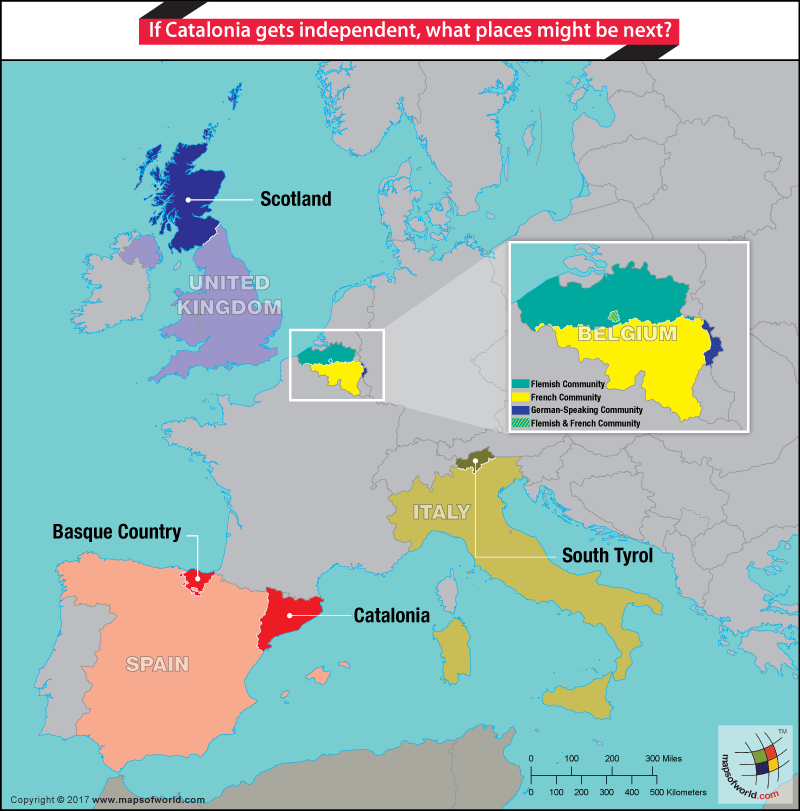 Secessionist movements at present are rife in many nations across the globe, and Europe is no exception.
The developments in Catalonia are being keenly watched by the world and also by some regions, especially in Europe, harboring secessionist tendencies. Should Catalonia be successful in becoming an independent nation, there is a possibility that a few other regions in countries around the world could make a similar effort.
Catalonia, located in northeast Spain, is not the only region to demand independence from the nation. Secessionist tendencies are strong in the Basque Country as well, an autonomous community in the northern part of Spain. Basque, which also has its distinct culture and language, has witnessed violent separatism and Eta, a separatist group, has carried out terrorist attacks for the freedom of the region. The Basque Country will be definitely watching the situation closely.
Secessionist tendencies are also present in Belgium. A small nation, there are three regions in the country with their own language and culture. The Flemish Region, known as Flanders, is located in the northern part of Belgium. Here Dutch or Belgian Dutch is the main language. Wallonia, which is situated in the south of the country, is home to a French speaking population. The third region, which is a German speaking region is located in Belgium's far east. Each of these regions have sought independence.
Scotland witnessed a referendum in 2014 on whether to stay with the United Kingdom or depart. Those advocating independence were defeated, as 55 percent of voters opted to remain with the United Kingdom. However, the Scottish National Party, which is for independence from the UK, has not lost hope, and following a Brexit vote to depart from the EU, secessionist campaign has resurfaced in Scotland.
Italy too is witnessing a secessionist movement in South Tyrol, which was a part of the Austro-Hungarian Empire prior to World War I, but was annexed to Italy in 1919. Many in South Tyrol, which is located in the northern-most part of Italy, do not want to stay with the country. There are 510,000 people who live in the region, but only 23.4 percent speak Italian, while 62.3 percent speak German. Though the region has a great degree of self-government, the secessionist movement wants the wealthy region of South Tyrol to reunify with Austria.
Related Maps: