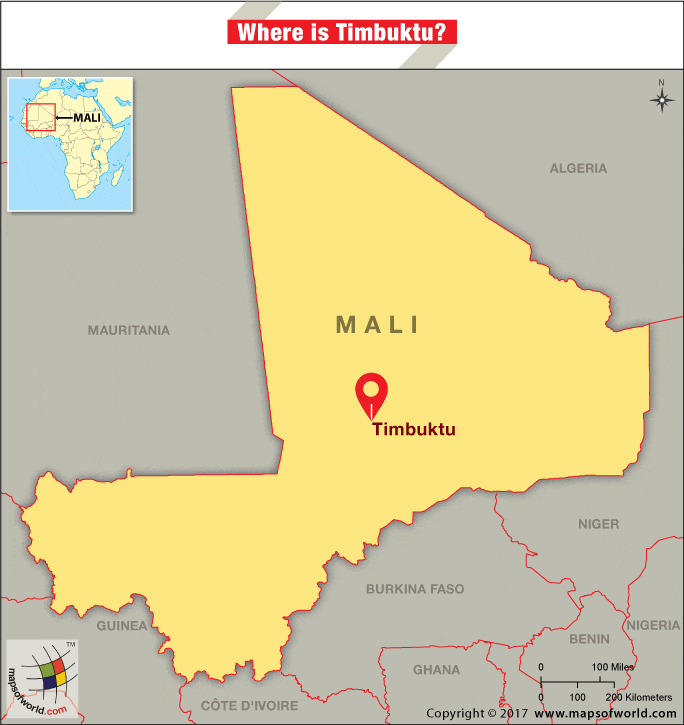 Timbuktu is located in Mali, a West African nation.
Timbuktu, is an ancient city and is one of Mali's ten administrative regions. It is the capital of the Tombouctou region, and has a population of 54,453, as of the 2009 census. In 1988, the city was declared a UNESCO World Heritage Site. In 2012, it was added to the UNESCO List of World Heritage in Danger because of armed conflict.
Timbuktu was a seasonal settlement, but by the 12th century had become a permanent settlement. Timbuktu was a prosperous city and passed through the hands of numerous rulers such as the Mali Empire, the Tuareg tribes, Songhai Empire, and others. During its heydays, Timbuktu was an educational hub and a great center of Islamic learning. It was also a flourishing center for gold and salt trade. It has been estimated that around 100,000 people were living in Timbuktu by 1450, and there were around 25,000 scholars. Many of these scholars had studied in Egypt or Mecca. The city was at the height of its commercial and intellectual development during the Askia period, which lasted from 1493 to 1591. Unfortunately, the city began to decline following its capture by Morocco.
In 1894, the city came under the control of the French, who to some extent, restored the city. In 1960, it became a part of the newly independent nation of Mali. Today, Timbuktu is a shadow of its former self.
The city suffered in 2012 with the takeover of the northern part of the Mali by the Tuareg rebels, aided by Islamic militants. The Islamic militants then supplanted the Tuareg rebels and caused damaged to many monuments on the charge of their being idolatrous. After the militants were ousted in 2013, the government began repairs.
Related Maps: