What are the Key Facts of Palestine?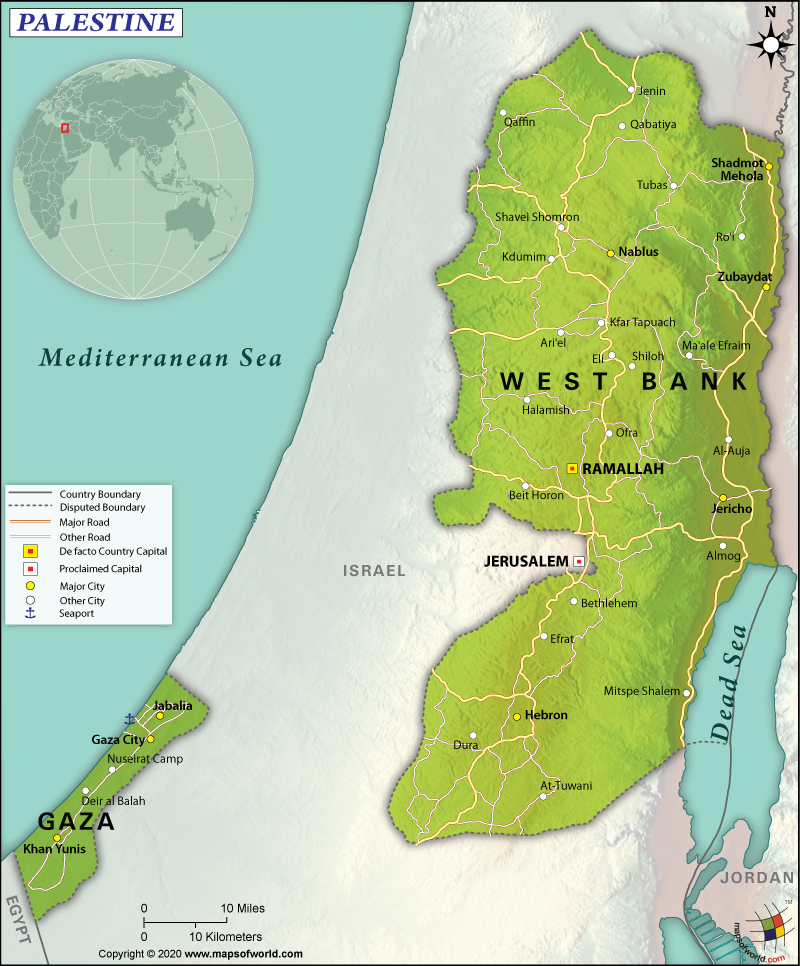 | | |
| --- | --- |
| Official Name | State of Palestine |
| Continent | Asia |
| Capital | Ramallah (de facto), Jerusalem (Proclaimed) |
| Largest City | Gaza City |
| Coordinates | 32.000000, 35.250000 |
| Area | 2,320 sq. mi ( 6,020 sq. km) |
| Land Boundaries | 342 mi (550 km) |
| Coastline | 25 mi (40 km) |
| Currency | Israeli new shekel (ILS), Jordanian dinar (JOD) |
| Neighboring Countries | Egypt, Israel, Jordan |
| Population | 5,051,953 (2020 est.) |
| Official Languages | Arabic |
| Major Religion | Islam |
| National Day | 15 November (Independence declared) |
| National Anthem | "Fida'i" |
| Form of Government | Unitary semi-presidential republic |
| President | Mahmoud Abbas |
| Prime Minister | Mohammad Shtayyeh |
| GDP per capita (PPP) | $ 5,795.20 (World Bank, 2018) |
| GDP per capita (nominal) | $ 3,198.90 (World Bank, 2018) |
| HDI | 0.690 (2019), Rank: 119 |
| Literacy Rate (%) | 97.22 (UNESCO, 2018) |
| Space Agency | NA |
| Military Expenditure Ranking | NA (SIPRI, 2019) |
| No. of Olympic Medals | 0 (as of 2018) |
| Driving Side | right |
| Calling Code | 970 |
| Time Zone | UTC+2 (PST), Summer (DST) UTC+3 |
| Internet TLD | .ps |
Where is Palestine?
Palestine or the State of Palestine is a Western Asian country (de jure sovereign state) that claims the West Bank, Gaza Strip, and East Jerusalem as its territory. These Middle Eastern territories share its borders with Israel, Jordan, and Egypt. West Bank is located to the east of Israel and west of Jordan. The Gaza Strip is located between Israel and Egypt. All or most of these Palestinian territories are either controlled or occupied by Israel.
What is the Geography of Palestine?
The de jure sovereign state of Palestine consists of both West Bank and Gaza Strip.
The West Bank is spread across a total area of 6,020 sq. km (2,320 sq. mi), out of which 5,640 sq. km (2,178 sq. mi) is land area and 220 sq. km (85 sq. mi) water area. The total area includes the areas of West Bank, the Dead Sea's northwest quarter, and the Latrun Salient. Jerusalem No Man's Land and East Jerusalem are also included in this area so that the entire area occupied by Israel in 1967 can be depicted. However, Mount Scopus has been excluded for the estimation of the area. West Bank has a 478 km (297 mi) long land area, out of which 330 km (205 mi) is shared with Israel, and 148 km (92 mi) is shared with Jordan. It has no coastline.
The total area of the Gaza Strip is 360 sq. km (139 sq. mi), out of which 360 sq. km (139 sq. mi) is land area and 0 sq. km (0 sq. mi) is the water area. It has 72 km (45 mi) long land boundary, which is shared with Israel (59 km or 37 mi) and Egypt (13 km or 8 mi). Gaza Strip has a 40 km (25 mi) long coastline.
The landscape in Palestine has 4 distinct regions. The first one is the coastal plains in the interior. The second is the hills/mountains. The third is the southern desert. The fourth is the Jordan Valley and Ghawr (a deep depression or valley). Saruunah, Mount Carmel, and Acre plains have further divided the Palestinian landscape. Below Ghawr and sea level, the Jordan Valley is located.
The major mountains in Palestine are Jabal 'Aybāl, Mount Scopus, Mount of Olives, Jabal aţ Ţūr, etc. The soil is significantly fertile in Palestine. These soils can be used for growing vegetables during late winter, thanks to the adequate water provided by the 9 rivers (Jordan, Siloa, Kishon, Shichor-Libnath, Kodron, Geena, Besore, Cherith, and Kannah) in the country.
A significant variation in climate can be found in the West Bank. It is located within the Mediterranean climatic zone. It usually gets rain during winter and drought during summer. A different transitional climate can be found in the Lowe Jordan Valley. The climatic condition varies from the Dead Sea region's extreme desert conditions to dry steppe. Rainfall takes place from October to April, especially during winter as well as spring.
The average annual rainfall level in West Bank is from 450 mm to 500 mm (18 to 20 in). While the central parts of West Bank (around Ramallah) get an annual rainfall of around 715 mm (28 in), the Jordan Valley's western slope gets an annual rainfall of around 145 mm (6 in). The Dead Sea region gets far lesser rainfall.
The Gaza strip is also situated in a transitional climate zone (ranging from the Sinai Peninsula's arid desert climate to the coastal region's temperate/semi-humid Mediterranean climate). While the north of Gaza Strip gets annual precipitation of around 400 mm (16 in), the south gets around 230 mm (9 in) rainfall.
What is the Economy of Palestine?
In 2018, the nominal GDP of the West Bank and Gaza increased at a rate of 0.9% to reach US$14.616 billion. In recent years, the Palestine economy has sustained mainly on the basis of international economic aid. However, the significant shrinking of external aid affected the economy adversely. In 2018, Gaza's economic activity has dropped by 8% and the real GDP in West Bank has come down by around 2%. In Q4 2018, the rate of unemployment in Palestine was 29.1%. During 1995-2018, the average rate of unemployment was 23.65%. With the poverty line at US$5.50 per day, 2011 data suggests that 21% of
population lives in poverty.
What is the Transportation System of Palestine?
The transportation system in Palestine is mainly concentrated in the West Bank. There is 4,686 km (2,912 mi) long roadway in West Bank and all of them are paved. There are two airports and a heliport present in the territory. Gaza Strip has 1 airport. As the airports have been either defunct or disused, there is no airport currently. To reach Ramallah or Bethlehem, one has to fly to Israel's Tel Aviv and from there have to take a taxi or shuttle ride to the Palestinian destinations. The only major seaport is located in Gaza.
What International Organizations is Palestine part of?
Members of the organization:
NAM, OIC, UNESC for Western Asia, EMPA, ICC, International Federation of Red Cross and Red Crescent Societies, PAM, Union for the Mediterranean, Inter-Parliamentary Union, G77, APA, UNESCO, AFI, ACI, International Trade Union Confederation, IBAN
Non-Members of the Organization:
UN, WHO, UNWTO, International Telecommunication Union, ECT, Universal Postal Union, WIPO, ACS, PACE, International Electrotechnical Commission
Related Links:

Related Maps: