Who is the World Leader in Wind Power Capacity?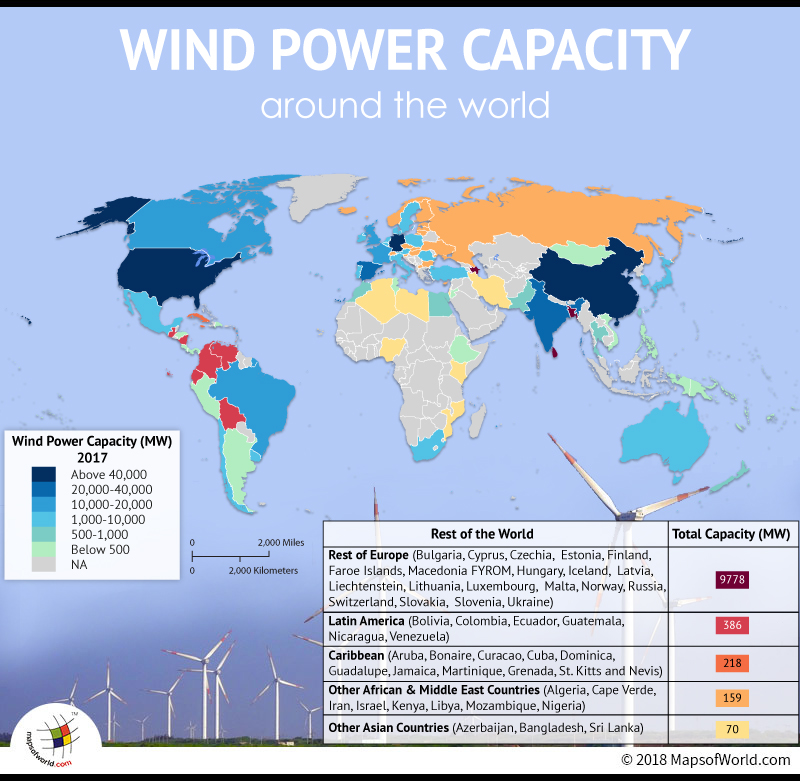 Man has used wind as a form of energy for thousands of years. Even during the ancient times, sailors attached sails to their ships, which would capture wind and propel the ships forward. There is also the extensive use of windmills as well. These have helped perform various activities such as pumping water and grinding grain. In fact, the trend of using wind as a means of energy continues in modern times. Today, wind turbines – the advanced version of the windmills, use wind energy to produce electricity.
As the world continues to recognize the advantages of wind energy, it is amid the fastest growing energy source. Firstly, wind power is lucrative, and its low-priced availability is making it a hit in nations around the world. Secondly, 'Wind Vision Report' also declared how wind power has the potential to offer employment. It can create jobs in the manufacturing industry, installation, maintenance and services.
There are a few challenges regarding wind energy, for example, the reliability of wind in every country is not consistent. If the weather is not supportive, and the wind does not blow, there would not be any electricity generation. Also, the wind turbines can be harmed with intensified storms.
According to a data by the Global Wind Energy Council, China is the world leader in Wind Power Capacity. By the end of year 2017, the country utilized staggering 188,232 megawatts. The United States is blessed with top-class wind resources, and thus stood second with 89,007 megawatts of wind power capacity. The third position was occupied by the European country Germany, having a wind power capacity of 56,132 megawatts. Germany had, in 2010, unveiled the Alpha Ventus, the country's first offshore wind park, in the North Sea. India might be relatively a newcomer, but the country has taken its wind power sector seriously, and the capacity stood at 32,842 megawatts.
If the regions of the world are considered, Asia has brought out the most benefit out of wind energy, owing to its climate and suitable resources.

Know more:
Related maps and info: