Who is the World Leader in Recycling?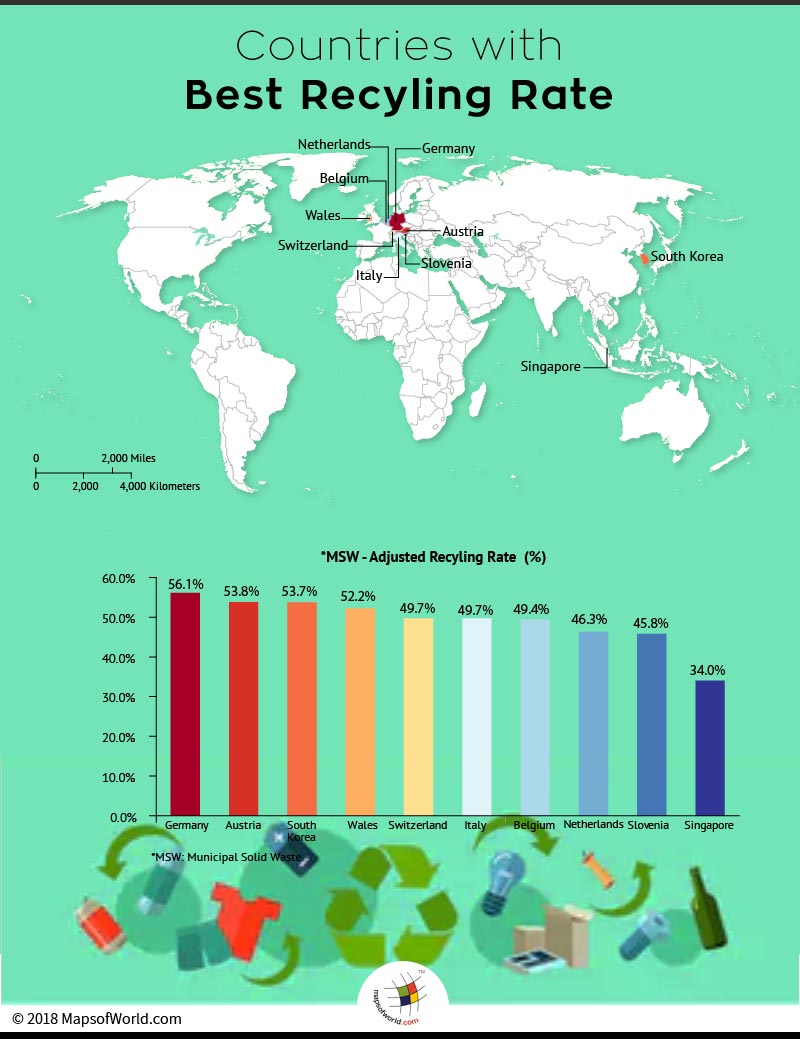 Each human being contributes a significant amount of waste on Earth during their lifetime. Everyone is aware that global population is not shrinking. Lives are being saved and children are being born. The amount of trash the world is creating is only increasing. If we want the future generations to live on a health planet, (unless Mars is all set to entertain human population), the environment has to be preserved and conserved.  Despite the essential need for increased recycling, the developed nations are not making a difference, as much as that they could. One of the strongest nations of the world – the United States of America does not stand anywhere amid the top ten nations which have the best recycling rates
Recycling involves the process of conversion of recyclable used items, into raw materials that could create new products. It indulges in reprocessing of core elements of used materials for the manufacture of fresh goods. Plastic, paper, glass, paper, and aluminum can all be recycled, further helping in reducing consumption of natural resources. It is evident that it reduces the need of extraction, refining, transportation and processing of fresh raw materials, which is thus a savior to the environment.

Eunomia, gives adjusted rates of recycle in different nations, after comparing statistics from both Eurostat and OECD data. Another source used is the report that is released by UK government stating "waste from households" in each of its nations, which specifies the recycling being done for household wastes and declares an overall assessment of UK municipal waste, alongside. And as per the data collected by Eunomia, USA contributes even lesser than 35% towards recycling.

On the other hand, European countries witness the best recycling rates. The reports suggest that the credit goes to efficient government policies prevailing in these nations. It is crucial for both people and government to raise awareness regarding environmental strategies. The policies these countries sustain make it easy for households to recycle their waste. Good funds and financial incentives are provided for recycling measures. Performance targets are set for the local governments, so that the officials work together to create new strategies and objectives for betterment of the environment.

Germany, despite being the most populated member state of European Union, has the best recycling rate, at 56.1%. The credit goes to the strong government policies and the fact that the citizens embrace the process of recycling. Numerous kinds of recycling bins are placed everywhere in Germany. The color specifications are as follows: black is for general waste, blue is for paper, yellow for plastic, white for clear glass, green for colored glass and brown for composting. Not only does the country save natural resources by recycling, the nation is also focused on generating electricity with the help of renewable energy.

It is high-time that countries worldwide focus on safeguarding the environment, more so than talking about celebrities. Here are the top ten countries which have the best recycling rate as of 2017:

| | |
| --- | --- |
| Country | MSW Recycling Rate (2017) |
| Germany | 56.1% |
| Austria | 53.8% |
| South Korea | 53.7% |
| Wales | 52.2% |
| Switzerland | 49.7% |
| Italy | 49.7% |
| Belgium | 49.4% |
| Netherland | 46.3% |
| Slovenia | 45.8% |
| Singapore | 34.0% |
Know more:
Related maps: