How does Donald Trump's USA Looks Like?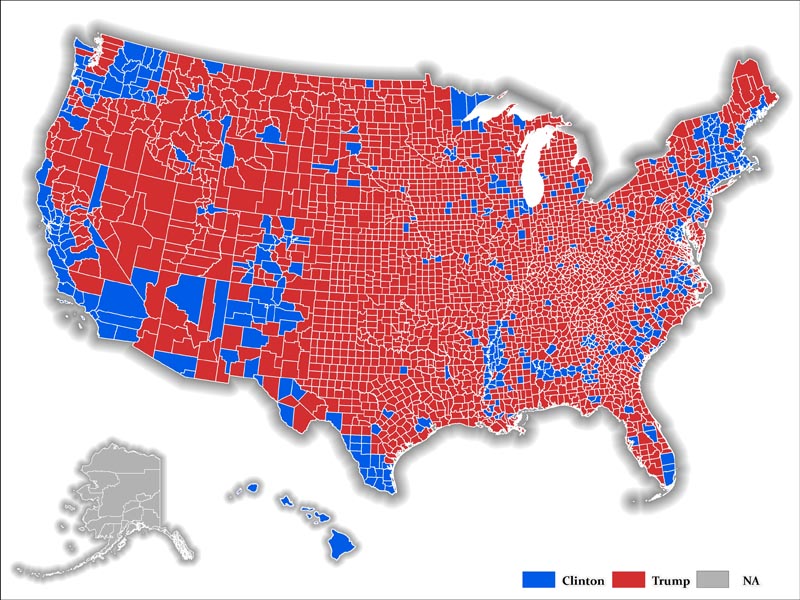 America and the world saw that the Republican candidate was all set to take over as the next President of the world's most powerful nation. Hillary Clinton didn't like it, and neither did her supporters who came onto the streets with placards saying, "Trump not my President." But he has won, and he is vying for re-election. So, have you ever imagined what Donald Trump's USA might look like in the long run?
In the Presidential Election of 2016, the vote count was heavily leaning in favor of Clinton, who had won some 63.6 million votes as compared to Donald Trump, who had just 61.9 million votes in his kitty.
This does not only earn Hillary Clinton the distinction of receiving more votes than any other presidential candidate in the history of the nation, except Obama, but it also means that she was ahead of Trump by 1.7 million votes.
But at the county level, the story was different.
A closer look at the statistical data shows that Trump has swept a large percentage of counties, leaving Hillary Clinton with just a handful. Media reports stated that Trump had the favor of some 2,600 counties in his pocket, with Hillary just winning in 500. This means that Donald Trump has won at least 83 percent of the counties.
Trump has achieved success in more than 25 percent of the county-level votes as compared to Barack Obama and Hillary Clinton. Excluding the 100 most populous counties, Trump has defeated Clinton by a whopping 11.5 million votes.
Hillary Clinton emerged victorious in Oregon but gained victory in just eight counties. Though 36 counties went for Trump, Clinton's victory was mainly due to the urban voters. Likewise, she won Nevada by pocketing only two of the 16 counties. Texas, on the other hand, voted for Trump, where he bagged 227 of the 254 counties.
Only 27 counties went to Clinton. However, as per the figures, Trump had won 4,681,590 votes (52.6 percent) in the state as compared to Hillary Clinton's 3,867,816 or 43.4 percent.
Similarly, in Florida, which was won by Trump, the margin between the two candidates was very less. Trump had won 4,605,515 votes, which equaled to 49 percent as compared to Hillary Clinton, who won 4,485,745 or 47.8 percent. However, of the 67 counties in the state, Trump won 57 while just nine went into Hillary's account.
With the numerous immigration policies and citizenship tactics being introduced, it is hard to imagine what the USA may be looking forward to. Even James Mattis, the defense secretary, quit as he was upset about the withdrawal of US troops from Yemen. How are the results likely to be in the 2020 Elections in America? Would Trump's reign continue? Well, time will tell.
Know more:
Related maps: