Who are the largest manufacturer of vehicles?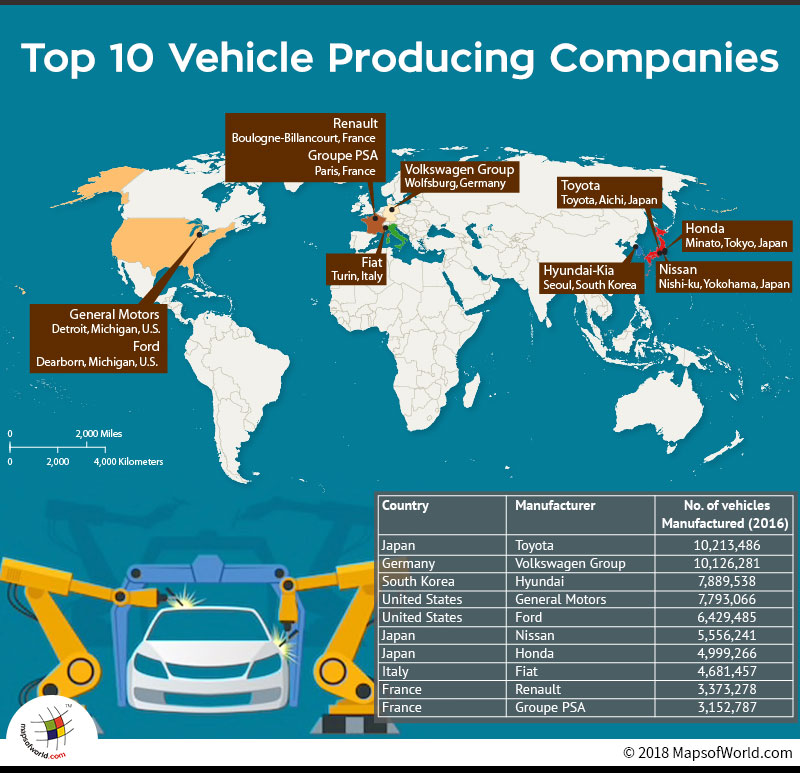 The automobile industry has proliferated over the years, and is one of the major business industries in the world. The latest innovations and brilliant designs have led to the expansion and profitable development of numerous companies worldwide. No doubt, the biggest vehicle manufacturers have contributed towards betterment of economy, by creating employment opportunities and engaging in foreign exchange.
Passenger cars, light commercial vehicles, heavy trucks, buses and coaches, all come under the category of motor vehicles. With the rise in population, the demand for better commutation has also increased. No one wants to ride a horse or a bicycle like the old days, when they can afford to ride a Volkswagen, right? Technology continues to boom and consumers want to buy the best model in their budget. Some people wish to purchase a luxurious car, while for others, an average car in an affordable budget is a plain necessity, to drop kids to their school.
 Toyota Motor Corporation
As of 2016, Toyota Motor Corporation is the biggest manufacturer in terms of production, as per data sourced from Organisation Internationale des Constructeurs d'Automobiles (OICA).
The Japanese multinational automotive manufacturer, Toyota is an 81 year old company which emerged as the largest manufacturer of motor vehicles in 2016. It produced whopping 10,213,486 number of vehicles. It is also the leader in terms of its sales of hybrid electric vehicles. The corporation has released diverse designs including the best selling SUVs , sport utility vehicles etc. Daihatsu and Hino Motors are the two subsidiary companies of Toyota. It's vehicles are in huge demand for they are cost-effective, while having a brilliant use of technology.
Volkswagen Group
Volkswagen Group is not much behind, as its production accounted for 10,126,281 vehicles. Founded in Germany, in the year 1937, the company was also acknowledge to be sixth largest company in 2017 Fortune Global 500 list. The first car it had manufactured was Beetle, and ever since its production the company has launched some of the best known models under the names Audi, Bentley, Bugatti, Lamborghini and Porsche. In the past decade the company has been operating extensively in China as well, resulting in it being Volkswagen Group's largest market.
Here we bring you the list of top ten largest vehicle manufacturers by production, as of year 2016:
Country
Group
No. of vehicle Manufactured (2016)
Japan
Toyota
10,213,486
Germany
Volkswagen Group
10,126,281
South Korea
Hyundai / Kia
7,889,538
United States (China)
General Motors
(with SAIC-GM-Wuling)
7,793,066
(9,937,434)
United States
Ford
6,429,485
Japan
Nissan
5,556,241
Japan
Honda
4,999,266
Italy/United States
Fiat Chrysler
4,681,457
France
Renault
3,373,278
France
Groupe PSA
3,152,787
(data sourced from OICA)
Know more:
Related Maps: