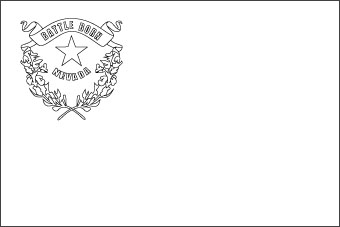 Download Picture of Blank Nevada Flag For Kids to Color
About Nevada Flag
The Nevada Flag history states that the design of the flag was implemented on 26th March, 1929. Prior to that in 1905, the first flag reflected the reputed gold and silver or the mineral resources of the state in bold letters. The state coat of arms was well displayed in the flag of 1915.
At the bottom of the emblem were the words, "All for our country."
Description of Nevada Flag
The present Nevada Flag is a beautiful cobalt blue field, with a symbolic pattern in its upper left portion. Here a large 5 pointed star in silver is displayed, above which is a bright yellow ribbon with the words "Battle Born". Right below the star are the letters Nevada, which undoubtedly identifies the flag with the state. 2 twigs of blooming yellow flowers and green sagebrush are arranged into a semi-circular wreath, surrounding the star.
Symbolism of Nevada Flag
The sprigs of sagebrush indicate that the yellow sagebrush is the national flower of the state. The slogan on the ribbon or "Battle Born" actually expresses that Nevada became one of the states of the Union at the time of the Civil War. The silver star stands not only for the state of Nevada but also for the rich deposits of state mineral wealth. Special mention can be made of the Comstock lode, one of the biggest gold and silver mines discovered in 1859. The Nevada Flag gives out important details about the state through its simple yet meaningful symbols.
For flags of other states of the USA, check the Flags of the 50 States.