Nevada City Maps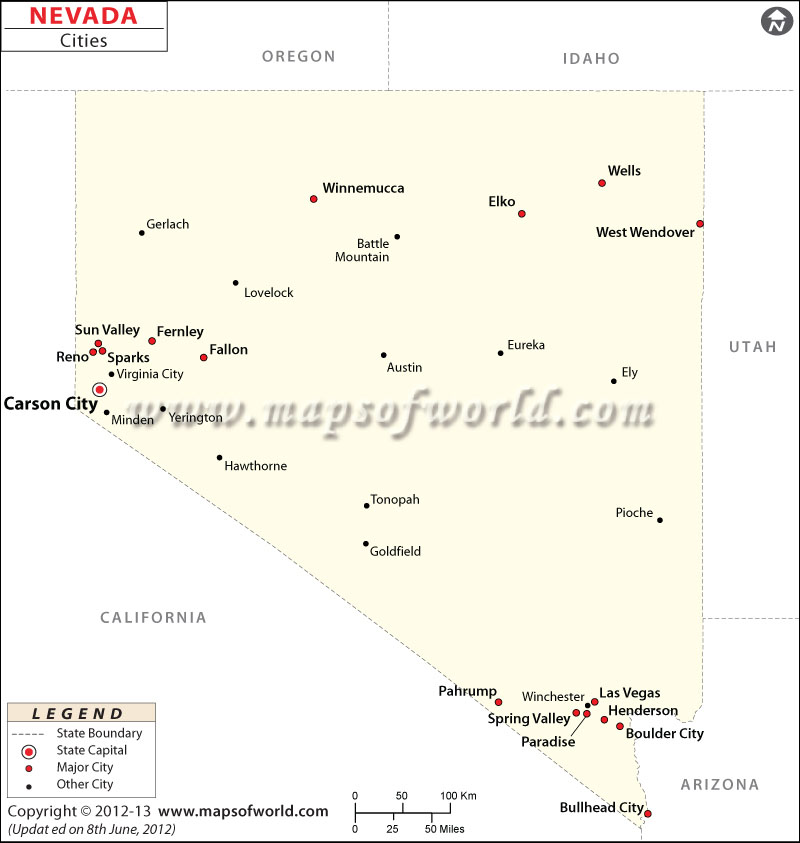 Explore Map of Nevada Cities showing Nevada. It is the seventh-largest state in the United States. It is located in the country's Mountain West, Western and southwestern regions. Nevada is the 34th most populous state in the country.
The 'Silver State' has 16 counties. Nye County is the third largest county in the contiguous US. Located east of Lake Tahoe, Carson City is the state capital.
Largest Cities in Nevada
Las Vegas is the largest city by population in Nevada. Las Vegas, which was founded in 1905, had a population of 632,912 inhabitants, as of 2016. Shining amidst the sun-freckled valleys of the Mojave Desert, the city of Las Vegas – also known as the "Entertainment Capital of the World" – is the most populous city in the state. A four-mile-long stretch of Las Vegas Boulevard has over 75,000 miles of neon lights. Besides a world of temptations, Las Vegas is also a gateway to the Valley of Fire State Park, Spring Mountains, and Red Rock Canyon National Conservation. Cities that have a population of more than 200,000 people are Henderson, Reno, and North Las Vegas. Carson City is the capital of Nevada. The city comprises a population of around 54,742 people. Caliente, which is located in Lincoln County, is the least populated city in the state. As of 2016, the city comprised an estimated population of 1,108 people.
The largest city in Nevada by area is Boulder with 539.5 km² of area. Henderson is the second-largest city in the state and it lies in the Las Vegas Metropolitan Area. Known as "The Biggest Little City in the World," Reno is the second-largest metropolitan area in Nevada. Sparks, Fernley, Elko, and Boulder City are other major cities in Nevada.
Getting In and Around
McCarran International Airport (LAS) and Reno-Tahoe International Airport (RNO) are major gateways to the state.
Amtrak's California Zephyr passes through Reno, Elko, and Winnemucca.
Interstate Highway I-80 and I-15 are primary roads in Nevada. State Route 375 and U.S. Highway 50 are other popular roads.
Nevada Cities by Population
| City Name | County Name | Population (2010) |
| --- | --- | --- |
| Boulder City | Clark | 15,166 |
| Caliente | Lincoln | 1,123 |
| Carlin | Elko | 2,400 |
| Carson City | Carson City | 55,439 |
| Elko | Elko | 18,546 |
| Ely | White Pine | 4,288 |
| Fallon | Churchill | 8,522 |
| Fernley | Lyon | 19,327 |
| Henderson | Clark | 260,068 |
| Las Vegas | Clark | 589,317 |
| Lovelock | Pershing | 1,881 |
| Mesquite | Clark | 15,423 |
| North Las Vegas | Clark | 219,020 |
| Reno | Washoe | 227,511 |
| Sparks | Washoe | 91,195 |
| Wells | Elko | 1,309 |
| West Wendover | Elko | 4,472 |
| Winnemucca | Humboldt | 7,489 |
| Yerington | Lyon | 3,041 |