Where are the best Places in Wyoming to view the Total Solar Eclipse 2017?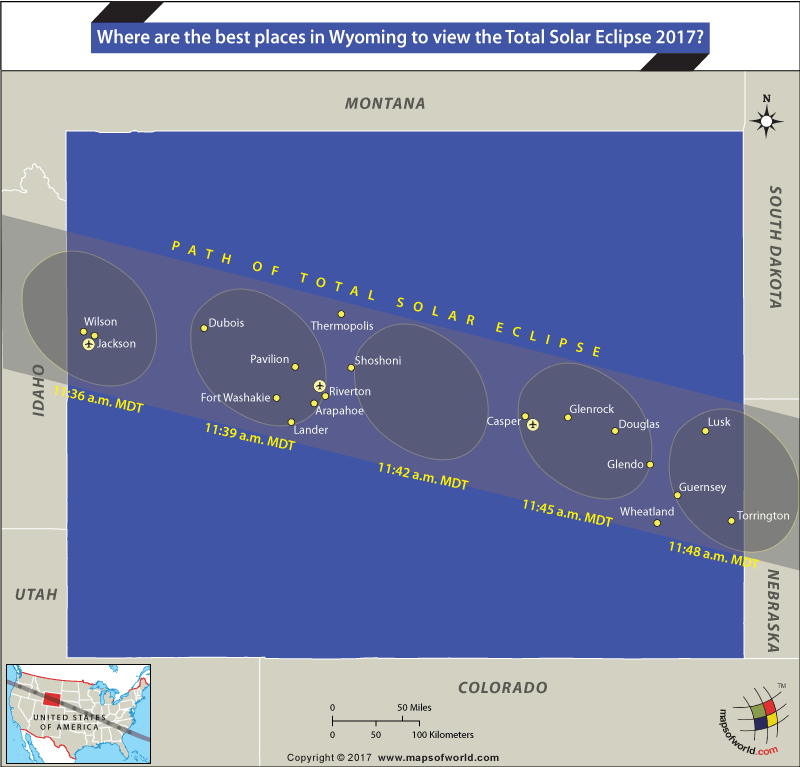 The total solar eclipse that is slated to occur on August 21st, 2017 is one of the most keenly awaited events in the US. It is almost after a century that a total solar eclipse will trace a coast to coast path through the contiguous US. Stargazers and eclipse watchers from across the world are expected to converge in the states that lie on the path of totality of this eclipse. Wyoming is one of the states that fall on the path of the eclipse. Grand Teton National Park and the Teton Valley are on the path of totality and are expected to be highly coveted viewing points. If you're up to climbing one of the peaks of Jackson Hole – Snow King Mountain, Static Peak, Sheep Mountain, Mount Glory, and Jackson Peak – you're likely to get a spectacular view of the eclipse.
The duration of the total eclipse in Wyoming is between 1 minute and 2 minutes 31 seconds, depending on the place of viewing. The eclipse will be visible between 11:36 am MDT and 11:48 am MDT in various parts of Wyoming.
Best Places in Wyoming to view the Total Solar Eclipse 2017 –
Arapahoe
Casper
Douglas
Dubios
Ft Washakie
Glendo
Glenrock
Guernsey
Jackson
Lander
Lusk
Pavilion
Riverton
Shoshoni
Thermopolis
Torrington
Wheatland
Wilson
The following cities and towns may only be able to watch the partial eclipse or may not be able to catch even a glimpse of the solar eclipse. If you will be near one of the following towns or cities, you may want to move closer to the path of totality to be able to witness the eclipse –
Pinedale
Powell
Cody
Gillette
Rawlins
Cheyenne
Laramie
Rock Springs
Green River
Three major airports serve the region along the path of totality of the eclipse. These are –
Casper–Natrona County International Airport (Casper)
Riverton Regional Airport (Riverton)
Jackson Hole Airport (Jackson)
Related Maps: