What are The World's Most Powerful Passports?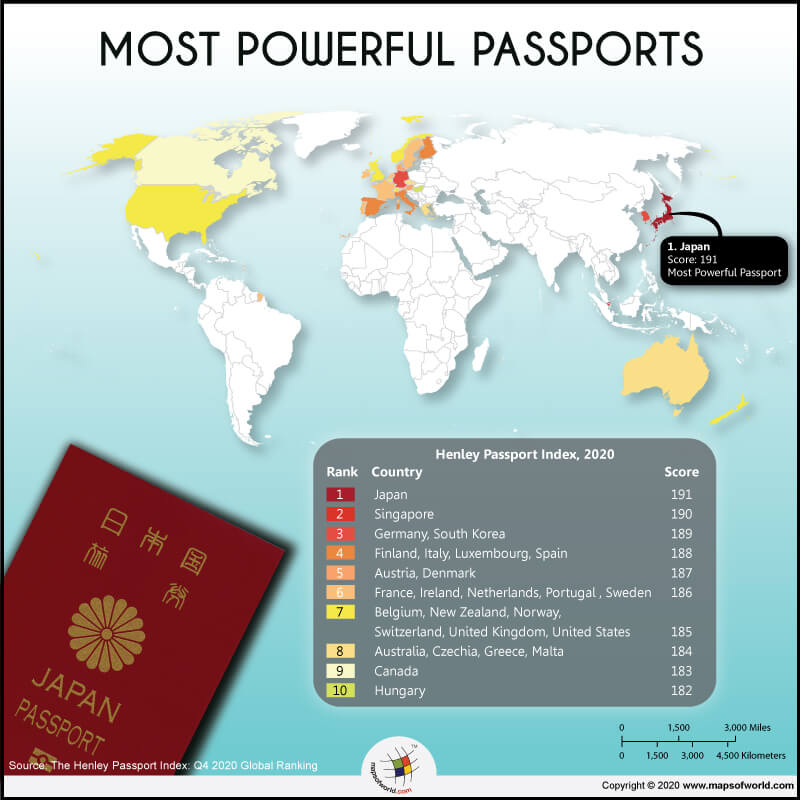 A couple of years ago, the passport of the United States was considered the most powerful in the world. But several changes have taken place since the beginning of the importance of global mobility worldwide.
Currently, the passports that enable their holders to travel visa-free in several countries have got the recognition as the most powerful passports.
The COVID-19 pandemic has disturbed the global mobility in 2020, obstructing international travel as well as rendering passports power to an all-time low.
The Henley Passport Index (HPI) decides the global ranking of nations as per the travel freedom for their citizens. In 2020, Henley Passport Index released data in collaboration with the International Air Transport Association (IATA)- which ranks the powerful passports of different countries in the world. IATA maintains the most accurate database of travel information.
Life is getting faster thanks to modern technology. Everyone wants to travel abroad to get a better opportunity, be it a business or a career. Many people want a permanent or temporary transfer or settlement to different nations, while some persons go for long time assignments. However, several people like to visit abroad to spend vacations with their relatives and friends. Therefore global mobility has sped up significantly in our society in recent years. In this situation, a free travel visa helps visitors in their easy mobility.
The passport ranking is determined by the number of destinations their holders can access without a prior visa. By offering visa-free or visa-on-arrival access to 191 destinations in 2020, Japan, yet again, seized the top spot in the Henley Passport Index. Singapore had the second most powerful passport, as it provided visa-free access to 190 destinations. The third spot was shared by Germany and South Korea, which provided visa-free access to 189 destinations. In the fourth position were Finland, Italy, Luxembourg, and Spain, having a score of 188.
Various nations climbed in the list to have the most powerful passport this year, while few countries slipped from their previous positions. Finland and Italy dropped to the fourth position, from the third in the previous year. Denmark, too, rolled to the fifth position in 2020, as compared to the third position in 2019.
The nations which ranked the lowest in the Henley Passport Index of 2020 were Pakistan, Syria, Iraq, and Afghanistan ranked at 103, 104, 105, and 106, respectively.
Here are the top 10 countries in the Henley Passport Index, Q4 2020 Global Ranking:
Rank
Country
Score
1
Japan
191
2
Singapore
190
3
Germany
189
South Korea
4
Finland
188
Italy
Luxembourg
Spain
5
Austria
187
Denmark
6
France
186
Ireland
Netherlands
Portugal
Sweden
7
Belgium
185
New Zealand
Norway
Switzerland
United Kingdom
United States
8
Australia
184
Czechia
Greece
Malta
9
Canada
183
10
Hungary
182
Related Links:
 Related Map: