What are the Top Ten Tea Exporting Countries?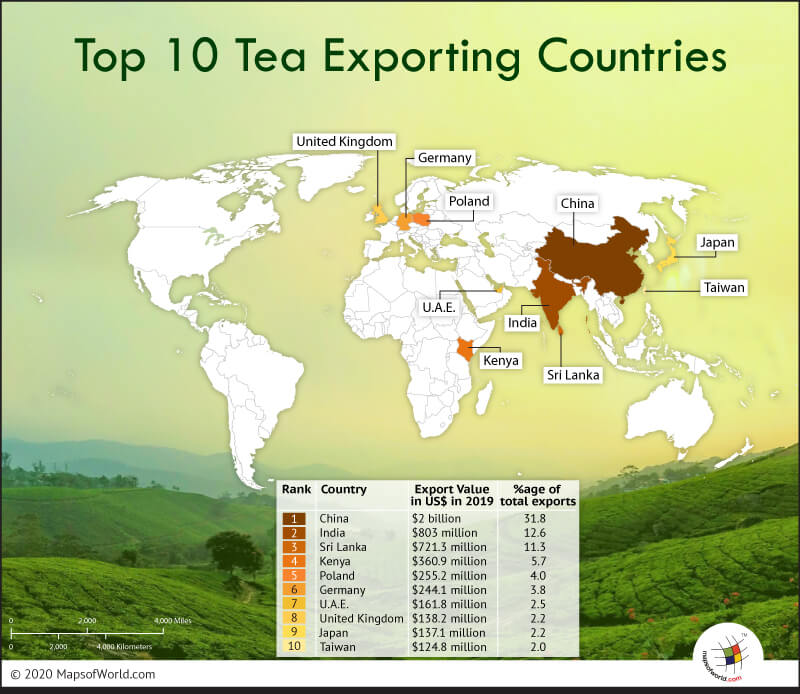 The whole world unites over tea, owing to the historical silk route that played a vital role in popularizing the beverage. The ancient 7,000-miles trade route spanned from China to the Mediterranean Sea and witnessed an expansive trade of tea, along with other commodities. People developed a taste for the beverage and exchanged it for everything, ranging from ponies to jewels.
Coffee lovers might be shocked to know that tea is the most drinkable beverage, after water. It is one of the cheapest drinks that one can serve to their distinguished guests. There are numerous ways to make tea. Lemon, milk, honey, or sugar are the most common additives worldwide. In some regions like Bhutan and Nepal, butter and salt have been added in tea. The serving style also varies from country to country. While people in China and Japan serve tea in tiny cups, Currently, masala chai is gaining popularity in India. Therefore Indians serve their guests the most common "masala chai" in unique style tea glasses.
Owing to globalization, numerous types of teas are now available in most of the countries. Herbal and non-herbal teas have their health benefits. Several herbal teas, which have taken from the roots, seeds, berries, flowers, and leaves of various plants, are known to have a soothing effect on the digestive system.
However, the non-herbal teas made from "Camellia sinensis" plant leaves are further divided into black, green, and oolong. Green tea is the least processed and has the highest ratio of polyphenols, known for its potential to prevent cancer and improve overall health. Currently, doctors prescribe green teas to remain healthy for a lengthy period.
Tea production is the highest in tropical or subtropical climates. First, tea leaves have to pluck. Then the leaves have to be dried up to avoid its oxidation. The variety of tea flavors is brought out depending on how much the tea is wilted and oxidized. White tea is the most oxidized of all kinds.
As per estimates by World's Top Exports, in the year 2019, the global tea exports amounted to US$6.4 billion. It proves that worldwide tea exports have fallen sharply by an average -12.8% for all exporting nations since 2015. The global tea exports have depreciated -18.8% from 2018 to 2019.
Asian countries are still on top because tea exports accounted for about 60% of the total sale. In 2019, Asian nations exported shipments valued at $4.5 billion that is more than two-thirds (69.9%) of global export.
China, India, and Sri Lanka were the three major tea exporters in the world. India overtook Sri Lanka and grabbed the second spot in tea exports in 2019. China exported tea amounting to US$2 billion, while India exported tea worth $803 million. However, Sri Lanka exported tea of $721.3 million. European nations exported at 16.8%, while 9.1% of tea shipments originated from Africa.
Here is the list of the top 10 tea exporting countries in 2019 worldwide:
| | | | |
| --- | --- | --- | --- |
| S. No. | Country | Export Value in US$ in 2019 | Percentage of Total Exports |
| 1 | China | $2 billion | 31.8% |
| 2 | India | $803 million | 12.6% |
| 3 | Sri Lanka | $721.3 million | 11.3% |
| 4 | Kenya | $360.9 million | 5.7% |
| 5 | Poland | $255.2 million | 4% |
| 6 | Germany | $244.1 million | 3.8% |
| 7 | United Arab Emirates | $161.8 million | 2.5% |
| 8 | United Kingdom | $138.2 million | 2.2% |
| 9 | Japan | $137.1 million | 2.2% |
| 10 | Taiwan | $124.8 million | 2% |
Related Link:
 Related Map: