Is East Germany a Country?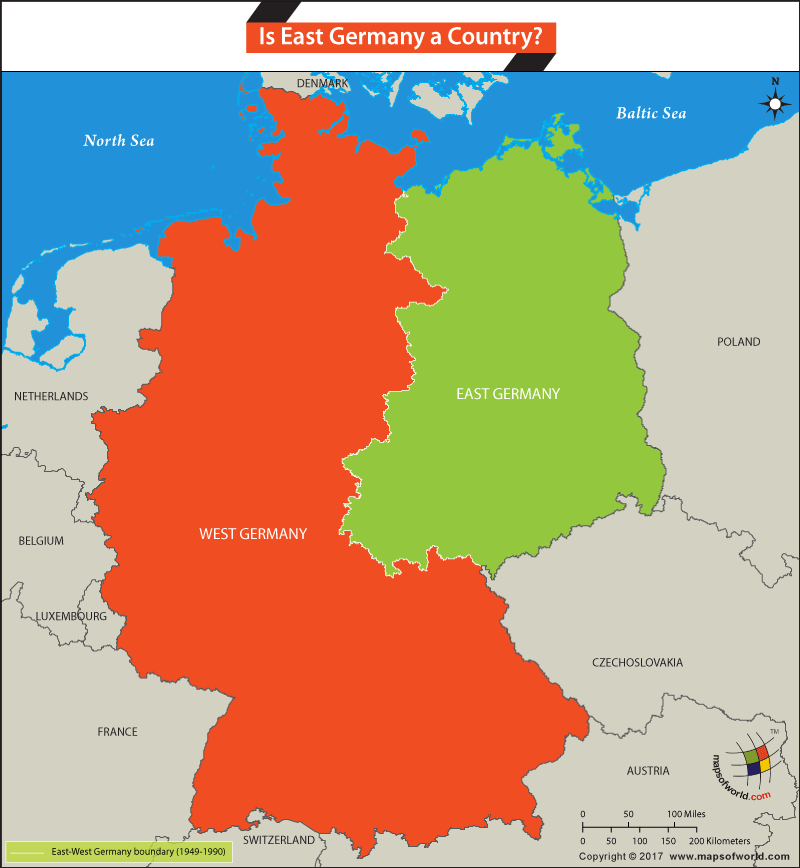 East Germany (formally the German Democratic Republic), also called Deutsche Demokratische Republik or Ostdeutschland, was a socialist state that existed from 1949 to 1990. The state was occupied in part by Soviet forces and was administered as a satellite state of the Soviet Union until the reunification of East and West Germany in 1990. The reunification, marked by the fall of the Berlin wall, is one of the greatest moments in the history of modern Germany.
The fall of Nazi Germany and its surrender to the Allied powers in May of 1945 brought a new political conundrum; how to administer the former Nazi Germany?
The USSR and the US led western allied nations became embroiled in a fierce power struggle.
At the heart of these tensions was Berlin – the capital of Germany. Ultimately, Germany and the city of Berlin were divided into four occupational zones, each controlled by one of the major Allied powers – the US, USSR, Britain, and France. Much of the territories east of the Oder and Neisse rivers, however, remained under Soviet control. The USSR and the other nations were deeply divided on a number of issues regarding the administration of postwar Germany.
In 1947, Great Britain and the United States decided to integrate their zone into a larger unit. With the merger of the French zone, West Germany or the German Federal Republic (FRG) was established on September 21, 1949. Within days, October 7, 1949, the Soviet Union also announced the establishment of a sovereign state – the German Democratic Republic (GDR) in the territory that it had occupied. The Socialist Unity Party took up administration of the GDR from the USSR. Far from being the end of the tensions that had developed between the US and the USSR, this was the start of an era of political tussle that would polarize the world.
Despite having gained some of the industrially developed regions of prewar Germany, East Germany continued to remain economically disadvantaged, at least in comparison to West Germany. Migration from East Germany to the NATO backed West Germany became a great concern for the communist administration. The Berlin wall was commissioned and strict travel bans imposed.
The Cold War deepened the divide between the two states. East Germany was one of the leading states of the Eastern Bloc, but by the 1980s the USSR had started to face its own domestic crisis. Soviet Russia was losing its dominance and the people of East Germany grew more restless. Large-scale protests seeking reunification with West Germany were held. By November 1989, the East German administration could no longer rein in the discontent and allowed free passage to the west. Finally, on October 3, 1990, Germany was reunified and the Federal Republic of Germany was established.
Related Maps: