What is the Capital of Singapore?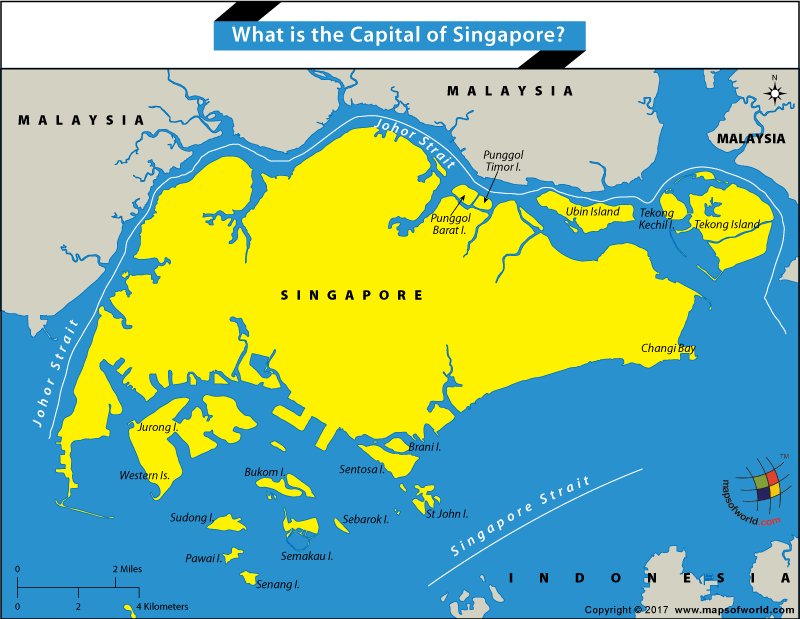 Singapore Capital
Singapore is both a country and its capital. Also referred to as the Lion City, the Garden City, or the Little Red Dot, it consists of 63 islands, Pulau Ujong being its main island. Singapore is one of the smallest countries in the world, with a total area of 277.6 square miles. It is located in Southeast Asia, about 85 miles north of the Equator, between Malaysia and Indonesia. Singapore follows a greening policy which has helped it to cover itself extensively with flora, gardens, and parks.
In 2016, its population was estimated to be 5.6 million people, with a resident population of 3.9 million. Singapore is a multi-lingual country where English is recognized as a language of administration, and other official languages are Malay, Mandarin, and Tamil.
Singapore Capital City falls into a special category of city-states like Monaco and Vatican City. It's a port town founded by Stamford Raffles in 1819 as a trading point for the East India Company. After the collapse of the company, the islands were taken over by Britain and became part of its Straits Settlements in 1826. Singapore became an independent nation in 1963. The island city-state has been ruled by many rulers in its history. Before Sir Thomas Stamford Raffles founded modern Singapore in 1819, it was under the rule of the Johor Sultanate. During the Second World War, it was conquered by the Japanese after which it was taken over by the British.
Ever since its independence, Singapore has developed into a global commerce, finance, and transport hub making itself the most advanced economy in Southeast Asia. Today, it's the most densely populated independent country in the world. The transformation of Singapore from a colonial state to an economically developed nation is a result of a corruption-free government, a skilled workforce, and its strategic location. All this has helped Singapore to attract large-scale foreign investments despite its relatively high-cost operating environment.
Being a global hub for business and investments, Singapore has been conferred with many titles, these are:
The most

 

'technology-ready'

 

nation

 

(WEF)
Top

 

International-meetings city (UIA)
A city with 'best investment potential' (BERI)
Second-most competitive country
Third-largest foreign exchange market
Third-largest financial center
Third-largest oil refining and trading center
The second-busiest container port
It is also known as a tax haven and ranks 5th on the UN Human Development Index having the 3rd highest GDP per capita. Even in education, healthcare, life expectancy, quality of life, personal safety, and housing, Singapore is at par with the developed nations.
Related Links:
Related Maps: