What are the Key Facts of Mozambique?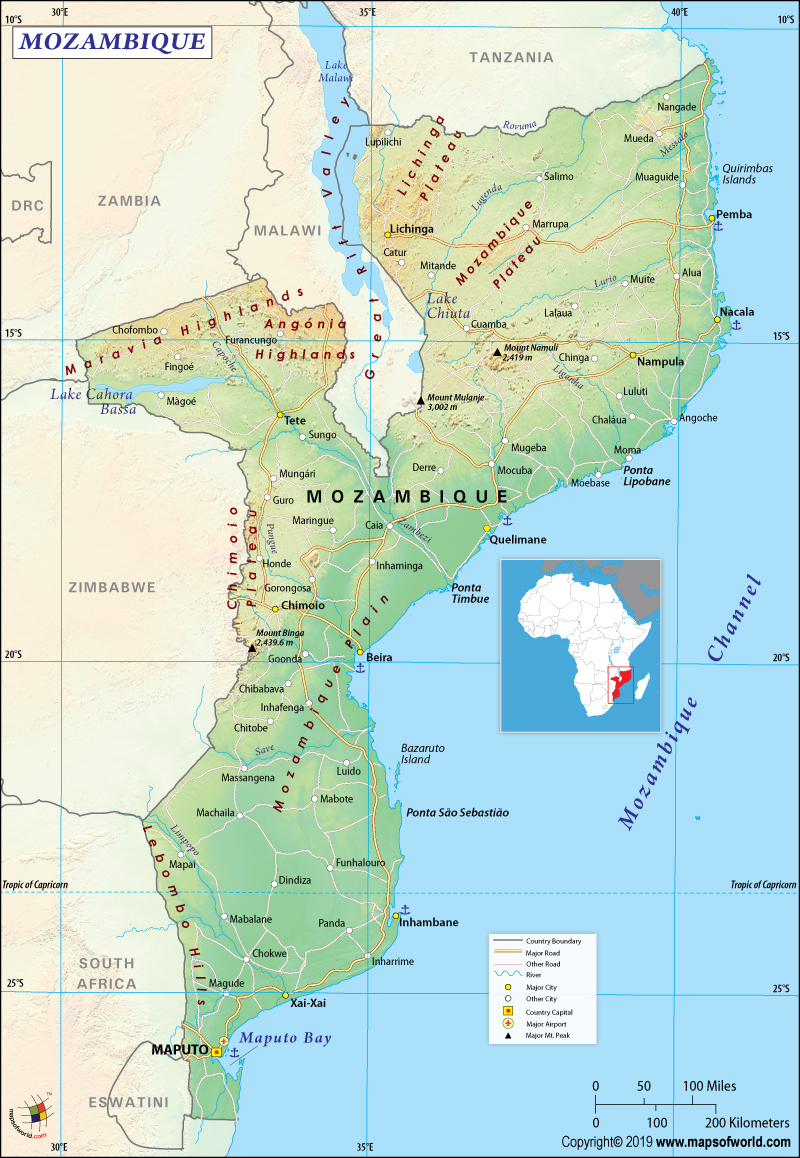 | | |
| --- | --- |
| Official Name | Republic of Mozambique |
| Continent | Africa |
| Capital | Maputo |
| Largest City | Matola |
| Coordinates | -18.250000, 35.000000 |
| Area | 309,500 sq mi ( 801,590 sq km) |
| Land Boundaries | 2,840 mi ( 4,571 km) |
| Coastline | 1,535 mi ( 2,470 km) |
| Currency | Mozambican metical (MZN) |
| Neighboring Countries | Tanzania, Malawi, Zambia, Zimbabwe, South Africa, eSwatini |
| Population | 28,829,476 (2016 est.) |
| Official Languages | Portuguese |
| Major Religion | Christianity |
| National Day | 25 June, Independence from Portugal |
| National Anthem | "Patria Amada" |
| Form of Government | Unitary presidential constitutional republic |
| President | Filipe Nyusi |
| Prime Minister | Carlos Agostinho do Rosário |
| GDP per capita (PPP) | $1,250.2 (World Bank, 2017) |
| GDP per capita (nominal) | $426.2 (World Bank, 2017) |
| HDI | 0.437 (2017), Rank: 180 |
| Literacy Rate | 56.04 (UNESCO, 2015) |
| Space Agency | NA |
| Military Expenditure Ranking | 118 (SIPRI, 2017) |
| No. of Olympic Medals | 2 (as of 2018) |
| Driving Side | Left |
| Calling Code | +258 |
| Time Zone | UTC+2 (CAT) |
| Internet TLD | .mz |
Where is Mozambique?
Mozambique is a Southeast African country that shares land borders with six countries (Tanzania to the north, Zimbabwe to the west, Malawi and Zambia to the northwest, and Eswatini and South Africa to the southwest) and the Indian Ocean to the east.
What is the Geography of Mozambique?
Mozambique's physical geography mostly consists of coastal lowlands, uplands in the central part, and high plateaus in the northwest part. The western position also consists of mountains. Two topographical regions of the country include:
Northern part of the Zambezi River: A narrow coastline is present. Bordering plateau around the coastline slopes upwards into the hills. Rugged highland series (further to the west) is also present, that is punctuated by scattered mountains. Most prominent highlands are Niassa, Namuli, Tete, Angonia, and Makonde plateau.
Southern part of the Zambezi River: The lowlands are wider than that of the northern parts of the Zambezi River. Hills and mountains are scattered along the borders of Zambia, Eswatini (or Swaziland), and South Africa.
The lowest elevation point of Mozambique touches sea level, the highest point is Monte Binga peak 7,988 feet (2,435 meters). The major mountains of Mozambique are Binga, Namuli, Currarre, Serra Chiperone, Panga, Serra Nhatoa, Mepulo, Zombue, Nhandore, and Gorungue. The most summited peak in the country is Monte Chimanimani (3,328 feet or 1,015 meters).
Mozambique has five major rivers (largest being Zambezi) along with several smaller ones. The major lakes of the country are Lake Malawi (Nyasa), Lake Chiuta, Lake Shirwa, and Lake Cahora Bassa (4th largest artificial lake of Africa). The climate of Mozambique is tropical in nature and the coastline is highly influenced by the Indian Ocean monsoon rains.
Mozambique has a tropical climate, but the climatic conditions change due to variation of altitude. While the influence is strongest in the northeast part of the country, the island barriers of Madagascar, Seychelles, and Comoros somewhat modify the influence. Overall, there are two prominent seasons in Mozambique:
October-to-March is the wet season, during which cyclones are common. Due to the devastating Idai and Kenneth cyclones in 2019, the country suffered heavily due to floods and destruction. April-to-September is the dry season.
Heavy rainfall takes place along the coastal areas and decreases as you move towards the north and the south. While average precipitation is 590 mm (or 23.2 inches), the annual level of precipitation varies from 500-to-900 mm (or 19.7-to-35.4 inches).
In Maputo (capital of the country), average temperature varies from 13-to-24 °C in July, to 22-to-31 °C in February.
What is the Economy of Mozambique?
Having suffered four centuries of colonial rule under the Portuguese, Mozambique is one of the most underdeveloped and poorest countries of the world. The 2017 estimated nominal GDP of the country is just US$12.35 billion. Most of the labor force is still dependent upon agriculture (77%). Only 23% of the labor force works in the services (15%) and industrial sectors (8%).
50% of the population is reeling under poverty and the unemployment rate was hovering between 22.55% in 2012 and 25.30% in 2014. In 2017, the unemployment rate was 25.04%. The major export items are prawns, cotton, sugar, copra, cashew nuts, timber, coconuts, and citrus. Major import items of Mozambique are petroleum products, clothes, and foods.
Though the Mozambican economy grew by 7% during 2011-2015, the estimated GDP growth has come down to 3.3% in 2018. The economy suffered a hidden debt crisis in 2016. However, the economic indicators are slowly getting better. The external debt to GDP has come down from 103.7% at 2016-end to estimated 85.2% at 2017-end. The GDP is expected to grow by 4% in 2019.
What is the Transportation System of Mozambique?
The major modes of transport are railways, highways, waterways, sea transport, and airways.
Railway links major cities of the country with South Africa, Zimbabwe, and Malawi. The main railway systems of the country are Nacala, Zambezi, Central, Southern, Southeast, and Eastern systems.
30,400 km of highways are there in the country, out of which only 5,685 km are paved ones.
Several large seaports are there on the Indian Ocean coast such as Maputo, Beira, and Nacala.
Navigable inland waterways of 3,750km are there in the country.
There are 158 airports in Mozambique, out of which only 22 airports have paved runways. Maputo International Airport is the main airport.
What International Organizations is Mozambique part of?
WTO, IMF, ACP, ILO, AfDB, UNCTAD, UNESCO, AU, WHO, C, CD, UN, UNHCR, UNIDO, Union Latina, CPLP, Interpol, EITI (compliant country), FAO, G-77, IAEA, IBRD, ICAO, ICC (NGOs), ICRM, IDA, IDB, IFAD, IFC, IFRCS, IHO, IMO, IMSO, IOC, IOM, IPU, ISO (correspondent), ITSO, ITU, ITUC (NGOs), MIGA, NAM, OIC, OIF (observer), OPCW, SADC, UNISFA, UNWTO, UPU, WCO, WFTU (NGOs), WIPO, WMO.
Related Maps: