What are the Key Facts of Morocco?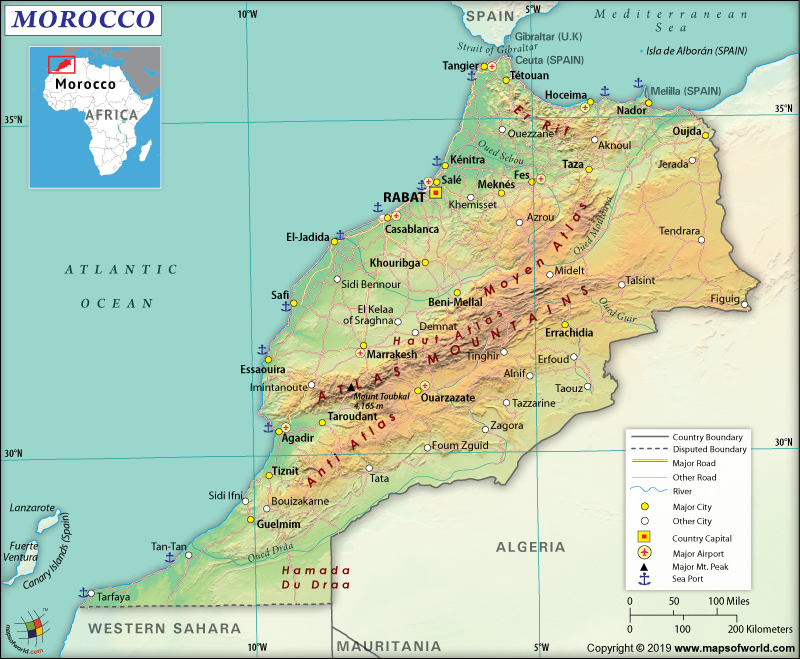 | | |
| --- | --- |
| Official Name | Kingdom of Morocco |
| Continent | Africa |
| Capital | Rabat |
| Largest City | Casablanca |
| Coordinates | 32.000000, -5.000000 |
| Area | 172,414 sq. mi ( 446,550 sq. km) |
| Land Boundaries | 1,468 mi (2,362.5 km) |
| Coastline | 1,140 mi ( 1,835 km) |
| Currency | Moroccan dirham (MAD) |
| Neighboring Countries | Western Sahara, Algeria, Spain |
| Population | 35,581,294 (2017 est. ) |
| Official Languages | Arabic, Berber |
| Major Religion | Islam |
| National Day | 18 November (Independence Day) |
| National Anthem | "Hymne Cherifien" |
| Form of Government | Unitary parliamentary constitutional monarchy |
| King | Mohammed VI |
| Prime Minister | Saadeddine Othmani |
| GDP per capita (PPP) | $ 8,586.6 (World Bank, 2018) |
| GDP per capita (nominal) | $ 3,237.9 (World Bank, 2018) |
| HDI | 0.667 (2017), Rank: 123 |
| Literacy Rate (%) | 73.75 (UNESCO, 2018) |
| Space Agency | Centre Royal de Télédétection Spatiale (CRTS) |
| Military Expenditure Ranking | 47 (SIPRI, 2017) |
| No. of Olympic Medals | 23 (as of 2018) |
| Driving Side | right |
| Calling Code | +212 |
| Time Zone | UTC+1 |
| Internet TLD | .ma |
Where is Morocco?
Morocco is a northern African country that borders the Mediterranean Sea (to the north) as well as the North Atlantic Ocean (to the west). The Kingdom of Morocco is located in North Africa's Maghreb region. It is situated between Western Sahara and Algeria.
What is the Geography of Morocco?
Morocco is spread across a total area of 446,550 sq. km (172,414 sq. mi), out of which 446,300 sq. km (172,317 sq. mi) is land area and 250 sq. km (97 mi) is water area. It shares its 2,362.5 km (1467.99 mi) long land boundary with 3 countries: Algeria (1,900 km or 1,181 sq mi), Western Sahara (444 km or 276 mi), Spain (Melilla) (10.5 km or 6 mi), and Spain (Ceuta) (8 km or 5 mi). Morocco has a 1,835 km (1,140 mi) long coastline.
The northern coast of Morocco is mountainous, consisting of Rif Mountains. The interior part is dominated by the Atlas Mountains, which are surrounded by large plateaus having intermontane valleys as well as fertile coastal plains. The mean elevation of this North African country is 909 m (2,982 ft).
While Jebel Toubkal (Atlas Mountain's highest peak) at 4,165 m (13,665 ft) is the highest elevation point, Sebkha Tah at -59 m (194 ft) is the lowest elevation point. Besides Toubkal, other major mountains are Ouanoukrim, Jebel Aksoual, Taska n'Zat, Jebel n'Tarourt, M'Goun, etc.
The landscape is dominated by mountainous regions having slopes that gradually transform to plateaus as well as valleys. The central parts of the country are dominated by the Atlas Mountains and the northern edge is made up of Rif Mountains.
The Sahara Desert (the 3rd largest desert of the world that is spread over an area of 9,400,000 sq km or 3,600,000 sq mi) blankets the entire southeastern region of Morocco. The major rivers in Morocco are Draa, Oum Er-Rbia, Dades, Sebou, Moulouya, etc.
Morocco has different climatic conditions in different regions. Mediterranean climate can be found in the coastal areas, continental in the mountainous regions, and arid climate in the inland areas.
A mild climate persists on the Atlantic coast, which is very similar to that of the Mediterranean climate but is even milder. The winters have spring-like weather, characterized by long periods of good weather. The summertime remains sunny and pleasantly warm.
Usually, the rains are not abundant. However, intense rainfall can sometimes take place within a few hours during November-March. Intense rainfall fills up the ancient river beds, causing the flood. Even in summer, the ocean water remains cool because of the cool sea current. The southern coasts (Agadir, Essaouira, etc.) are colder than the northern ones (Tangier to Casablanca).
Mediterranean climate prevails on the Mediterranean coast. Summers are sunny as well as hot, which is hotter than that on the Atlantic coast. While the average temperature in January revolves around 12 °C (53.5 °F), the average temperature in August remains around 25 °C (77 °F). Desert wind increases temperature suddenly. The ocean water temperature in August reaches 23 °C (73 °F). The interior regions, having higher altitude, get hot summers and slightly colder winters.
The best time to visit the imperial cities of Morocco is either during March-April or October-mid-November as the temperature remains pleasant. For beach holidays in Morocco, the best time of visit is either July-September on the Atlantic Coast or July-August on the Mediterranean coast.
What is the Economy of Morocco?
Morocco has a market-oriented economy, whose major sectors are agriculture, automotive, aerospace, tourism, apparel, textiles, phosphates, and subcomponents. The economy of Morocco has two main advantages of relatively low labor costs as well as proximity to Europe. To become one of the main business centers of Africa, the country has invested heavily in industrial infrastructure, transportation, and port.
The nominal GDP of Morocco increased at a rate of 3% in 2018 to reach US$118,534 million. The main export items are cars, insulated wires, mixed mineral/chemical fertilizers, phosphoric acid, non-knit women's suits, etc. The major import items are refined petroleum, vehicle parts, wheat, petroleum gas, cars, etc. In 2017, the total value of exports and imports was US$24.9 billion and US$37.4 billion respectively. The country had a negative trade balance of US$12.5 billion in that year.
The unemployment rate was 9.4% in 2018. This lower-middle-income country had a poverty rate of around 4.2% in 2014 (as per World Bank). While 3.1% of the population lives in extreme poverty (living on US$1.90 per day), 15.5% of the population lives in moderate poverty (living on US$3.10 per day).
What is the Transportation System of Morocco?
Morocco has 57,300 km (35,605 mi) long roadways and 2,067 km (1,284 mi) long standard-gauge railways. There are 55 airports in the country. While 31 airports have paved runways, 24 have unpaved runways. 1 heliport is also there. The major seaports are Casablanca, Tangier, Jorf Lasfar, Safi, and Mohammedia. 87 merchant marine vessels are there in Morocco.
What International Organizations is Morocco part of?
UN, WTO, ILO, IMF, UNESCO, NAM, ABEDA, AfDB, AFESD, AMF, AMU, CAEU, CD, EBRD, FAO, G-11, G-77, IAEA, IBRD, ICAO, ICRM, IDA, IDB, IFAD, IFC, IFRCS, IHO, IMO, IMSO, Interpol, IOC, IOM, IPU, ISO, ITSO, ITU, LAS, MIGA, MONUSCO, OIC, OIF, OPCW, PCA, UNCTAD, UNHCR, UNIDO, UNOCI, UNWTO, UPU, WCO, WHO, WIPO, WMO, ICC (national committees), ITUC (NGOs), OSCE (partner), Pacific Alliance (observer), Paris Club (associate), OAS (observer), SICA (observer), UNSC (temporary)
Related Link:
Related Maps: