What are the Key Facts of Minnesota?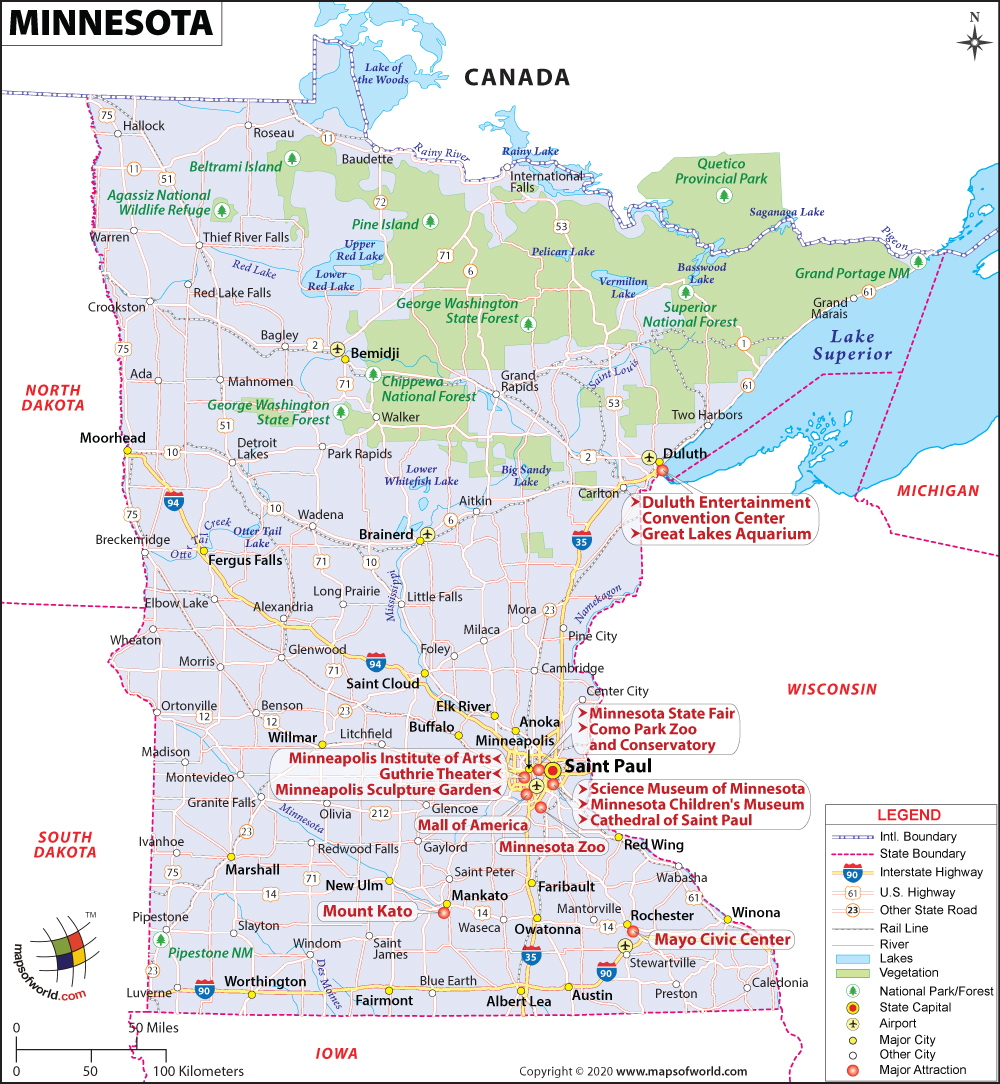 | | |
| --- | --- |
| State | Minnesota |
| State Capital | Saint Paul |
| Largest City | Minneapolis |
| Coordinates | 46°N 94°W |
| Nickname(s) | "Land of 10,000 Lakes", "North Star State", "The Gopher State", "Agate State", "True North", "State of Hockey" |
| Postal Abbreviation | MN |
| Area | 86,950 sq. mi (225,163 sq. km) |
| Highest Point | Eagle Mountain, 2,301 ft (701 m) |
| Number of Counties | 87 |
| Neighboring States | Wiscosin, Michigan, Iowa, North Dakota, South Dakota |
| Population | 5,639,682 (2019 est.) |
| Date of Entering the Union | May 11, 1858 |
| State Anthem | "Hail! Minnesota" |
| Governor | Tim Walz (DFL) |
| Lieutenant Governor | Peggy Flanagan (DFL) |
| U.S. Senators | Amy Klobuchar (DFL), Tina Smith (DFL) |
| U.S. House Delegation | 5 Democrats, 3 Republicans |
| GDP (Millions of Dollars) | 368852 |
| Demonym | Minnesotan |
| Time Zones | UTC-06:00 (Central), Summer (DST) UTC-05:00 (CDT) |
Where is Minnesota?
Minnesota (the 32nd state to be admitted to the union on May 11, 1858) is located in the Upper Midwest region (northern part of the Midwestern USA), Great Lakes, and the northern parts of the United States. It is bordered by the North Dakota and South Dakota (to the west), Wisconsin and Lake Superior (to the east), Iowa (to the south), and Canada (to the north).
What is the Geography of Minnesota?
Minnesota is spread across a total area of 86,950 sq. mi (225,163 sq. km), making it the 12th largest state of the 50 US states. Out of the total area, the land area occupies 79,610 sq. mi (206,375 sq. km) and the water area occupies 7,329 sq. mi (18,990 sq. km).
Minnesota is around 407 mi (655 km) long from north-to-south and 360 miles (579.4 km) from east-to-west. It has a 90,000 miles mi (144,841 km) long shoreline.
The mean elevation of Minnesota was 1,200 ft (365.8 m) above sea level. While the Eagle Mountain is the highest elevation point at 2,301 ft (701.3 m) above sea level, Lake Superior is the lowest elevation point at 602 ft (183.5 m) above sea level.
The major mountains in Minnesota are Eagle Mountain, Lima Mountain, Brule Mountain, Pine Mountain, Misquah Hills, Kelso Mountain, Stony Tower Hill, Peabody Hill, Moose Mountain, Stony Point, etc.
Over 8.4% of Minnesota's total area is occupied by the water bodies. The major rivers in the state are Mississippi River, Red River of the North, Des Moines River, Cedar River, Minnesota River, Wapsipinicon River, Little Sioux River, Roseau River, Red Lake River, Otter Tail River, Saint Louis River, etc.
There are more than thirty thousand lakes in Minnesota, out of which 11,842 lakes have sizes more than 10 acres and 21,871 lakes that have sizes more than 2.5 acres. Some of the largest lakes in the state are Red Lake (both Upper and Lower), Mille Lacs Lake, Leech Lake, Lake Winnibigoshish, Lake Vermilion, Lake Kabetogama, Mud Lake (Marshall County), Cass Lake, Lake Minnetonka, Otter Tail Lake, and others.
Most of the landform in Minnesota includes gently rolling plains (covering around half of Minnesota), created when glaciers moved over the landscape. Fertile topsoil covers this landform. These are the richest farmland found in the US. However, some part of it also includes sand and stony areas.
The northern part of the state is mostly rugged, including rocky ridges as well as deep lakes. The roughest and also the most isolated landform is located in northern Minnesota, especially to the north of Lake Superior.
The highest elevation point in the state is located in the Lake Superior region. The far northeast region of Minnesota looks like an arrowhead and that's why the region is called the Arrowhead Country.
A relatively flatter land is found along the Mississippi River. Deep valleys (created by fast-flowing rivers and streams) cut the flatlands.
Thick deposits of sand, gravel, and clay (left by the ice age glaciers) are found in southwestern Minnesota. Many streams crisscross this region. Farmers have used the few flatlands found here.
What is the Climate of Minnesota?
A humid continental climate is found in Minnesota. It is characterized by hot summers and cold winters.
While July is the hottest month of the state with an average high temperature of around 81.4 °F (27.4 °C), January is the coldest month with the low nighttime temperature reaching 1.8 °F (-16.8 °C). The state gets just 7.3 days (on average) annually when the high temperature is more than 90 °F (32.2 °C). It gets 169.4 days (on average) annually when the low nighttime temperature reaches below freezing point.
The most pleasant months in Minnesota are June, July, and August, when the average temperature revolves within 70-85 °F (21.1-29.4 °C) temperature range. The least comfortable months are December and January.
While June is the wettest month (with 4.4 inches or 111.8 mm of rainfall), February is the driest month of the year (with 0.7 inches or 17.8 mm of rainfall). The yearly average rainfall is 29 inches (736.6 mm). While Autumn/Fall season is the wettest season with 41% of the annual precipitation, the Spring season is the driest season with just 8% of the precipitation.
The average annual snowfall level is 46.8 inches (1,188.7 mm). Most of the snowfall takes place in seven months of the year. However, maximum snowfall takes place in December (with average monthly snowfall of around 10.1 inches or 256.5 mm).
What is the Economy of Minnesota?
Minnesota has a diversified economy with a heavy emphasis on the service sector and agriculture. 31 publicly traded companies in the top 1,000 US companies are headquartered in this state. Some of them are UnitedHealth Group, Target, Valspar, Best Buy, SuperValu, Land O' Lakes, Hormel, Ameriprise, U.S. Bancorp, General Mills, 3M, etc. Minnesota generates around 4% of the total agricultural receipts of the United States. It is the 5th largest state in the US, in terms of annual farm income.
The total Gross Domestic Product (GDP) for Minnesota has increased from US$264,688 million in 2008 to US$368,852.4 million in 2018. The Real Median Household Income during the last 10 years (2008-2018) has increased from US$64,215 to US$71,817. The Per Capita Personal Income in Minnesota has increased from US$43,104 in 2008 to US$57,515 in 2018.
In 2018, the total value of exports and imports were $22,676,979,618 and $32,882,977,723 respectively, resulting in a trade balance of -$10,205,998,105. Among the 50 US states, Minnesota has 20, 20, and 35 ranks in terms of exports, imports, and trade balance.
The major export items are Precision Instruments, Industrial Machinery, Electrical Machinery, Plastics, Motor Vehicles & Parts, Animal Feeds, Pharmaceuticals, Ores, Aircraft, Meat, etc. The major imports of Minnesota are Oil & Mineral Fuels, Electrical Machinery, Industrial Machinery, Precision Instruments, Toys & Sports Equipment, Furniture, Motor Vehicles & Parts, Plastics, Iron & Steel Articles, etc.
The rate of unemployment increased sharply from 4% in November 2007 to 8.5% in March 2009. However, it has come down to 2.9% in November 2019. The poverty rate of the state is 9.5% (517,476 people in the state out of the total population of 5,450,582 are poor).
What is the Transportation System of Minnesota?
Minnesota has an intricate highway transportation system including US highways, interstate highways, and state highways. Some of the longest US highways in the state are US 59, US 71, US 75, US 52, and many more.
The Minnesota Department of Transportation (MnDOT) maintains around 921.621 mi (1,483.2 km) of highways. The three longest Primary Interstate Highways are I-35, I-90, and I-94. Auxiliary Interstate Highways such as I-494 and I-694 are also present. The longest state highways of Minnesota are MN 1, MN 23, MN 65, MN 30, MN 27, MN 210, MN 9, MN 60, MN 55, and many more.
The major airports in Minnesota are Minneapolis–St. Paul International Airport (in Minneapolis), Duluth International Airport (in Duluth), Rochester International Airport (in Rochester), Bemidji Regional Airport (in Bemidji), Brainerd Lakes Regional Airport (in Brainerd), etc. The major ports in the state are Duluth-Superior, Port of Two Harbors, Silver Bay, Taconite Harbor, and many more.
Why is Minnesota called the "The North Star State"?
Minnesota's official nickname is "The North Star State". It got this nickname following the French motto that appeared on the state flag and seal, which reads: "l'étoile du nord" (which when translated becomes "the star of the north").
The other nicknames of the state are "Land of 10,000 Lakes", "Bread Basket of the Nation", "New England of the West", "Gopher State", "Bread and Butter State", "Wheat State", "Cream Pitcher of the Nation", and "Playground of the Nation".
What are the Popular Tourist Attractions in Minnesota?
Superior National Forest and Boundary Waters Canoe Area Wilderness, North Shore Scenic Drive, Cathedral of St. Paul, Voyageurs National Park, International Wolf Center, Minnesota State Capitol Building, Split Rock Lighthouse State Park, Minneapolis Institute of Art, St. Cloud Clemens Gardens, Duluth Aerial Lift Bridge, Itasca State Park, Mall of America, etc.
Related Maps: