What are the Key Facts of Laos?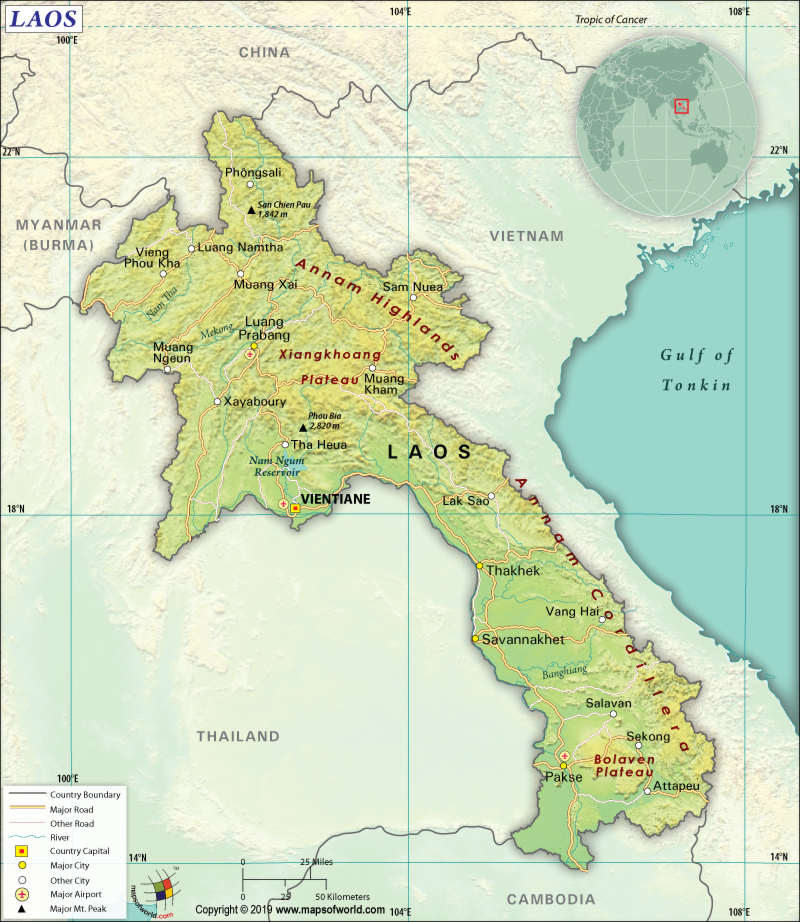 | | |
| --- | --- |
| Official Name | Lao People's Democratic Republic |
| Continent | Asia |
| Capital | Vientiane |
| Largest City | Vientiane |
| Coordinates | 18.000000, 105.000000 |
| Area | 91,875 sq. mi (237,955 sq. km) |
| Land Boundaries | 3,277 mi ( 5,274 km) |
| Coastline | 0 mi ( 0 km) landlocked |
| Currency | Kip (₭) (LAK) |
| Neighboring Countries | China, Vietnam, Cambodia, Thailand, Myanmar (Burma) |
| Population | 7,234,171 (2018 est.) |
| Official Languages | Lao |
| Major Religion | Buddhism |
| National Day | 2 December (Republic Day) |
| National Anthem | "Pheng Xat Lao" |
| Form of Government | Unitary Marxist–Leninist one-party socialist republic |
| President | Bounnhang Vorachith |
| Prime Minister | Thongloun Sisoulith |
| GDP per capita (PPP) | $ 7,441.3 (World Bank, 2018) |
| GDP per capita (nominal) | $ 2,567.5 (World Bank, 2018) |
| HDI | 0.601 (2017), Rank: 139 |
| Literacy Rate (%) | 84.66 (UNESCO, 2015) |
| Space Agency | NA |
| Military Expenditure Ranking | NA (SIPRI, 2017) |
| No. of Olympic Medals | 0 (as of 2018) |
| Driving Side | right |
| Calling Code | +856 |
| Time Zone | UTC+07:00 (ICT) |
| Internet TLD | .la |
Where is Laos?
Laos is a Southeast Asian country that is located to the west of Vietnam and northeast of Thailand. It is bordered by Thailand to the west and southwest, Cambodia to the southeast, Vietnam to the east, China to the northwest, and Myanmar to the northwest.
What is the Geography of Laos?
Laos is spread across a total area of 237,955 sq. km (91,875 sq. mi), out of which 230,800 sq. km (89,112 sq. mi) is land area and 6,000 sq. km (2,317 sq. mi) is water area. It has a 5,274 km (3,277 mi) long land area but no coastline (Laos is landlocked).
The land boundary of Laos is shared with 5 countries and they are Vietnam (2,161 km or 1,343 mi), Thailand (1,845 km or 1,146 mi), Cambodia (555 km or 345 mi), China (475 km or 295 mi), and Myanmar (Burma) (238 km or 148 mi).
The terrain of Laos mostly consists of rugged mountains. Some plateaus and plains are also there. The mean elevation of the country is 710 m (2,329 ft). While Phu Bia is the highest elevation point of Laos at 2,817 m (9,242 ft), the lowest elevation point is the Mekong River at 70 m (230 ft).
The overall landscape of Laos is characterized as hilly and mountainous, which are covered by thick green forests. These mountainous landscapes are fronted by river valleys as well as an increasing steep terrain.
The lower flatlands are limited in the country. However, they are mainly concentrated in the southern part, especially along the Mekong River that forms the border with Thailand. Thousands of rivers traverse this country. The Mekong is not only the most important river of the country but also the 7th longest in Asia and the 12th longest in the world. This river is 4,350 km (2,703 mi) long and drains 795,000 sq. km (307,000 sq. mi) area.
Laos has a tropical climate in the plains. A subtropical climate is found in the far northern parts of the country. Monsoon is predominant in Laos. There are two monsoons types that prevail in the country. While one is the summer monsoon, the other is the winter monsoon. Good weather during November-February by the winter monsoon. The summer monsoon starts in May and continues till mid-October. It increases humidity significantly. However, there is an irregularity in the arrival of monsoon.
March-May is the hottest period in Laos. The climate remains dry, but thunderstorms take place during the afternoon. The months during summer are less hot but they have higher humidity. It reaches to almost 30-32 °C (86-90 °F) during summer. The hottest month in Laos is April, when the average high temperature revolves around 35 °C (95 °F). In the central-south region, the temperature peaks at 40-42 °C (104-108 °F). However, in the northern parts, the temperature can reach as high as 45 °C (113 °F).
The monsoon arrives earlier in the southern parts than in the northern parts. That's why the temperature starts decreasing during May in the south. In the first part of May, it remains hot in the northern areas.
While the average annual rainfall revolves within 1,200-2,200 mm (47-87 in), in the exposed mountainous slopes the rainfall level can exceed 3,000 mm (118 in).
Though November-February is the best time to visit Laos, typhoons or tropical storms generally hit the place in November. Therefore, mid-December to late-January is the best time to visit Laos.
What is the Economy of Laos?
The nominal GDP of Laos increased at a rate of 6.501% in 2018 to reach a figure of US$ 18.131 billion. It is one of the fastest-growing economies in Asia. From 1988 to 2008, the economy grew at an average annual rate of 6% per year. In the last decade, the average rate increased by over 7% per annum.
The major exports of Laos are gold, rubber, copper ore, non-knit men's suits, rough wood, etc. The major imports are iron structures, delivery trucks, broadcasting equipment, hydraulic turbines, other steel bars, etc. In 2017, the country had a positive balance of trade of US$101 million. While the value of export was US$2.04 billion, the value of imports was US$1.94 billion in 2017.
Laos had an unemployment rate of just 0.61% in 2018. It was 2.15% in 1998. The UNDP reports show that the country has successfully brought down the poverty level from 46% to 23% during 1992-2015.
What is the Transportation System of Laos?
Laos has a 39,586 km (24,598 mi) long roadway, out of which 5,415 km (3,365 mi) is paved and 34,171 km (21,233 mi) is unpaved. There is 4,600 km (2,858 mi) long waterway in the country. The waterway navigation is mostly present on the Mekong River along with its tributaries. Intermittent navigation is possible on an additional 2,900 km (1,802 mi) on crafts drawing less than 0.5 m (1.6 ft). The country has one merchant marine vessel. There are 41 airports in Laos, out of which eight have paved runways and 33 have unpaved runways. The main airports of the country are Wattay International Airport, Pakse International Airport, Luang Prabang International Airport, Attapeu International Airport, Ban Huoeisay Airport, etc.
What International Organizations is Laos part of?
WTO, UN, WHO, IMF, UNESCO, ILO, NAM, ADB, ARF, ASEAN, CP, EAS, FAO, G-77, IAEA, IBRD, ICAO, ICRM, IDA, IFAD, IFC, IFRCS, Interpol, IOC, IPU, ITU, MIGA, OIF, OPCW, PCA, UNCTAD, UNIDO, UNWTO, UPU, WCO, WFTU (NGOs), WIPO, WMO, ISO (subscriber)