What are the Key Facts of Kosovo?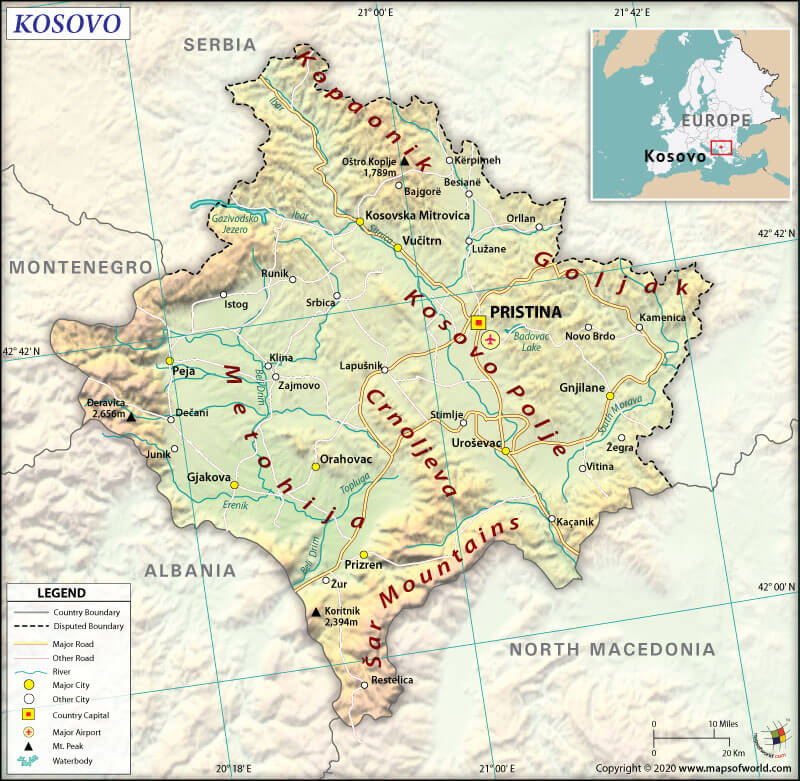 | | |
| --- | --- |
| Official Name | Republic of Kosovo (partially-recognised state) |
| Continent | Europe |
| Capital | Pristina |
| Largest City | Pristina |
| Coordinates | 42.583333, 21.000000 |
| Area | 4,203 sq. mi (10,887 sq. km) |
| Land Boundaries | 1,594 mi (2,566 km) |
| Coastline | 0 mi (0 km) Landlocked |
| Currency | Euro (€) (EUR) |
| Neighboring Countries | Albania, Montenegro, North Macedonia, Serbia |
| Population | 1,794,000 (World Bank, 2019) |
| Official Languages | Albanian, Serbian |
| Major Religion | Islam |
| National Day | 17 February (Independence Day) |
| National Anthem | "Europe" |
| Form of Government | Unitary parliamentary constitutional republic |
| Monarch | Hashim Thaçi |
| Prime Minister | Avdullah Hoti |
| GDP per capita (PPP) | $ 11,838.9 (World Bank, 2019) |
| GDP per capita (nominal) | $ 4,417.5 (World Bank, 2019) |
| HDI | NA |
| Literacy Rate (%) | NA |
| Space Agency | NA |
| Military Expenditure Ranking | 134 (SIPRI, 2019) |
| No. of Olympic Medals | 1 (as of 2018) |
| Driving Side | right |
| Calling Code | 383 |
| Time Zone | UTC+1 (CET), Summer (DST)UTC+2 (CEST) |
| Internet TLD | NA |
Where is Kosovo?
Kosovo (whose official name is the Republic of Kosovo) is a Southeast European country that is located between Hungary and Macedonia. It is a Southeast European country located in the center of the Balkans and between Macedonia and Serbia.
What is the Geography of Kosovo?
The country spreads across a total area of 4,203 sq. mi (10,887 sq. km). Out of the total area, 10,887 sq. km (4,203 sq. mi) is land area, and 0 sq. mi (0 sq. km) is the water area.
The Republic of Kosovo's total land boundary is 443.7 mi (714 km) long. It shares its border with Serbia (227.4 mi or 366 km) to the north and east, North Macedonia (99.4 mi or 160 km) to the southeast, Albania (69.6 mi or 112 km) to the southwest, and Montenegro (47.2 mi or 76 km) to the west. It is a landlocked country and has no coastline.
The mean elevation of Kosovo is 1476.4 ft (450 m). While the highest point is Gjeravica/Deravica at 8713.9 ft (2,656 m), the lowest point is the Drini i Bardhe/Beli Drim (located on the Albanian border) at 974.4 ft (297 m).
Kosovo's terrain is dominated by a flat fluvial basin having an elevation of around 1,312.3-2,296.6 ft (400-700 m) above sea level. This basin is surrounded by many high mountain ranges having heights ranging within 6561.7-8,202.1 ft (2,000-2,500 m). The mountains in the country belong to the Dinarides range.
The highest mountains in Kosovo are Gjeravica, Maja e Njeriut (Rudoka e madhe), Peskovi, Čelepinski Vrv, Gusan, Mala Vraca, etc. Major rivers of the country are the White Drin, the South Morava, the Ibar, Sitnica, River Nerodimka, and many more. The largest lakes in the country are Gazivoda Lake, Radoniq Lake, Batlava Lake, Badovc Lake, Fierza Reservoir, and others.
What is the Climate of Kosovo?
The country predominantly has a continental climate, characterized by warm summers and cold winters having the Mediterranean and Alpine climatic influences. The average temperature in Kosovo ranges within 86 °F (30 °C) during summer to 14 °F (-10 °C) during winter.
Significant differences in temperature and rainfall distribution are witnessed in certain parts of the country due to differences in elevations. While the coldest months in Kosovo are December and January, the warmest months are July and August.
The maximum rate of rainfall in the country takes place during October-December. Maximum snowfall takes place during November-to-March. During these months, even the flat parts of Kosovo get snow. The mountain regions get maximum snowfall.
The Dukagjini plain between Peja and Prizren is the most fertile area in Kosovo, with maximum precipitation during November-March. The valley between Mitrovica and Kaçanik is the drier region in the country. The Kosovo Plain, Dukagjini Plain, and the mountains and forest regions have three separate climatic conditions.
Kosovo Plain includes Iber valley. The continental air masses influence this plain, and that's why the winters remain colder. While the average winter temperature remains above 14 °F (-10 °C), sometimes it reaches -14.8 °F (-26 °C). The summer season becomes very hot, with an average temperature revolving around 68 °F (20 °C). However, sometimes the temperature also goes up to 98.6 °F (37 °C). As the Kosovo plains remain predominantly dry, the annual precipitation hovers around 23.6 inches (600 mm) per year.
Dukagjini Plain includes the watershed of the Drini i Bardh river. The hot air masses (crossing the Adriatic Sea) influence the Dukagjini Plain.
While the average winter temperature remains within 32.9 °F (0.5 °C) to sometimes 73.04 °F (22.8 °C), the average yearly precipitation level remains around 27.6 inches (700 mm) per year. Heavy snowfall is the characteristic feature of the Dukagjini Plain during winter.
What is the Economy of Kosovo?
The economy of the country can be classified as an upper-middle-income country. It has experienced robust economic growth over the last decade. In 2001, the annual GDP growth rate was 26.974%. However, it plunged to -0.701% in 2002. It has regained since then and maintained a more or less stable growth rate. In 2019, the nominal GDP of Kosovo increased by 4.172% to US$7.926 billion.
Compared with the Western Balkan countries, the economy of the country increased consistently above the average in the post-global financial crisis period. The per capita GDP of Kosovo quadrupled from US$1,088 to US$4,458 during 2000-2019.
Major export items are base metals and by-products, prepared foodstuffs, rubber, plant products, beverages and tobacco, plastics, and mineral products. Significant imports of Kosovo are mineral products (mostly hydrocarbon), foods, machinery, mechanical and electrical equipment, chemical products, beverages and tobacco, vehicles, and base metals.
The country suffered from a trade deficit of EUR 2.97 billion in 2018 as the import and export values for the year were EUR 3.34 billion and EUR 367 million, respectively.
The unemployment rate in this Southeast European country averaged 34.69% in the last two decades (2001-2019). However, it has come down significantly from 57% in the fourth quarter of 2001 to 24.5% in the third quarter of 2019.
The Household Budget Survey (HBS) 2017 data shows that the poverty and extreme poverty rates in Kosovo were 18% and 5.1%, respectively.
What is the Transportation System of Kosovo?
The country has six airports. While three have paved runways, 3 have unpaved runways. The major airports of Kosovo are Pristina International Airport "Adem Jashari" (Pristina), Gjakova Airport (Gjakova), Batlava-Donja Penduha Airport (Podujevo (Dumosh), etc. Two heliports are also there in the country.
There is 1250.2 mi (2,012 km) long roadways available, out of which 1193.7 mi (1,921 km) are paved (includes 48.5 mi or 78 km of expressways) and 56.5 mi (91 km) are unpaved. 206.9 mi (333 km) long standard-gauge railway tracks are there in Kosovo.
What International Organizations is Kosovo part of?
CEFTA, SECI, IMF, World Bank Group (IBRD, IDA, IFC), MIGA, OIF (observer), ITUC (NGOs)
NOTE: Kosovo is not yet a UN member as the international community is still divided on the issue of it declaring independence from Serbia on February 17, 2008. Till March 2, 2020, Kosovo is recognized by 97 out of 193 UN member states, 22 out of 27 EU member states, 26 out of 30 NATO member states, and 34 out of 57 OIC member states.
Related Links:
Related Maps: