What are the Key Facts of Andorra?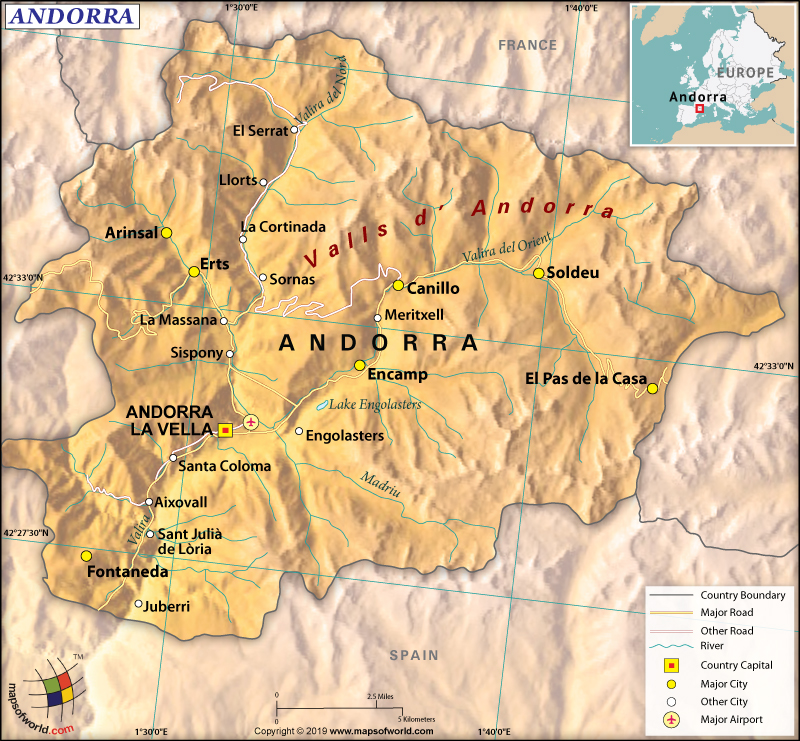 | | |
| --- | --- |
| Official Name | Principality of Andorra |
| Continent | Europe |
| Capital | Andorra la Vella |
| Largest City | Andorra la Vella |
| Coordinates | 42.500000, 1.500000 |
| Area | 180.55 sq. mi (467.63 sq. km) |
| Land Boundaries | 73 mi ( 118 km) |
| Coastline | 0 mi ( 0 km) |
| Currency | Euro (€) (EUR) |
| Neighboring Countries | France, Spain |
| Population | 76,177 (2019 est. ) |
| Official Languages | Catalan |
| Major Religion | Christianity |
| National Day | 8 September (Our Lady of Meritxell Day) |
| National Anthem | "El Gran Carlemany" |
| Form of Government | Unitary parliamentary semi-elective diarchy |
| Co-Princes | Joan Enric Vives Sicília, Emmanuel Macron |
| Prime Minister | Xavier Espot Zamora |
| GDP per capita (PPP) | NA |
| GDP per capita (nominal) | $ 42,029.8 (World Bank, 2018) |
| HDI | 0.858 (2017), Rank: 35 |
| Literacy Rate (%) | NA |
| Space Agency | NA |
| Military Expenditure Ranking | NA (SIPRI, 2017) |
| No. of Olympic Medals | 0 (as of 2018) |
| Driving Side | right |
| Calling Code | +376 |
| Time Zone | UTC+1(CET), Summer (DST) UTC+2 (CEST) |
| Internet TLD | .ad |
Where is Andorra?
Andorra is a Southwest European country that is situated in the eastern Pyrenees mountain range. It is located between Spain and France.
What is the Geography of Andorra?
The total area of Andorra is 467.63 sq. km (180.55 sq. mi), out of which the entire 468 sq. km (181 sq. mi) is land area and 0 sq. km (0 sq. mi) water area. The country has a 118 km (73 mi) long land boundary, which is shared with Spain (63 km or 39 mi) to the south and France (55 km or 34 mi) to the north. As it is landlocked, Andorra has no coastline.
The terrain is rugged and almost the entire country is covered with high mountains. That's why the mean elevation of Andorra is 1,996 m (6,549 ft). While Pic de Coma Pedrosa at 2,946 m (9,665 ft) is the highest elevation point, Riu Runer at 840 m (2,756 ft) is the lowest elevation point.
Other major mountains of the country are Pic de Médécourbe, Pic de Cataperdis, Pic de Tristaina, Pic de Font Blanca, Pic de Siguer, etc. The single most important river basin of the country is based around Gran Valira River. Other major rivers and tributaries are Valira del Nord, Valira d'Orient, Madriu River, and many more. There are an estimated 172 lakes in Andorra and the largest one is the Estanys de Juclar.
As Andorra is located on the eastern Pyrenees mountain range, it mainly consists of rugged mountains. 3 narrow valleys dissect these mountains in a Y shape, which gets combined into one main stream through Gran Valira River and ultimately leaving Andorra for Spain. This country's territory belongs to the Pyrenees conifer and mixed forests.
The climatic condition in Andorra varies significantly with the varying elevation. The valleys have a temperate climate. However, at a higher elevation, the winters get more severe, slightly cooler summer, and lower humidity.
Alpine and alpine tundra climate is found in the regions above the Alpine tree line, located at around 2,100-2,400 m (6,890-7,874 ft). The northern valleys remain completely covered by snow for several months.
Andorra gets lots of sunshine. Around 300 days remain sunny on average every year. While in June the average daily peak insolation remains around 1150 W/m2, in December it remains 280 W/m2. The average annual temperature varies in different parts of Andorra.
While the average annual temperature at the southern parts of the country remains around 11 °C (52 °F), the same at the central parts revolve around 8 °C (46 °F). The average annual temperature at the northern parts of Andorra revolves around 2 °C (36 °F).
The extent of rainfall also varies from south to north. The average annual rainfall in the entire country revolves around 1,071.9 mm (42.2 in). The lowest rainfall takes place at Sant Julià de Lòria in the southern parts of Andorra. It receives around 800 mm or 31.5 in of rainfall every year.
The northern parts, especially Canillo, receive most of the rainfall, which is around 1,100 mm or 43.3 in per year. The areas in the highest mountains get maximum rainfall, which exceeds 1,220 mm (48 in).
While January-February is the driest period, May, June, and November are the wettest months. There are only a few rainy days during the summer. As the rainfall is accompanied by thunderstorms, they can be significantly heavy during summertime.
What is the Economy of Andorra?
Andorra has a developed, free-market economy. In 2018, the nominal GDP of Andorra increased at a rate of 1.6% (marginally lesser than that of 1.7% in 2017) to become US$3,237 million. The per capita GDP was US$42,487 in 2018 (higher than US$40,289 in 2017). Andorra's per capita income is not only higher than its neighbors (such as France and Spain) but also that of the average of the European countries.
The Andorran economy is mainly dependent upon foreign trade, tourism, duty-free shopping, and financial services. The construction and trade propelled growth in the economy. However, the industrial activity's decline has narrowed the scope.
The service sector (mainly tourism, finance, and real estate) is the most dominant sector of the economy, accounting for 54.5% of the GDP. While the industrial sector accounts for 33.6%, the agricultural sector accounts for 11.9% of the GDP.
Most of its required food items are imported. The country imported US$1.43 billion and exported US$107 million worth of goods in 2017, giving rise to a negative trade balance of US$1.32 billion.
The major exports of the country are refined petroleum, integrated circuits, cars, orthopedic appliances, and essential oils. The major imports of Andorra are refined petroleum, cars, shaving products, hard liquor, and perfumes.
The unemployment rate is very low in Andorra, which was 1.7% in 2017. Poverty doesn't exist in the country. The inhabitants have a very high standard of living. Their average life expectancy is 83.5 years, which is the highest in the world.
What is the Transportation System of Andorra?
Roadway (320 km or 199 mi long) is the main mode of transport in Andorra. Buses are the main mass transit system in the country. Taxis and car rental facilities are available. There is no railway or airway.
What International Organizations is Andorra part of?
UN, UNESCO, WHO, Interpol, Union Latina, CE, FAO, ICAO, ICCt, ICRM, IFRCS, IOC, IPU, ITU, OIF, OPCW, OSCE, UNCTAD, UNWTO, WCO, WIPO, WTO (observer), ICC (NGOs)
Related Maps: