What are the Key Facts About Coronavirus?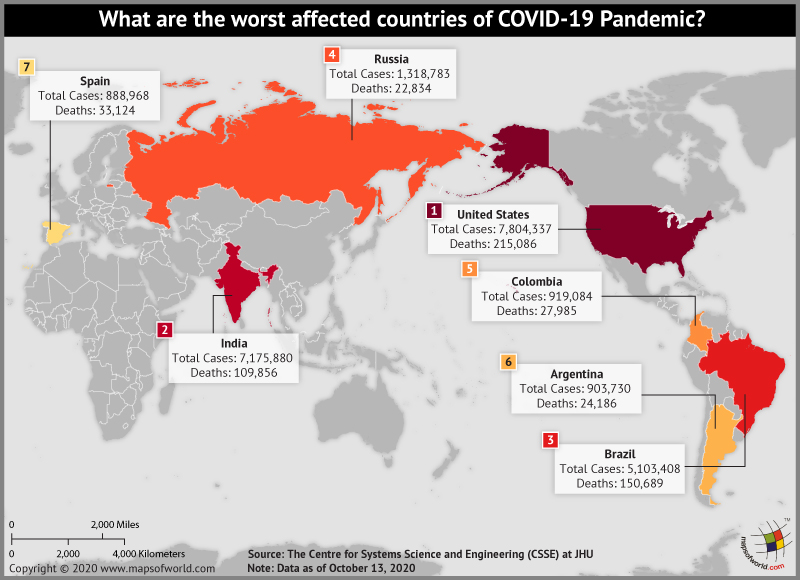 What is Coronavirus?
Coronavirus is a family of viruses that can cause the common cold or other more severe diseases such as the new coronavirus disease COVID-19, Middle East Respiratory Syndrome (MERS), and Severe Acute Respiratory Syndrome (SARS). It is a contagious disease that can cause mild-to-severe respiratory symptoms along with others such as shortness of breath, cough, and fever.
What is COVID-19? Where and When did it Originate? When did it become a Pandemic?
The latest deadly strain of coronavirus (SARS-CoV-2 causing COVID-19) that has led to the current pandemic was first detected in China's Wuhan on December 31, 2019. While the 2019 Novel Coronavirus was named Severe Acute Respiratory Syndrome Coronavirus-2 (SARS-CoV-2), the disease associated with the virus is called COVID-19.
The coronavirus outbreak was declared a public health emergency of international concern on January 30, 2020, and then a pandemic on March 11, 2020.
How Does COVID-19 Transmit?
The transmission of COVID-19 novel coronavirus takes place mainly due to person-to-person contact. It spreads primarily through respiratory droplets, which becomes airborne only when a person suffering from COVID-19 coughs, sneezes, or speaks.
How Bad is the COVID-19 Pandemic?
At the time of writing (on August 18, 2020, at 8.57 am), these facts about coronavirus, COVID-19 tracker of John Hopkins University, shows that the total global count of confirmed positive cases of COVID-19 was 21,826,342 and the total number of fatalities was 773,152.
The ongoing COVID-19 pandemic threatens the economic landscape, reversing decades of progress made in the field of income inequality and poverty, and jeopardizing the future of a generation of children.
What are the worst affected countries of the COVID-19 Pandemic?
| | | | |
| --- | --- | --- | --- |
| S.No. | Country | Total Cases (Oct 13, 2020) | Deaths |
| 1 | The United States | 7,804,337 | 215,086 |
| 2 | India | 7,175,880 | 109,856 |
| 3 | Brazil | 5,103,408 | 150,689 |
| 4 | Russia | 1,318,783 | 22,834 |
| 5 | Colombia | 919,084 | 27,985 |
| 6 | Argentina | 903,730 | 24,186 |
| 7 | Spain | 888,968 | 33,124 |
Is SARS-CoV-2 (that causes COVID-19) similar to the Seasonal Flu?
SARS-CoV-2 coronavirus (causing COVID-19) and seasonal flu (influenza) are contagious diseases transmitted from one person to another. Both have similar symptoms. However, SARS-CoV-2 coronavirus and Seasonal Flu virus are very different and don't behave similarly. Genetically, SARS-CoV-2 is identical to the SARS-CoV-1 virus.
COVID-19 is more transmissible than seasonal influenza, and there is still no vaccine for the former. The mortality rate of seasonal influenza/flu is comparatively low. As the SARS-CoV-2 virus is new, the human body has yet to adapt to SARS-CoV-2 infection and create immunity.
No vaccine is readily available to date. That's why the rate of spread of infection and mortality rate are both high. This means that the SARS-CoV-2 virus is capable of affecting the entire human population.
Where do coronaviruses come from?
Coronaviruses are generally found in animals. However, only a few of them infect humans. Many species of animals (mainly bats) are the natural hosts of coronaviruses.
Transmission of MERS-CoV (Middle East Respiratory Syndrome Coronavirus) to humans took place from camels.
Transmission of SARS-CoV-1 (Severe Acute Respiratory Syndrome Coronavirus-1) to humans took place from civet cats.
How does COVID-19 spread?
It is believed that the virus of COVID-19 (SARS-CoV-2) was initially spread from animals to humans. However, it is mainly human-to-human transmission now. Estimation says that one infected person can transmit the disease to around 2-3 other people, on-an-average.
The human-to-human transmission takes place through small respiratory droplets, mainly when a person infected by SARS-CoV-2:
Sneezes
Coughs
Interactions with others nearby (having physical distancing less than 1 meter)
When a healthy person comes in contact with the droplets and then touches the nose, eyes, or mouth, the COVID-19 infection spreads from one person to another.
It is important to note that SARS-CoV-2 can survive on different surfaces from a few hours to a few days. While it can survive for a few hours on cardboard and copper surfaces, it can survive for days on stainless steel and plastic surfaces.
So, always clean your hand with soap or hand sanitizer/rub (having at least 70% of alcohol content) after venturing outside the house or meeting people or touching handrails, tables, and doorknobs.
What is the incubation period for COVID-19?
COVID-19 infection's incubation period (which starts from exposure to the virus and continues until the onset of COVID-19 symptoms) is currently estimated to be around 14-days currently.
What is the infectious period of COVID-19?
The infectious period is estimated to be around:
7-12 days in moderate cases
Two-weeks in severe cases
The infectious period of COVID-19 may start 1-2 days before the appearance of the symptoms. The most contagious period a COVID-19 infected person is during the symptomatic period, no matter whether it is mild or very non-specific.
Can COVID-19 Infection spread from asymptomatic persons?
There is some evidence that shows COVID-19 infection can spread from one person to another, even 2-days before the infected person shows any symptom. However, it is still not clear enough and can't be said with certainty that COVID-19 infection spreads from asymptomatic persons.
What are the symptoms of COVID-19?
The most common symptoms of COVID-19 infection are:
Fever
Dry Cough
Tiredness
Other less common symptoms of COVID-19 infection are:
Muscle Aches
Pains
Headache
Loss of Taste
Nasal Congestion
Sore Throat
Smell/Rash on Skin
Discoloration of Fingers/Toes
Diarrhea
Conjunctivitis, and others
Who are the most susceptible persons to COVID-19 Infection?
Senior citizens (especially above the age of 65-years) are most susceptible to the COVID-19 infection and have a high chance of becoming seriously ill.
People having some of the underlying medical problems (given below) are at a higher risk of becoming seriously ill due to COVID-19 infection:
High Blood Pressure
Heart Problems
Lung Problems
Diabetes
Cancer
Asthma
Untreated HIV
COVID-19 infection can happen to anyone, no matter whether it is a kid, a young person, or old. It can get severe irrespective of age.
When should you consider Medical Attention or Visiting a Medical Practitioner due to COVID-19 Infection?
You should visit a medical practitioner to diagnose COVID-19 infection immediately if you experience fever/cough and other symptoms such as:
Shortness of breath
Breathing difficulty
Chest pain
Chest pressure
Loss of speech
Loss of movement
What is the Hospitalization Rate of COVID-19 Infection?
W.H.O says that around 80% of infected people from COVID-19 recover without being admitted to a hospital. Only about 1-in-5 people get seriously ill and develop breathing difficulty. That's when they need to be hospitalized.
Can COVID-19 spread in warm sunny weather?
No matter how sunny or warm it may be, you can always catch COVID-19 infection because the SARS-CoV-2 coronavirus can survive higher than 77 °F (25 °C).
However, it needs special mention that you should get out for more sunshine exposure because it helps in more Vitamin D production in your body, which in turn boosts your immunity.
Will drinking lots of hot water, tea, coffee, or other hot drinks stop COVID-19 Infection?
No, drinking hot water, tea, coffee, and other drinks will not protect you from COVID-19 infection.
What should you do if you have mild symptoms of COVID-19?
Till now, there is no proven cure for COVID-19 infection. It has been seen that people have recovered just by themselves. However, you may consider some of the following things to manage mild symptoms of COVID-19 infection:
Take paracetamol
Drink lots of liquids, especially water
Get enough rest
Can Face Masks Protect you from COVID-19 Infection?
The use of surgical face masks may reduce the risk of getting infected from other people having COVID-19 infection. Always wear masks properly for maximum effectiveness.
However, there is no definite evidence that says that face masks will prevent you effectively from COVID-19 infection. However, it needs special mention that these masks only protect your nose and mouth, not your eyes and hands. So, take the proper precaution of your hands and eyes when you go out and come in contact with others.
Is there a vaccine against the virus?
There is still no vaccine available for humans to protect you from COVID-19 infection.
However, many companies and countries are in the trial phase of discovering the vaccine for COVID-19 infection. There are around 231 vaccine candidates in development across the world until August 2020. However, none of them have yet completed the 3-stages of safety and effectiveness trials.
At least 24 vaccine candidates have announced (till August 2020) that they have started clinical trials (varying from Phase I to Phase III trials). While 6 of them have begun Phase III trials, 18 candidates are in the I-II trial phase of their vaccines.
Many of these vaccines are expected to be available in the market by the end of 2020 or early 2021. If successful in all the trial phases, these vaccines will help you acquire immunity against the COVID-19 infection.
Related Link:
Related Maps: