Michigan City Maps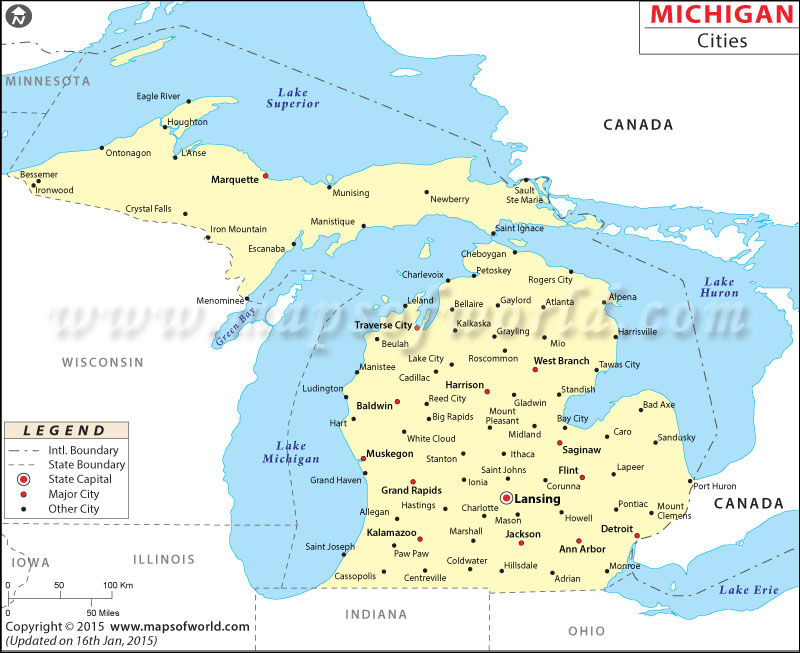 Michigan is the 11th most extensive state in the United States, covering an area of 96,716 square miles. It is the 11th most populated state in the country and, as of 2016, had a population of 9,928,300 people. Detroit is the largest city in the state and, as of 2016, had an estimated population of 672,795. Detroit is also the 21st most populous city in the United States. Grand Rapids is the second largest city in the state, with an estimated population of 196,445. Warren and Sterling Heights are the third and fourth most populous cities. Lansing, the capital of Michigan, is the fifth most populous state, with around 116,020 residents. Ann Arbor and Flint are the other cities with more than 100,000 people.
The state has 83 counties. Nicknamed 'The Motor City, Detroit was once a center of the U.S. automotive industry. It is the most populous city in Michigan and the second largest city in the Midwest. Lansing, the fifth largest city in Michigan, is the state capital. Grand Rapids is the hometown of 38th U.S. President Gerald Ford.
Home to the University of Michigan, Ann Arbor was a focal point of the Civil Rights Movement and anti-Vietnam War movement during the 1960s and 1970s. Warren is Metro Detroit's largest suburb. Kalamazoo is famous for local breweries and distilleries. Flint is the fourth largest metropolitan area in the state. Dearborn is the hometown of Henry Ford, who founded the Ford Motor Company.
Sterling Heights, Livonia, Troy, and Westland are other major cities in Michigan.
Getting In and Around
Detroit Metropolitan Wayne County Airport (DTW) is the busiest airport in the state.
Amtrak's Pere Marquette, Wolverine, and Blue Water passenger trains operate through the state.
I-75, I-94, I-69, and I-96 are primary interstate highways in Michigan.
List of Cities in Michigan
| City Name | Population |
| --- | --- |
| Detroit | 706,585 |
| Grand Rapids | 189,815 |
| Warren | 134,243 |
| Sterling Heights | 129,880 |
| Ann Arbor | 114,925 |
| Lansing | 114,605 |
| Flint | 101,558 |
| Dearborn | 97,114 |
| Clinton | 96,796 |
| Livonia | 95,958 |
| Canton | 90,173 |
| Westland | 83,239 |
| Troy | 81,508 |
| Farmington Hills | 80,258 |
| Macomb | 79,850 |
| Kalamazoo | 74,743 |
| Shelby | 73,804 |
| Wyoming | 72,833 |
| Southfield | 72,201 |
| Waterford | 71,707 |