What is the Capital of Czechia?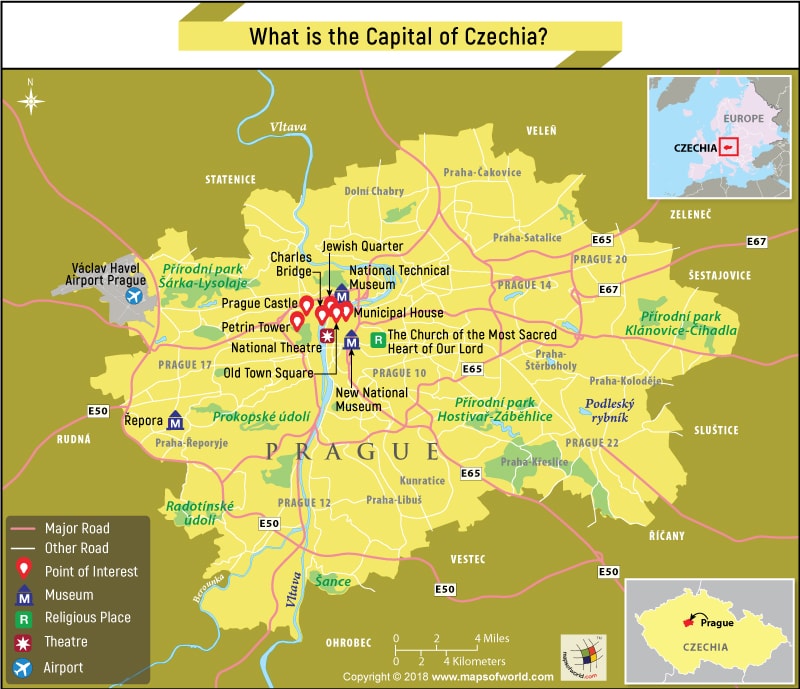 Prague is the capital of Czechia.
Prague has a population of 1.259 million (2015) inhabitants, which makes it the largest city in Czechia. In the European Union, Prague is the 14th largest city. The city, which is located in the northwestern part of the country, covers an area of 192 square miles.
Prague is the most prosperous cities in Czechia and is home to a number of multinational companies. The city accounts for approximately 25 percent of the GDP of the entire country. The city offers its residents a high-quality of life, and as per The Economist's livability rankings of 2005, Prague was rated as the best three cities in Eastern and Central Europe. In the 2010 Innovation Cities Index, Prague scored 29th out of 289 cities of the world. In terms of GDP per inhabitant, Prague occupied the fifth spot among the 271 regions in Europe listed in the Eurostat research.
Prague has a rich history. The capital of the kingdom of Bohemia, the city has been considered the cultural, economic and political center of Europe. Prague was founded in the 7th century during the Romanesque period. The city further flourished during the Renaissance, Gothic, and Baroque eras. It was a significant city during the medieval times as many Holy Roman Emperors had their residence in Prague. The city has shown great influence during important phases of history such as the Bohemian and Protestant Reformation, the Thirty Years' War and as the capital of Czechoslovakia.
Prague is a popular tourist destination. Some of the places for which Prague is famous include the Old Town Square, the Prague Castle, the Jewish Quarter, Charles Bridge, and many others. The city is also home to a number of museums, galleries, and theaters.
Visit the following to learn more about Czechia:
Related Maps: