Which US State First Elected A Woman as Governor?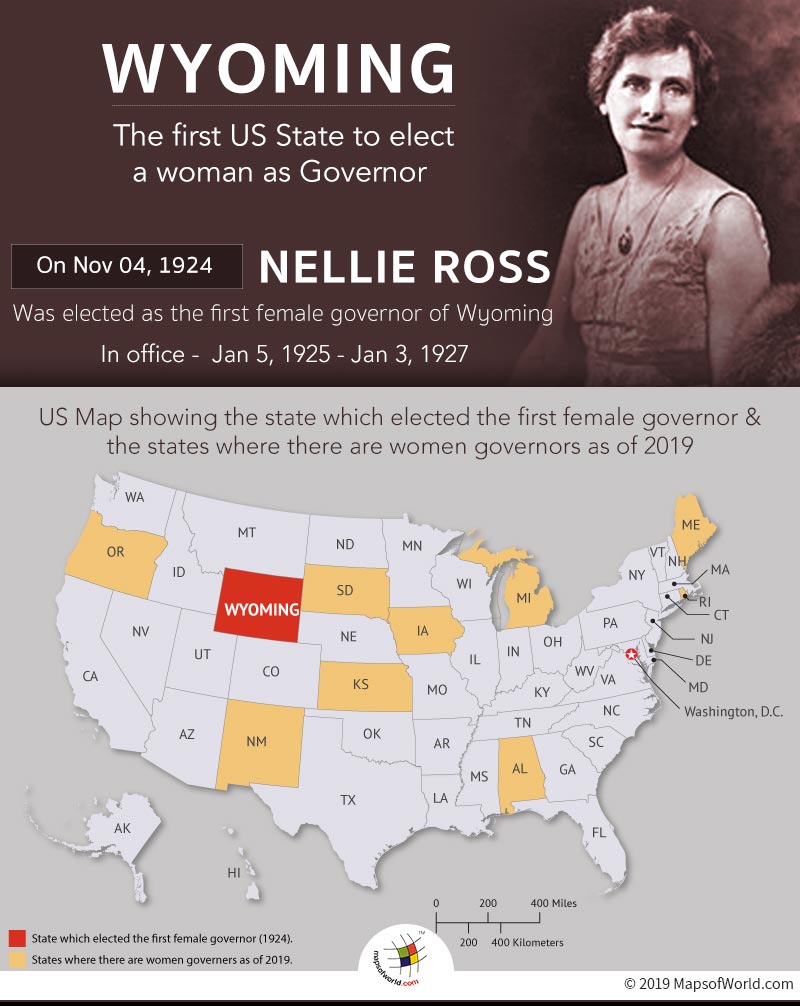 The United States is still to elect a woman as its president, but the country has seen a number of women becoming governors of the various states of the country. Till date, 44 women have either served as governors or are currently working in that position. Currently, nine states of the country have women governors. These include Rhode Island, Oregon, Alabama, Iowa, Michigan, New Mexico, Maine, South Dakota, and Kansas. Lou Leon Guerrero is the governor of Guam, which is an unincorporated and organized territory of the United States, and Muriel Elizabeth Bowser is the mayor of the District of Columbia.
It was in the early 20th century that a US state got its first woman governor. Nellie Ross was elected as the first female governor of Wyoming. She was elected on November 4, 1924, and assumed office on January 5, 1925. She was the widow of William B Ross, who served as the Governor of Wyoming between 1923 and 1924. Following the death of her husband, Nellie became the governor of the state by winning a special election. Nellie served in the position for two years from January 5, 1925, to January 3, 1927. She stood for reelection in 1926 but was defeated. A strong supporter of prohibition, Nellie Ross is the first and only female governor of Wyoming.
A few days after Nellie Ross assumed office as the governor of Wyoming, Miriam A. Ferguson became the first female governor of Texas. She assumed office on January 20, 1925, and served till January 17, 1927. She again served as the governor of Texas from January 17, 1933, to January 15, 1935.
Till now, Arizona has had four women governors, which is the highest among all the states of the country. Apart from this, Arizona is the only state in the United States where one woman has succeeded the other woman as the governor. These are Jane Dee Hull (September 5, 1997 to January 6, 2003), Janet Napolitano (January 6, 2003 to January 21, 2009), and Jan Brewer (January 21, 2009 to January 5, 2015). However, there are still 20 states in the country which are yet to elect a woman as Governor.
Related Maps: