Where is World Cup Rugby 2019?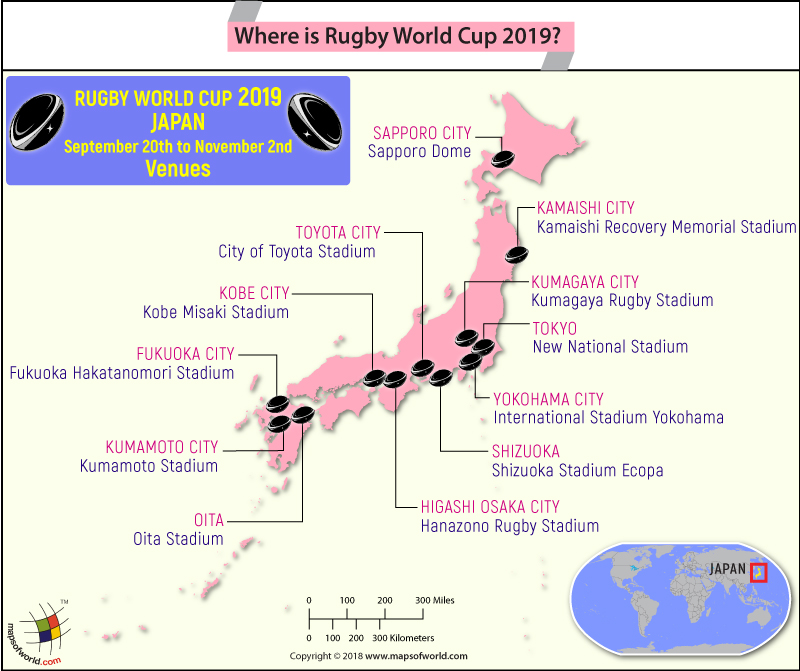 The World Cup Rugby 2019 will be held in Japan. It is the ninth edition of the tournament and will be held from September 20th to November 2nd, 2019. It is the first time that the prestigious tournament is being hosted in Asia.
Twenty teams will take part in the tournament and will compete for the world cup. In the first round of the game, which is also known as the pool play, the teams will be divided into four groups – Pool A, Pool B, Pool C, and Pool D. Each pool would comprise five nations. Each pool would have ten games and each nation will play all the other countries in its 'pool.' Four league points will be awarded to the team that wins the match. In case of a draw, both the teams will get two points each. No points will be given for a loss.
The top two teams from each pool will advance to the quarterfinals. Eight teams will battle it out in the quarterfinals, which will be played on October 19th & 20th, 2019. Among the eight teams, the four winning teams will qualify for the semifinals to be held on October 26th & 27th, 2019. The loser of semifinal 1 and semifinal 2 will clash for the Bronze, or third place, to be held on November 1st, 2019. The winners of semifinals will advance to the finals, held on November 2nd, 2019.
The matches of the Rugby World Cup will be hosted at 12 stadiums throughout Japan. These are Ajinomoto Stadium in Chōfu, International Stadium Yokohama in Yokohama, Shizuoka Stadium in Fukuroi, Hanazono Rugby Stadium in Higashiosaka, Level-5 Stadium in Fukuoka, Toyota Stadium in Toyota, Sapporo Dome in Sapporo, Ōita Bank Dome in Oita, Egao Kenkō Stadium in Kumamoto, Noevir Stadium Kobe in Kobe, Kumagaya Rugby Ground in Kumagaya, and Kamaishi Recovery Memorial Stadium in Kamaishi.
Related Maps: