Is Falkland Islands a Country?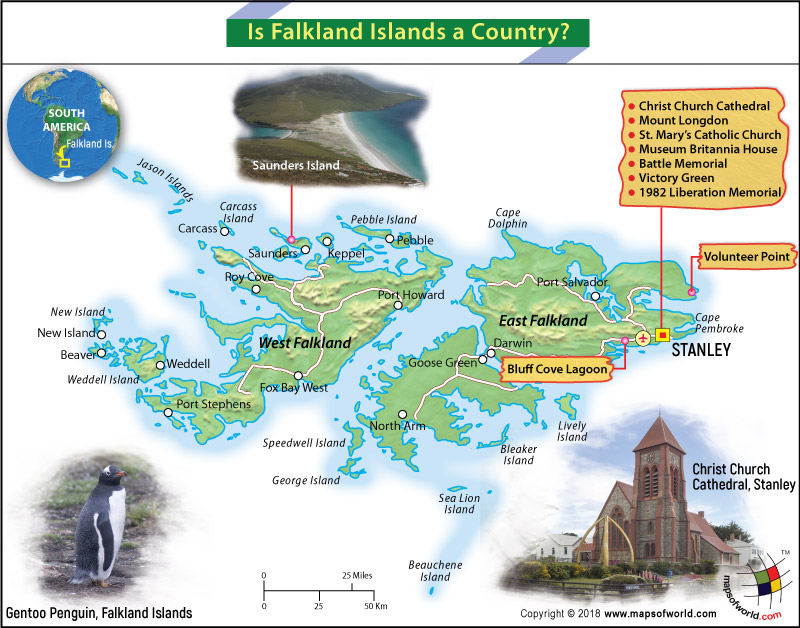 No, Falkland Islands is not a country.
The Falkland Islands, also called Islas Malvinas (Malvinas Islands), is an archipelago – a group of 776 islands in the South-West Atlantic Ocean, located to the east of Argentina.
It is not an independent (sovereign) country, though the people of the islands retain the right to self-determination. Port Stanley is the capital of Falkland Islands.
The Falkland Islands is the subject of an ongoing dispute between the United Kingdom (UK) and Argentina. The islanders themselves, however, are keen to identify themselves as British, as suggested by the result of a 2013 referendum in which 99.8 percent of the people voted to remain with the UK.
According to the Falkland Islands government, there are over 2,563 people living on the islands and they come from over 60 different nations. The majority of the people, however, are of British descent and the British Nationality (Falkland Islands) Act 1983 declares all Falkland islanders to be British citizens.
The Falkland Islands remained largely uninhabited till the 17th century. In fact, it is only in the 16th century that European explorers and navigators claimed to discover (sight) the islands. The first person to land here was English mariner, Captain John Strong in 1690. In 1764, the French set up the first settlement on the Falkland Islands. Within a couple of years, the British also set up a settlement here. In 1766, the French gave up their claim on the archipelago to Spain and soon after, the British and the Spanish were embroiled in a tussle over their colonial claims.
After the Spanish left the islands, the British and the Argentine governments got involved in a dispute over the islands. For many years, the two countries sought to resolve this dispute through negotiations but in 1982, a short but very bitter war was fought and the Argentine troops forced to surrender.
Now, despite the presence of British armed forces, Argentina registers protests and maintains its claim over the Falkland Islands.
The UK treats the Falkland Islands as a self-governing British Overseas Territory. The government of the islands is headed by a governor who is appointed by the British Crown. The governor is advised by an Executive Council which is composed of both elected and appointed members.
*Note – Some of the images used in Infographic are sourced from Wikipedia.
Related Maps: