What are the Key Facts of Vanuatu?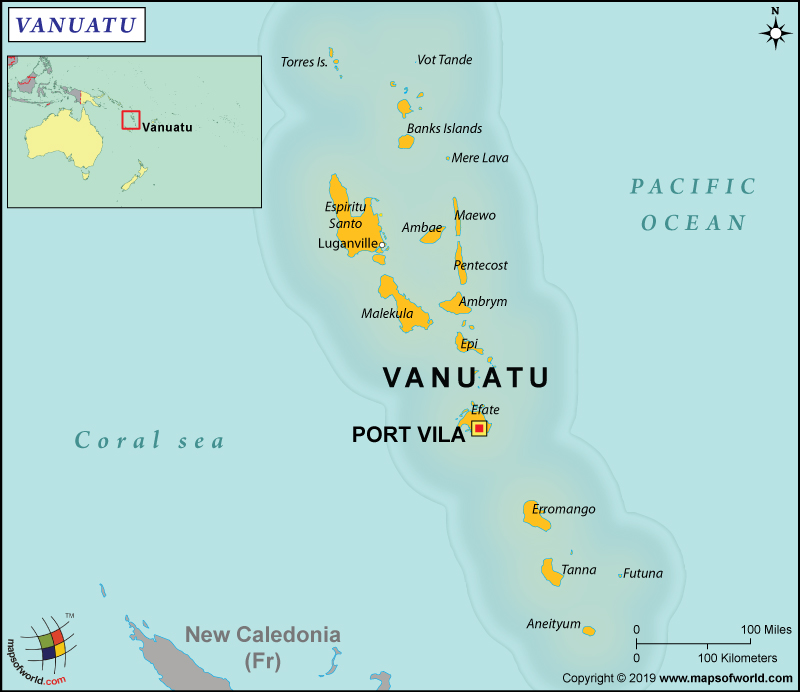 | | |
| --- | --- |
| Official Name | Republic of Vanuatu |
| Continent | Oceania |
| Capital | Port Vila |
| Largest City | Port Vila |
| Coordinates | -16.355826, 167.581407 |
| Area | 4,706 sq. mi (12,189 sq. km) |
| Land Boundaries | 0 mi (0 km) |
| Coastline | 1,571 mi ( 2,528 km) |
| Currency | Vanuatu vatu (VUV) |
| Neighboring Countries | Fiji, Australia, Solomon Islands, New Zealand, New Caledonia (Fr) |
| Population | 272,459 (2016 census ) |
| Official Languages | Bislama, English, French |
| Major Religion | Christianity |
| National Day | 30 July (Independence Day) |
| National Anthem | "Yumi, Yumi, Yumi" |
| Form of Government | Unitary parliamentary republic |
| President | Tallis Obed Moses |
| Prime Minister | Charlot Salwai |
| GDP per capita (PPP) | $ 3,201.8 (World Bank, 2018) |
| GDP per capita (nominal) | $ 3,033.4 (World Bank, 2018) |
| HDI | 0.603 (2017), Rank: 138 |
| Literacy Rate (%) | 84.70 (UNESCO, 2014) |
| Space Agency | NA |
| Military Expenditure Ranking | NA (SIPRI, 2017) |
| No. of Olympic Medals | 0 (as of 2018) |
| Driving Side | right |
| Calling Code | +678 |
| Time Zone | UTC+11, VUT (Vanuatu Time) |
| Internet TLD | .vu |
Where is Vanuatu?
Vanuatu is an archipelago that is located in the South Pacific Ocean. This volcanic origin Pacific island country is located 540 km (340 mi) northeast of New Caledonia, 1,750 km (1,090 mi) east of northern Australia, west of Fiji, southeast of the Solomon Islands, and east of New Guinea. The country consists of 80 islands, out of which 65 are inhabited.
What is the Geography of Vanuatu?
Vanuatu is spread across a total area of 12,189 sq km (4,706 sq mi). While the country has a coastline of 2,528 km (1,571 mi), there are no land boundaries.
The most northern and southern islands of Vanuatu are around 1,300 km (810 mi) apart. The largest islands of this Y-shaped archipelago are Espiritu Santo, Tanna, Ambrym, Erromango, Efate, Malakula, Ambae, Epi, Pentecost, and others. Mount Tabwemasana (located on Espiritu Santo Island) is the highest elevation point of the country at 1,879 m (6,165 ft). The lowest elevation point is sea level at the Pacific Ocean.
Broadly, the landform of the Vanuatu archipelago is characterized by unstable soils as well as little permanent freshwater. Reports say agriculture uses just 9% of the total land. The shoreline doesn't have any continental shelf. It is mostly rocky and has fringing reefs that rapidly drop into the ocean depths.
Moreover, many active volcanoes (Mount Yasur, Lopevi, etc) are there in Vanuatu. Some of them are underwater too. This island country always suffers from the danger of volcanic activity. As there are Vanuatu rain forests, the country is recognized as a distinct terrestrial ecoregion. Vanuatu is a part of the Australasia ecozone.
Additionally, Vanuatu has a tropical climate. The warm-to-hot rainy weather persists for around 9 months. The possibility of cyclones persists throughout. The climate remains cooler and drier for 3-to-4 months. Winds blowing from the southeast direction (known as Southeasterly trade winds) are common during May-to-October.
During summer, the water temperature remains around 28°C (82°F). The temperature revolves around 22°C (72°F) in wintertime. During April-September, the climate remains cooler. However, from October, it starts becoming hotter and more humid. The average temperature throughout the year ranges from 20–32°C (68–90°F).
In fact, rainfall takes place almost throughout the year. However, December-April gets the largest amount of rainfall. June-November are the driest months of Vanuatu. The average amount of rainfall in the archipelago is around 2,360 mm (93 in) per year.
No significant river is present in the country. Small streams are there such as Jourdain, Wamb Rivers, and Sarakana. Some small lakes (including Manaro Lakua, Manaro Ngoro, Siwi, and Voui) are also there in the extinct volcanic craters as well as low-lying areas.
What is the Economy of Vanuatu?
The economy of Vanuatu is very small. In 2018, its nominal GDP was US$ 887.82 million and the annual growth rate was 3.2%. The population of Vanuatu is increasing at a rate of 2.4% per annum. As most of the population is dependent on agriculture, fishing, grazing, and hunting, the increasing population is putting pressure on land and other natural resources.
Further, the two most important economic problems of the Vanuatu economy are market inaccessibility as well as lack of employment opportunities in the industry. The rural families are living a life of subsistence and self-reliance. This has put excessive pressure on local ecosystems, leading to their depletion. Near-shore fish species have almost got depleted as 90% of the households depend on fish. Signs of deforestation have become glaring because of over-dependence of the population on natural resources.
In addition, other important pillars of the Vanuatu economy are offshore financial services and tourism. In 2016, around 350,000 visitors (mainly from New Zealand and Australia) visited Vanuatu despite the fact that Tropical Cyclone Pam damaged the most populous and popular island, Efate. Improved air connections, cruise ship facilities, and resort facilities have boosted the tourism industry.
The export items are limited and the economy is dependent on foreign aid. Import duties are the main source of tax revenues. The GDP of the economy is expected to grow at 3% and 2.8% in 2019 and 2020 respectively.
What is the Transportation System of Vanuatu?
Generally, the road system of Vanuatu is highly undeveloped. 1,070 km (665 mi) of highways are present in Vanuatu, out of which 256 km (159 mi) are paved and 814 km (506 mi) unpaved. Only four-wheel-drive vehicles can be used on the unpaved dirt tracks. Taxis, as well as mass-transit vans, are present at Port Vila and Luganville. Bicycles are the main form of transport in the country.
There are three main harbors in Vanuatu and they are Santo, Port-Vila, and Forari. 78 merchant ships are there in Vanuatu. Small boats and pickup trucks are the usual modes of transport. 31 airports are there, out of which just 3 have paved runways. Twin Otter planes of Vanair take tourists in and out of these islands 2-3 times a week. No railway network is present in Vanuatu.
What International Organizations is Vanuatu part of?
WTO, ACP, IMF, ADB, UN, AOSIS, UNESCO, C, FAO, UNCTAD, G-77, IBRD, UNIDO, ICAO, UNWTO, ICRM, IOM, NAM, IDA, IFC, IFRCS, IMO, IMSO, IOC, ITU, MIGA, OIF, OPCW, PIF, Sparteca, SPC, UPU, WCO, ILO, WHO, WIPO, WMO, WFTU (NGOs), ITUC (NGOs), OAS (observer)
Related Map: