What are the Key Facts of Uruguay?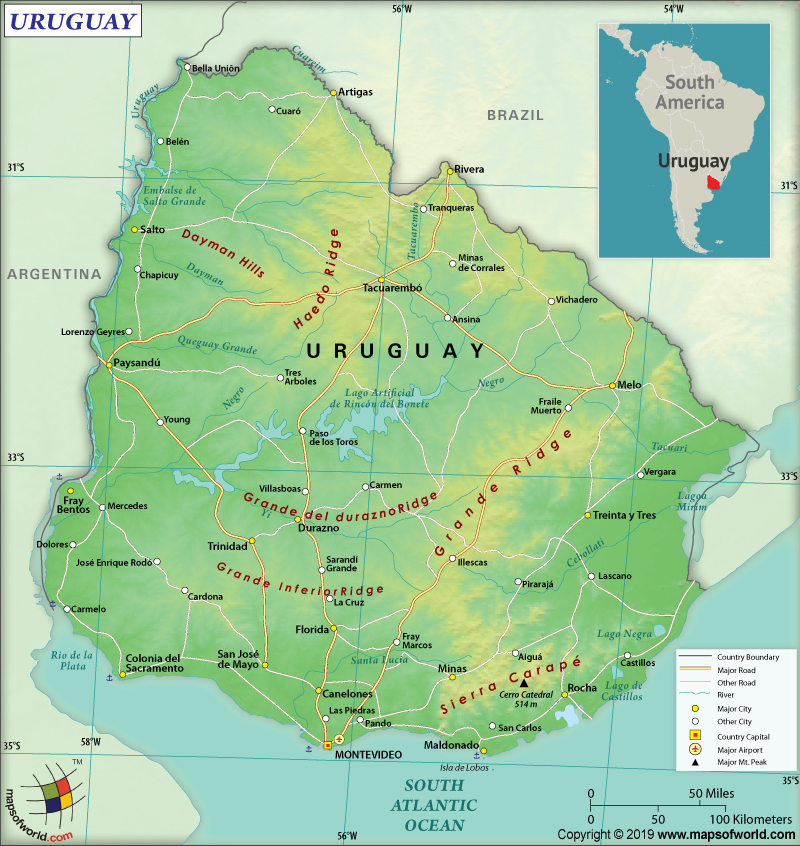 | | |
| --- | --- |
| Official Name | Oriental Republic of Uruguay |
| Continent | South America |
| Capital | Montevideo |
| Largest City | Montevideo |
| Coordinates | -33.000000, -56.000000 |
| Area | 68,037 sq. mi ( 176,215 sq. km) |
| Land Boundaries | 989 mi ( 1,591 km) |
| Coastline | 410 mi ( 660 km) |
| Currency | Uruguayan peso (UYU) |
| Neighboring Countries | Brazil, Argentina |
| Population | 3,444,006 (2016 est. ) |
| Official Languages | Spanish |
| Major Religion | Christianity |
| National Day | 25 August (Independence Day) |
| National Anthem | "Himno Nacional" |
| Form of Government | Unitary presidential constitutional republic |
| President | Luis Lacalle Pou |
| Vice President | Beatriz Armigon |
| GDP per capita (PPP) | $ 23,530.6 (World Bank, 2018) |
| GDP per capita (nominal) | $ 17,278.0 (World Bank, 2018) |
| HDI | 0.804 (2017), Rank: 55 |
| Literacy Rate (%) | 98.62 (UNESCO, 2017) |
| Space Agency | NA |
| Military Expenditure Ranking | 68 (SIPRI, 2017) |
| No. of Olympic Medals | 10 (as of 2018) |
| Driving Side | right |
| Calling Code | +598 |
| Time Zone | UTC−3 (UYT) |
| Internet TLD | .uy |
Where is Uruguay?
Uruguay is located in southern South America. It borders the South Atlantic Ocean between Brazil and Argentina.
What is the Geography of Uruguay?
Uruguay is spread across a total area of 176,215 sq. km (68,037 sq. mi), out of which 175,015 sq. km (67,574 sq. mi) is land area and the rest 1,200 sq. km (463 sq. mi) is water area. It shares 1,591 km (989 mi) long land boundary with Brazil (1,050 km or 652 mi) and Argentina (541 km or 336 mi). The country has a 660 km (410 mi) long coastline. Geographically, Uruguay is one of the smallest countries in South America.
Moreover, the highest elevation point of Uruguay is Cerro Catedral at 514 m (1,686 ft) and the lowest elevation point is sea level at Atlantic Ocean. The mean elevation of the country is 109 m (358 ft). Other major mountains are Cerro de las Ánimas, Alfeo Brum, Cerro Negro, and Sugar Loaf Hill. The major rivers are Uruguay River, San Juan River, Santa Lucía River, Rosario River, etc.
Generally, Uruguay has rolling plains as well as low hills. In the coastal lowlands, fertile land can be found. The plains are mostly located in the western, eastern, and southern parts of the country. As they move towards the interior, these plains flow into rolling hills as well as low mountains. Between the coastline and hills in the southwest, the flat lowlands merge into the hilly regions in the interior more gradually.
Further, sandy beaches ring the coastline along the Atlantic Ocean, especially near Montevideo. The coastal plain in the eastern parts is marshy and sandy. A handful of bays and lagoons break the coastal plain. A low mountain series in the northern parts of Uruguay extends further north into Brazil's highlands. A narrow low mountain band extends from the country's coastal area through Treinta y Tres.
The country has a relatively mild climate and it remains fairly uniform across the nation, thanks to the fact that it is fully situated within a temperate zone. Uruguay has high humidity as well as fog. The temperature remains largely uniform across the year. The Atlantic winds temper the summer season.
Besides, winter season doesn't get severely cold. In July (mid-winter), the average temperature revolves around 12 °C (54 °F) in the northern interior region (say, Salto). In the southern region (say, Montevideo), the average temperature revolves around 9 °C (48 °F). In January (mid-summer), the average temperature revolves around 26 °C (79 °F) in Salto. In Montevideo, the average temperature revolves around 22 °C (72 °F). The highest ever temperature recorded was 44 °C (111 °F) on January 20, 1943, at Paysandú city. The lowest ever temperature recorded was -11.0 °C (12.2 °F) on June 14, 1967, at Melo city.
However, heavy rainfall takes place in autumn. In the winter season, the spells of rain occur frequently. The yearly precipitation in Uruguay is usually more than 1,000 mm or 40 inches. Though the precipitation level remains more or less evenly distributed across the year, the coastal areas get relatively more rainfall.
What is the Economy of Uruguay?
To begin with, the Uruguayan economy is characterized by comparatively high per capita income, low inequality, and low poverty level. Around 60 percent of the total population in Uruguay belongs to the middle-income group, having the largest middle-class in America.
Uruguay is a high-income country, having a nominal GDP of US$59.60 billion along with economic growth of 1.62% in 2018. The average economic growth for two and a half decades (2003-2018) is 4.1%. The high level of economic stability has helped the country to maintain a positive growth rate during 2017-18, even when the neighboring countries such as Argentina and Brazil were experiencing a recession.
Additionally, all the indices such as the Economic Freedom Index, the Human Opportunity Index, and the Human Development Index are significantly high. The basic services (including education, sanitation, electricity, and running water) are availed by almost the entire populace.
Equally important, Uruguay has successfully brought down the moderate poverty level from 32.5% to 8.1% during a period of just over one decade (2006-2018). Extreme poverty has almost become non-existent (falling from 2.5% to 0.1% during 2006-2018).
What is the Transportation System of Uruguay?
Uruguay has a vast network of roadways, amounting to 77,732 km (48,300 mi). While 69,989 km (43,489 mi) of roadways are unpaved, 7,743 km (4,811 mi) are paved. The country has 2,961 km (1,840 mi) of railway network, out of which 1,673 km (1,040 mi) are operational. 133 airports are there in Uruguay, out of which most of them (122) have unpaved runways and just 11 have paved runways. The country has 1,600 km (994 mi) of waterways too and Montevideo is the main seaport. There are 57 merchant marine ships in Uruguay.
What International Organizations is Uruguay part of?
WTO, UN, CD, UNESCO, CELAC, Union Latina, FAO, WHO, G-77, IADB, IMF, IAEA, IBRD, ICAO, ICCt, ICRM, IDA, IFAD, IFC, IFRCS, IHO, ILO, IMO, Interpol, IOC, IOM, IPU, ISO, ITSO, ITU, LAES, LAIA, Mercosur, MIGA, MINUSTAH, MONUSCO, OAS, OPANAL, OPCW, PCA, UNASUR, UNCTAD, UNIDO, UNMOGIP, UNOCI, UNWTO, UPU, WCO, WIPO, WMO, CAN (associate), ICC (national committees), NAM (observer), OIF (observer), Pacific Alliance (observer), UN Security Council (temporary), SICA (observer), WFTU (NGOs)
Related Maps: