What are the Key Facts of Syria?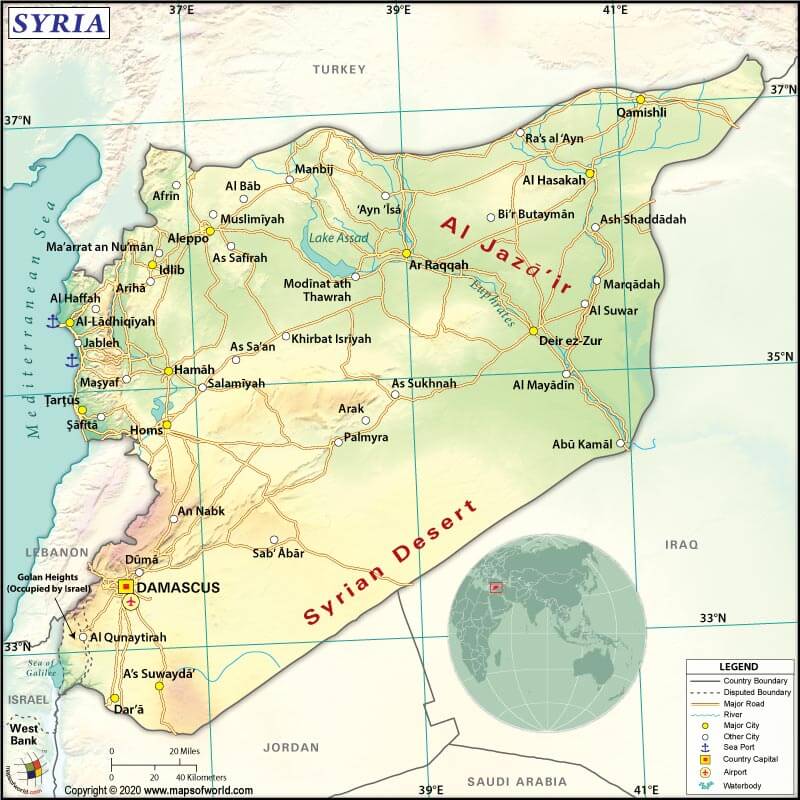 Official Name

Syrian Arab Republic

Continent

Asia

Capital

Damascus

Largest City

Damascus

Coordinates

35.000000, 38.000000

Area

72,370 sq. mi (187,437 sq. km)

Land Boundaries

1,456 mi (2,343 km)

Coastline

120 mi (193 km)

Currency

Syrian pound (SYP)

Neighboring Countries

Iraq, Israel, Jordan, Lebanon, Turkey.
Maritime Neighbors: Cyprus

Population

17,070,000 (World Bank, 2019)

Official Languages

Arabic

Major Religion

Islam

National Day

17 April (Independence Day)

National Anthem

"Humat ad-Diyar"

Form of Government

Presidential republic (authoritarian regime)

President

Bashar al-Assad

Prime Minister

Hussein Arnous (acting Prime Minister)

GDP per capita (PPP)

NA

GDP per capita (nominal)

$ 2,032.6 (World Bank, 2007)

HDI

0.549 (2019), Rank: 154

Literacy Rate (%)

NA

Space Agency

NA

Military Expenditure Ranking

NA (SIPRI, 2019)

No. of Olympic Medals

3 (as of 2018)

Driving Side

right

Calling Code

963

Time Zone

UTC+2 (EET); DST: UTC+3 (EEST)

Internet TLD

.sy
Where is Syria?
Syria (whose official name is the Syrian Arab Republic) is a Western Asian country that borders the Mediterranean Sea between Turkey and Lebanon.
What is the Geography of Syria?
The country spreads across a total area of 187,437 sq. km (72,370 sq mi). Out of the total area, 185,887 sq. km (71,771 sq. mi) is land, and 1,550 s.q km (599 sq. mi) is water.
The Republic of Syria's total land boundary is 2,343 km (1455.9 mi) long. It shares its border with Turkey (909 km or 564.8 mi) to the north, Iraq (599 km or 372.2 mi) to the east, Lebanon (394 km or 244.8 mi) to the southwest, Jordan (362 km or 224.9 mi) to the south, and Israel (79 km or 49.1 mi) to the southwest. The country is bordered by the Mediterranean Sea to the west. It has a coastline of 193 km (119.9 mi) long.
The mean elevation of Syria is 514 m (1686.4 ft). While the highest point is Mount Hermon (Jabal a-Shayk) at 2,814 m (9232.3 ft), the lowest point is an unnamed location near Lake Tiberias at -208 m (-682.4 ft). Syria's terrain mostly consists of the semiarid and desert plateau. The other landforms include mountains in the west and a narrow coastal plain.
Though Syria mostly has an arid plateau, it is fairly green in the northwest part of the country that borders the Mediterranean. Important agricultural areas in the country are Hawran (in the south) and Al-Jazira (northeast). The most important river in the country is the Euphrates, which crosses the country in the eastern part. It belongs to the group of 15 countries that are together called the "cradle of civilization."
Syria is located in the northwest of the Arabian plate. In 1956, a huge resource of petroleum was discovered in the northeast part of the country. Some of the most important oil fields include Tayyem, Rumayian, Qaratshui, and Suwaydiyah. These oil fields are the extension of two famous oil fields of Kirkuk and Mosul.
The highest mountains in Syria are Jabal al-Druze (As-Suwayda), Jabal al Kanā'is (Hama), Jabal al Fawwār, Mount Qasioun (Dimashq), Mount Abdulaziz (Al-Hasakah), etc. The major rivers in the country are Euphrates, Tigris, Orontes, Khabur, and many more. The most important lakes are Lake Al-Asad, Al-Jabbūl, Jayrūd, Khātūniyyah, etc.
What is the Climate of Syria?
There are three climate zones in Syria as per Koeppen-Geiger classification:
You'll find the Csa climate in the coastal areas. It is a mild Mediterranean climate that is characterized by a dry summer. While the average temperature in the warmest month remains above 22 °C (71.6 °F), the average temperature in the coldest month remains within -3 °C (26.6 °F) and 18 °C (64.4 °F).
A BSh climate can be found as you move further inland. It is a hot and dry climate. The average yearly temperature remains above 18 °C (64.4 °F).
Eastern Syria gets a >b>Bwh Climate, which is characterized by a hot desert climate. The average yearly temperature remains 18 °C (64.4 °F).
Due to a relatively small size of Syria, you'll find comparatively low regional variation in temperature.
In the northwest part of the country (such as in Aleppo), the average temperature hovers around 30 °C (86 °F) in August and 4 °C (39.2 °F) in January.
In the central region of Syria (such as in Tudmur, which is located at the Syrian Desert's edge), the temperature remains slightly higher. The average temperature during summers and winters remain 31 °C (87.8 °F) and 7 °C (44.6 °F) respectively.
The Mediterranean influenced climate is found to the west of the Jabal a Nusayreyah. While the summers are long, hot and mostly dry, the winters are mild and wet.
A significant difference in temperature can be found between days and nights, especially in the inland areas (which usually are dryer). It can remain surprisingly cool at night.
Varying rainfall takes place in coastal areas (around 300-500 mm or 11.8 inches), inland areas around Damascus (around 200 mm or 7.9-19.7 inches), and the desert area in southeast Syria (25-127 mm or 1-5 inches).
What is the Economy of Syria?
Syria's economy is suffering from the ongoing conflict, international sanctions, widespread damage in infrastructure, drastic fall in domestic production and consumption, high inflation, reduced subsidies, and dwindling foreign reserve.
The nominal GDP of Syria increased from US$13.4 billion in December 2016 to US$17.1 billion in December 2017. The values of export and import in Syria were US$695 million and $6.21 billion, respectively, resulting in a negative balance of trade of -US$5.52 billion in 2018.
Major exports are Pure Olive Oil, Spice Seeds, Other Nuts, Apples and Pears, and Calcium Phosphates. Major imports are Broadcasting Equipment, Rolled Tobacco, Raw Sugar, Seed Oils, and Wheat Flours.
The unemployment rate in Syria was 8.37% in 2019. The Syrian conflict has pushed millions of people into unemployment and poverty. The number of Syrian people displaced internally is around 6.2 million (with more than 1/3rd of them as children). As per UNHCR 2019, more than 5.6 million people are officially registered as refugees.
What is the Transportation System of Syria?
Syria has 90 airports, out of which 29 have paved runways, and 61 have unpaved runways. Major airports in the country are Damascus International Airport (Damascus), Aleppo International Airport (Aleppo), Bassel Al-Assad International Airport (Latakia), etc.
The total roadways in Syria are 69,873 km (43417.1 mi) long, out of which 63,060 km (39183.7 mi) is paved, and 6,813 km (4233.4 mi) is unpaved. 2,052 km (1275.1 mi) long railway facility is available across Syria. While 1,801 km (1119.1 mi) is a standard gauge railway, 251 km (156 mi) is a narrow-gauge railway.
Syria has 900 km (559.2 mi) of navigable waterways. Though they are navigable, they are not economically significant. Latakia, Baniyas, and Tartus are the three major seaports in the country. There are 25 merchant marine vessels, out of which 10 are general cargo, 3 1 is a bulk carrier, and 14 other types of vessels.
What International Organizations is Syria Part of?
IMF, WHO, UN, UNESCO, ILO, NAM, ABEDA, AFESD, AMF, CAEU, FAO, G-24, G-77, IAEA, IBRD, ICAO, ICRM, IDA, IDB, IFAD, IFC, IFRCS, IHO, IMO, Interpol, IOC, IPU, ISO, ITSO, ITU, LAS, MIGA, OAPEC, OIC, OPCW, UNCTAD, UNIDO, UNRWA, UNWTO, UPU, WCO, WIPO, WMO, WTO (observer), ICC (national committees), WFTU (NGOs)
Related Links:

Related Maps: