What are the Key Facts of Montenegro?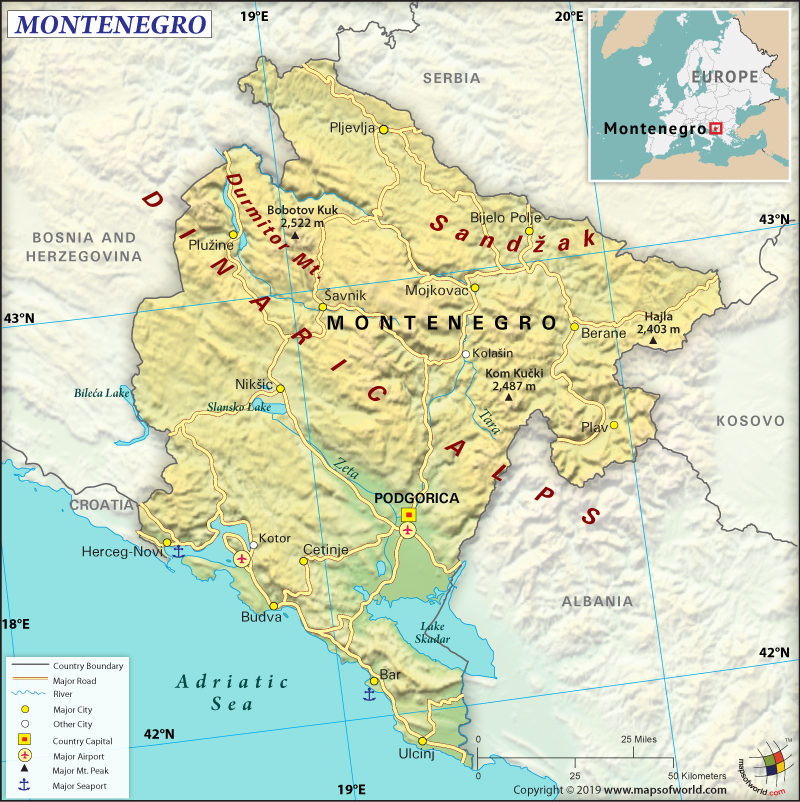 | | |
| --- | --- |
| Official Name | Montenegro |
| Continent | Europe |
| Capital | Podgorica |
| Largest City | Podgorica |
| Coordinates | 42.500000, 19.300000 |
| Area | 5,333 sq mi ( 13,812 sq km) |
| Land Boundaries | 423 mi ( 680 km) |
| Coastline | 182 mi ( 293.5 km) |
| Currency | Euro (€) (EUR) |
| Neighboring Countries | Bosnia and Herzegovina, Serbia, Kosovo, Albania |
| Population | 622,359 (2018 census ) |
| Official Languages | Montenegrin |
| Major Religion | Christianity |
| National Day | 13 July |
| National Anthem | "Oj, svijetla majska zoro" |
| Form of Government | Unitary parliamentary constitutional republic |
| President | Milo Đukanović |
| Prime Minister | Duško Marković |
| GDP per capita (PPP) | $ 19,354.9 (World Bank, 2017) |
| GDP per capita (nominal) | $ 8,760.7 (World Bank, 2018) |
| HDI | 0.814 (2017), Rank: 50 |
| Literacy Rate (%) | NA |
| Space Agency | NA |
| Military Expenditure Ranking | 127 (SIPRI, 2017) |
| No. of Olympic Medals | 1 (as of 2018) |
| Driving Side | right |
| Calling Code | +382 |
| Time Zone | UTC+1(CET), Summer (DST) UTC+2 (CEST) |
| Internet TLD | .me |
Where is Montenegro?
Montenegro is a west-central Balkan country located at the southern end of the Dinaric Alps' in Europe. It shares its borders with Kosovo (76 km or 47 mi) to the east, Serbia (157 km or 98 mi) to the northeast, Bosnia and Herzegovina (242 km or 150 mi) to the northwest, Croatia (19 km or 12 mi) and Adriatic Sea to the southwest, and Albania (186 km or 116 mi) to the southeast.
What is the Geography of Montenegro?
Montenegro is spread across a total area of 13,812 sq km (5,333 sq mi), out of which 13,452 sq km (5,194 sq mi) is land and 360 sq km (139 mi) is water. The country has 680 km (423 mi) of total boundary and 293.5 km (182 mi) of coastline.
The highest elevation point of Montenegro is Bobotov Kuk at 2,522 m (8,274 ft) and the lowest elevation point is the Adriatic Sea level. Other major mountains are Durmitor, Veliki Vitao, Kom Vasojevica, Bubreg, Bioč, Nož, Štit, Gradište, and Gredelj. The mean elevation of the country is 1,086 m (3,563 ft). Important rivers of Montenegro are Drina, Lim, and Tara. Lake Scutari (also known as Skadarsko Jezero by locals) is a major lake that has a total surface area of 370 sq km (142.9 sq mi).
In the northern part, Montenegro has high mountains. There are no coastal plains in the north as many mountain ranges, including Mount Lovćen, abruptly plummet into the Gulf of Kotor's inlet. In the western and central parts, karst landscape can be found with caves, depressions and sinkholes due to the erosion of underlying limestone. Active seismicity is there in the coastal region.
In contrast to the north, the karst section is located at around 100 m (328 ft) elevation above sea level generally. However, some parts also go up to 1,800 m (5,906 ft). The Zeta River valley located in the Nikšić field of karstic regions is a significant flat lowland that merges in the southeast with Zeta plain (another important flat lowland). Both these lowlands have the biggest cities in the country (Podgorica and Nikšić), which are also densely populated.
In addition, a fjord-like gulf, Bay of Kotor, is the notable feature of the coast in Montenegro. It is a submerged river canyon that is surrounded by mountains that are up to 1,000 m (3,281 ft) high. A narrow coastal plain (just 4 km wide or 2.49 mi) is located to the southern part of the Bay of Kotor and the area is guarded by high mountains.
Mediterranean climate is found in the lower areas of the country. The summers are dry and the winters are mild and rainy. Temperature varies significantly with elevation. Podgorica (located near sea level) has warmest July temperatures, having an average temperature of 27 °C (81 °F). However, Cetinje (located at 670 m or 2,200 ft elevation) in the Karst region has an average temperature of 22 °C (72 °F).
In January, the average temperature at Bar on the southern coast remains around 8 °C (46 °F). However, in the northern mountains, the average temperature revolves around −3 °C (27 °F). The mountainous regions of the country get the highest amounts of rainfall in Europe. Crkvice (located in the Karst region) gets around 5,100 mm (200 in) of rainfall. Along the Mediterranean Sea, rainfall takes place mainly during cold.
What is the Economy of Montenegro?
To begin with, Montenegro is a service-based economy that had a nominal GDP of US$5.452 billion and an annual GDP growth rate of 4.9% in 2018 (World Bank). Currently, the economy is transforming into a market-based economy. After opting for independence from Serbia in 2006, almost all the state-owned companies (including banking, oil distribution, and telecommunications) have been privatized.
Further, tourism has brought 1.6 million visitors in recent years and consequently, this sector contributes over 20% to the GDP. Other important economic pillars of the economy are energy and agriculture. Montenegro has a huge hydropower potential. However, until now just 20% of that potential has been utilized. It aims to become a net energy exporter.
Furthermore, the government of Montenegro is opening the economy and the net FDI reached $848 million in 2017. The biggest foreign companies that have invested in the economy are from Russia, Norway, Azerbaijan, Italy, and Hungary. The country's investment per capita is one of the highest in Europe. The low corporate tax rate is believed to be one of the main reasons behind high FDI inflow. This small, open economy hopes to join the European Union by 2025.
What is the Transportation System of Montenegro?
In the meantime, Montenegro is overhauling its road and railway networks. It is also expanding its air transportation system. These improvements are being done to boost the tourism industry, one of the main revenue earners of the economy.
The country has 5 airports and all of them are paved. 1 Heliport is also there in Montenegro. The total roadway length in the country is 7,762 km (4823 mi) and most of them (7,141 km or 4,437 mi) is paved. Only 621 km (386 mi) is unpaved. There are 12 merchant marine ships in the country, out of which 4 are bulk carriers and rest 8 are other kinds of ships. The Bar is a major seaport.
What International Organizations is Montenegro part of?
WTO, CE, UN, CEI, EAPC, UNCTAD, IMF, EBRD, UNESCO, FAO, UNHCR, IAEA, IBRD, UNIDO, ICAO, UNWTO, ICCt, ICRM, IDA, IFC, IFRCS, IHO, ILO, WHO, IMO, IMSO, Interpol, IOC, IOM, IPU, ITSO, ITU, MIGA, OPCW, OSCE, PCA, PFP, SELEC, UPU, WCO, WIPO, WMO, ITUC (NGOs), ICC (NGOs), ISO (correspondent), OIF (observer), OAS (observer)
Related Link:

Related Maps: