What are the Key Facts of Latvia?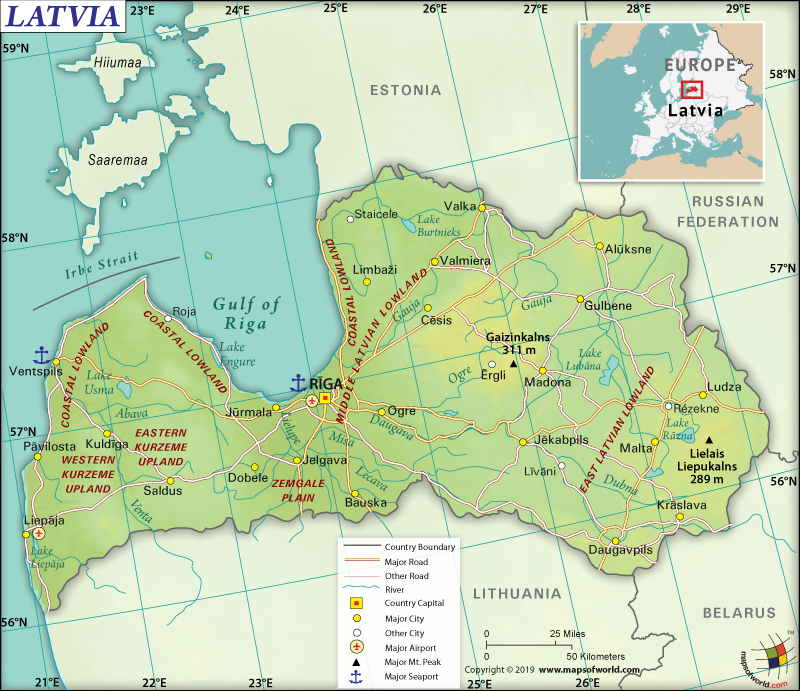 | | |
| --- | --- |
| Official Name | Republic of Latvia |
| Continent | Europe |
| Capital | Riga |
| Largest City | Riga |
| Coordinates | 57.000000, 25.000000 |
| Area | 24,938 sq. mi ( 64,589 sq. km) |
| Land Boundaries | 851 mi ( 1,370 km) |
| Coastline | 309 mi ( 498 km) |
| Currency | Euro (€) (EUR) |
| Neighboring Countries | Belarus, Lithuania, Estonia, Russia |
| Population | 1,919,968 (2018 est. ) |
| Official Languages | Latvian |
| Major Religion | Christianity |
| National Day | 18 November (Independence Day) |
| National Anthem | "Dievs, sveti Latviju!" |
| Form of Government | Unitary parliamentary constitutional republic |
| President | Egils Levits |
| Prime Minister | Krišjānis Kariņš |
| GDP per capita (PPP) | $ 30,692.2 (World Bank, 2018) |
| GDP per capita (nominal) | $ 18,088.9 (World Bank, 2018) |
| HDI | 0.847 (2017), Rank: 41 |
| Literacy Rate (%) | NA |
| Space Agency | NA |
| Military Expenditure Ranking | 78 (SIPRI, 2017) |
| No. of Olympic Medals | 28 (as of 2018) |
| Driving Side | right |
| Calling Code | +371 |
| Time Zone | UTC+2 (EET), Summer (DST) UTC+3 (EEST) |
| Internet TLD | .lv |
Where is Latvia?
Latvia is an eastern European country that borders the Baltic Sea and is located between Lithuania and Estonia. The country is bordered by Sweden to the west, Belarus to the southeast, Russia to the east, Lithuania to the south, and Estonia to the north.
What is the Geography of Latvia?
Latvia is spread across a total area of 64,589 sq. km (24,938 sq. mi), out of which 62,249 sq. km (24,034 sq. mi) is land area and 2,340 sq. km (903 sq. mi) is water area. The country has a 1,370 km (851 mi) long boundary and a 498 km (309 mi) long coastline. Almost the entire Latvian terrain consists of low plain. The mean elevation of the country is just 87 m (285 ft).
The landform predominantly possesses low-lying plains, making Latvia a very flat country. These plains are mainly covered by forests. In the far southeast and western parts, some low hills can be found. To the eastern parts of Riga, a few high hills can also be found. While Gaizina Kalns is the highest elevation point at 312 m (1,024 ft), the lowest elevation point is the Baltic Sea at 0 m (0 ft).
The major rivers in the country are Daugava, Salaca, Venta, Lielupe, and Gauja. The countryside is dotted with small lakes as well as swamps.
The Latvian climate is influenced by the European continental climate. The summer season remains warm and dry. However, the winter season is generally severe. The coldest month of the season is January. During this month, the daytime temperature usually reaches -5 °C (23 °F). The winter months can get significantly colder in some cases. It can reach far below 0 °C (32 °F) to around -20 °C (-4 °F) or sometimes lower than that, especially when the cold northeasterly winds blow. Heavy snowfall or snowstorms also take place during winter. Close proximity to the Baltic Sea makes the weather breezy and humid.
The average temperature during summertime revolves around 20-25°C. However, sometimes it also gets higher and hovers around 30°C or even more. Most of the year weather remains dry with sunny spells. Sometimes, rainfall takes place with heavy thunderstorms. The warmest month in Latvia is July when the average temperature revolves around 20 °C (68 °F). The annual rainfall level is around 400-600 mm (16-24 inches).
The best time to visit Latvia is from May to September. It remains warm during the day and cools at night.
What is the Economy of Latvia?
The economy of Latvia is mainly dependent upon export. The export sector contributes to around 50% of the GDP. In 2018, the nominal GDP grew at a rate of 4.8% to US$34,882 million. Interestingly, the per capita GDP of the country grew at a rate of 15.2% to US$18,033 in the same year.
The main export items of the country are sawn wood, hard liquor, broadcasting equipment, packaged medicaments, wheat, etc. The major import items were cars, refined petroleum, petroleum gas, packaged medicaments, and broadcasting equipment. In 2017, Latvia exported US$12.4 billion of items and imported US$16.4 billion of items, resulting in a negative balance of trade of US$4.03 billion.
Latvia's Central Statistical Bureau (CSB) had carried out a survey and found out that the rate of unemployment in the country was 7.4% in 2018 compared to 8.7% in 2017. Another CSB survey found in 2017 that 23.3% of the Latvian population was at the risk of poverty.
What is the Transportation System of Latvia?
As Latvia adheres to the Schengen Agreement, the travelers can travel to this country pretty easily through land, water, and air. The border control is in place along the borders shared by Latvia with other neighboring countries such as Russia, Belarus, Lithuania, and Estonia.
There is 70,244 km (43,648 mi) long roadway in Latvia, out of which 15,158 km (9,419 mi) is paved and 55,086 km (34,229 mi) unpaved. There are some major international e-road networks such as Rīga – Daugavpils – Krāslava – Pāternieki, Rīga – Ventspils, Rīga – Skulte – Liepāja, Grebņeva (RU border) – Rēzekne – Daugavpils – Medumi, Rīga – Sigulda – Veclaicene, Rīga – Ainaži, Inčukalns – Valmiera – Valka, and many more. There are many state regional roads connecting different parts of Latvia.
Public bus transport services are quite good in Latvia. Travelers can also take rental services to move around the cities.
Latvia has a 1,860 km (1,156 mi) long railway network, out of which 1,826 km (1,135 mi) is a broad gauge and 34 km (21 mi) is a narrow gauge. 300 km (186 mi) long waterway network in Latvia remains navigable round the year. Latvia has two major seaports such as Ventspils and Riga. There are 68 merchant marine vessels.
Latvia has 42 airports, out of which 18 have paved runways and 24 have unpaved runways. Riga International Airport and Liepāja International Airport are the two most important airports in the country. One heliport is also there in the country.
What International Organizations is Latvia part of?
UN, WTO, IMF, WHO, ILO, Australia Group, BA, BIS, CBSS, CD, CE, EAPC, EBRD, ECB, EIB, EMU, EU, FAO, IAEA, IBRD, ICAO, ICCt, ICRM, IDA, IFC, IFRCS, IHO, IMO, IMSO, Interpol, IOC, IOM, IPU, ITU, MIGA, NATO, NIB, NSG, OPCW, OSCE, PCA, Schengen Convention, UNCTAD, UNESCO, UNHCR, UNWTO, UPU, WCO, WIPO, WMO, ESA (cooperating state), ICC (NGOs), ISO (correspondent), ITUC (NGOs), OAS (observer), OIF (observer)
Related Link:

Related Maps: