Coronavirus Pandemic | Live Updates on Covid-19 – Part 1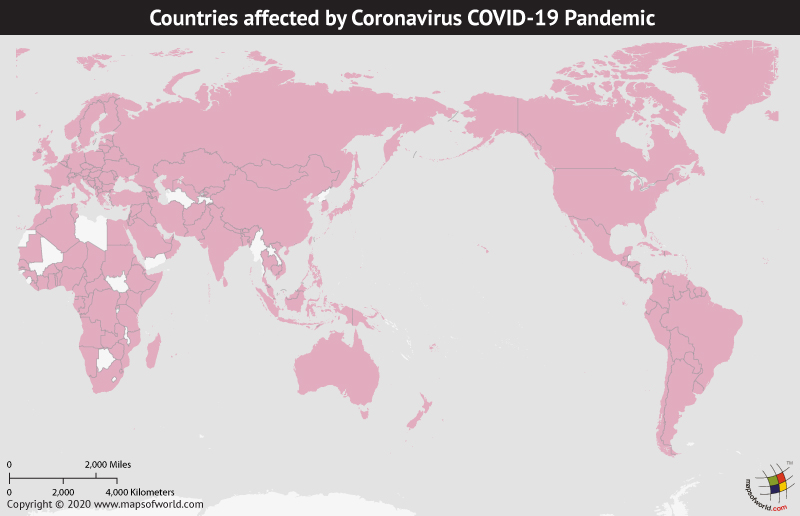 Stay with MapsofWorld for the latest updates on Coronavirus Outbreak / Covid-19
~ Latest Figure Of Death Toll As On March 23, 2020 – 14,762
~ Global Cases As On March 23, 2020 – 342,407
~ Total Cases Of Recovery As On March 23, 2020 – 99,041
 Day-wise map comparison of how the Coronavirus Outbreak is Spreading – click here
New Zealand's PM signals nationwide lockdown within 2 days
March 23, 2020
Jacinda Ardern says the country will go into lockdown in two days as a measure to control the spread of the infection.
Covid-19 cases continue to rise in Germany
March 23, 2020
As on Monday, Germany has reported 22,672 positive cases and 86 fatalities. The national agency for disease control and prevention reports that the average age of the deceased is 82 years old.
South Korea reports lowest number of infections
March 23, 2020
As per the Korea centers for Disease Control and Prevention, the country reports 64 new infections on Sunday which is the lowest daily figure.
Coronavirus cases have rose to 34,000 in the US
March 23, 2020
As per the health tally reports, there are more than 34,354 cases of novel Coronavirus in the United States and at least 414 people have died
Hong Kong to ban all tourists in the city from Wednesday
Authorities have announced that tourists will be banned in the city from Wednesday; which adds that people coming from Taiwan and Macau will also be quarantined
March 23, 2020
Biggest one day surge in Japan
The health ministry reports the biggest surge in the country on Sunday; five deaths in one day and 42 new cases.The country now stands at 49 deaths and 1,801 confirmed cases.
March 23, 2020
All shopping malls and food markets are shut in United Arab Emirates
March 23, 2020
For next two weeks United Arab Emirates closing all commercial centers including malls and food markets as announced by the UAE authorities.
Japan's Prime Minister Considers Postponing Olympics
March 23, 2020
Japanese Prime Minister Shinzo Abe changed his staunch on postponing the 2020 Summer Olympics due to Coronavirs.
Canada will not send athletes to Tokyo Olympics
Canadian Paralympic  Committee (CPC) and the Canadian Olympic Committee (COC) are also calling delay for the game
March 23, 2020
Germany has reported 20% increase in the positive cases of Covid-19 in last 24 hours
March 21, 2020
Volkswagen has shut down its Mexico factories amidst coronavirus outbreak
March 21, 2020
Vietnam to Quarantine Foreign Travellers for 14 Days
March 21, 2020
As per a state run newspaper, Vietnam is to quarantine foreign travellers for 14 days to stop the spread of novel coronavirus.
No New Cases reported from China

March 21

, 2010

The Country's National Health Commission confirms on Friday that the country marked the third day in a row in which no new cases were reported.
Singapore and UAE reported their first fatalities on Saturday
March 21, 2020
A staff member at Pence's office is Covid-19 positive
March 21, 2020
US Vice President Mike Pence's spokesperson confirms a staff member has contracted the novel Coronavirus.
Thailand Reports 89 New Cases on Friday
March 21, 2020
The number is considered country's biggest single-day jump since the pandemic began. The Public Health Ministry confirms the new cases are linked to boxing stadiums. Thailand stand at 411 positive Covid-19 cases now.
More than 250 deaths have been reported in US so far
March 21, 2020
As per reports, nearly 18,763 people have been infected with Covid-19 in the United States and at least 258 people have died.
Coronavirus testing to be limited to priority groups
March 21, 2020
Association of Public Health Laboratories divided suspects into three groups for coronavirus testing such as
1. Healthcare workers and first responders with Covid-19 symptoms.
2. Older Americans with Cooronavirus symptoms.
3. Individuals with prior medical condition would be treated differently if they were infected with Covid-19.
Arizona reports its first death
March 21, 2020
Authorities confirms state's first fatality due to covid-19. The Arizona Department of Health Services said that the 50 year old man had underlying health conditions
Australia tells 2,600 cruise passengers to self-isolate
Australian authorities are tracking down 2,647 passengers who detrained from a Princess  cruise ship after three former passengers and a crew member tested positive of Covid-19
March 20, 2020
YouTube Reducing Streaming Quality in EU and UK
YouTube is reducing streaming quality in European Union and United Kingdom in order to prevent internet gridlock
March 20,2020
United States reports 2,700 new Covid-19 cases over the past 24 hours of time.
March 19, 2020
Officials in the Austrian Province of Tyrol instructed nearly 279 communities to self-quarantine themselves as an extension of lockdown measure.
March 19, 2020
EU is advising Netflix and other streaming platforms to slow down speed to avoid internet from breaking down.
March 19, 2020
Northern Ireland Reports its First Death
The first death has been reported in Northern Ireland by the Department of Health. The authorities said that the patient was "elderly" and had underlying medical condition.
March 19, 2020
Hong Kong is witnessing a resurgence as the Dr. Chuang Shui-Kwan of the Center for Health Protection confirmed 16 new cases which makes the tally 208 in the country.The new cases arrived in Hong Kong from countries like Spain, Italy, UK, and US.
March 19, 2020
ECB announces €750 billion Pandemic Emergency Purchase Programme (PEPP)
March 19, 2020
The Governing Council decided the following:
(1) To launch a new temporary asset purchase programme of private and public sector securities to counter the serious risks to the monetary policy transmission mechanism and the outlook for the euro area posed by the outbreak and escalating diffusion of the coronavirus, COVID-19.
This new Pandemic Emergency Purchase Programme (PEPP) will have an overall envelope of €750 billion. Purchases will be conducted until the end of 2020 and will include all the asset categories eligible under the existing asset purchase programme (APP).
For the purchases of public sector securities, the benchmark allocation across jurisdictions will continue to be the capital key of the national central banks. At the same time, purchases under the new PEPP will be conducted in a flexible manner. This allows for fluctuations in the distribution of purchase flows over time, across asset classes and among jurisdictions.
A waiver of the eligibility requirements for securities issued by the Greek government will be granted for purchases under PEPP.
The Governing Council will terminate net asset purchases under PEPP once it judges that the coronavirus Covid-19 crisis phase is over, but in any case, not before the end of the year.
(2) To expand the range of eligible assets under the corporate sector purchase programme (CSPP) to non-financial commercial paper, making all commercial papers of sufficient credit quality eligible for purchase under CSPP.
(3) To ease the collateral standards by adjusting the main risk parameters of the collateral framework. In particular, we will expand the scope of Additional Credit Claims (ACC) to include claims related to the financing of the corporate sector. This will ensure that counterparties can continue to make full use of the Eurosystem's refinancing operations.
Wuhan reports no new COVID-19 cases after an almost 2-month lockdown
March 19, 2020
Here's is the history:
– 80,928 total cases
– 189 contracted from overseas
– Death toll: 3,245
– Discharged patients: 70,420
How Ivanka Trump is using her time
March 17, 2020
Staying home today with kids?

Plan living room camp out! ⛺️

Throw a bedsheet over some taped together brooms or a rolling rack. Plan a menu & 'pack' sandwiches, salads together… (S'mores optional 😜)

A fun activity that also brings family together for a meal! pic.twitter.com/nhkvPm95zh

— Ivanka Trump (@IvankaTrump) March 17, 2020
Elon Musk on coronavirus pandemic
March 17, 2020
That said, danger of panic still far exceeds danger of corona imo. If we over-allocate medical resources to corona, it will come at expense of treating other illnesses. Track graph at bottom of this page: https://t.co/7nWKjiZyFn

— Elon Musk (@elonmusk) March 17, 2020
All the events canceled in the US
March 17, 2020
NASCAR postpones races: The stock car racing body has postponed races in the national circuits and will hold a full season when it resumes in May.
Kentucky Derby postponed: The Derby will be postponed until September 5. At this point, it's not clear how the postponement may affect the other Triple Crown races.
UFC postpones next three fights: The Ultimate Fighting Championship will postpone its next three events, which were scheduled to take place March 21, March 28 and April 11.
WWE to hold WrestleMania without audience: World Wrestling Entertainment announced it will hold WrestleMania without fans. WrestleMania is WWE's biggest event of the year, and typically draws tens of thousands of fans.
NBA suspends season: The National Basketball Association announced it would suspend its season after a player on the Utah Jazz tested positive for coronavirus.
NCAA pulls plug on March Madness: The National Collegiate Athletic Association canceled its Division I basketball tournament — and the biggest annual event in college basketball — as well as other winter and spring NCAA championships.
MLB calls off spring training: Major League Baseball will cancel its remaining spring training schedule and delay Opening Day — scheduled for March 26 — by at least two weeks.
MLS sidelines games: Major League Soccer will suspend its season for 30 days while it reevaluates the impact of the coronavirus.
US Soccer calls off games: US Soccer canceled games for the Men's and Women's National Teams through April.
NHL suspends season: The National Hockey League said it would suspend its season, effective immediately, and added that it shares locker rooms and facilities with the NBA.
PGA Tour cancels events: The PGA Tour has canceled the Players Championship, and Augusta National Golf Club has postponed the Masters, which was set to tee off on April 9.
Boston Marathon postponed: The Boston Marathon has been postponed until September 14. It was scheduled to take place on April 20.
Venezuela announces nationwide "social quarantine" to contain coronavirus
March 17, 2020
Colorado shuts down public spaces and restricts restaurants from serving food
March 17, 2020
Monaco's state minister tests positive for coronavirus
March 17, 2020
Ohio will close its polls during tomorrow's presidential primary
March 17, 2020
Microsoft closes all stores globally
March 17, 2020
For the safety of our customers and employees, we are closing all global Microsoft Store locations, effective immediately. For help, please visit https://t.co/tzwDaQSY0k. pic.twitter.com/KjMr8TQh3y

— Microsoft Store (@MicrosoftStore) March 17, 2020
Google will delay the rollout of an informational coronavirus website until later this week
March 17, 2020
Texas reports its first death from the coronavirus
March 17, 2020
India to ban travelers from the European Union, UK and Turkey. Also, Afghanistan, the Philippines, Malaysia
March 17, 2020
Fitness centers and gyms start closing across the US
March 17, 2020
Japan's Prime Minister says he has G7 support to hold Olympics in their "complete form"
March 17, 2020
The global death toll has overtaken China's fatalities in coronavirus pandemic
March 17, 2020
Taj Mahal is closing till March 31
March 17, 2020
Hollywood actors Ryan Reynolds and Blake Lively donate $1 million to help food non-profits
March 17, 2020
View this post on Instagram
Pakistan coronavirus cases triple in two days; reports 184 total cases
March 17, 2020
Countries are coming up with ideas to monitor those who are quarantined, Hong Kong is using an electronic wristband and India is stamping on the left hand of quarantined citizens
March 17, 2020
Egypt reports a jump of 50 more cases, with two deaths – the largest single-day spike
March 17, 2020
New Zealand announces $7.3 billion financial support package in view of coronavirus pandemic
March 17, 2020
No new shows this week — stay home, stay safe, and wash your hands! Message from Trevor of The Daily Show
March 17, 2020
The US now has 4,475 cases and 87 deaths
March 17, 2020
Actor Kristofer Hivju, better known for his role as Tormund in the hit television series 'Game of Thrones' has tested positive for the novel coronavirus.
March 17, 2020
Tom Hanks released from hospital after Covid-19 quarantine. However, Hanks' wife Rita Wilson is still undergoing treatment at the hospital.
March 17, 2020
U.S finishes first COVID-19 vaccine trial. Volunteers administered doses in Seattle lab
March 17, 2020
Germany has shut its borders with Austria, Switzerland, France, Luxembourg and Denmark, as the coronavirus spreads across Europe.
March 16, 2020
After SAARC nations conference against coronavirus, French President Emmanuel Macron will be discussing the coronavirus outbreak with German chancellor Angela Merkel, European Council President Charles Michel and President of the European Commission Ursula von der Leyen on Monday at 5 a.m. ET, the Elysee Palace announced.
March 16, 2020
Iranian cleric Ayatollah Hashem Bathaie Golpayegani has died after being infected by the coronavirus, state news agency IRNA said today.
March 16, 2020
Look at what Jack Ma is gifting the US
March 16, 2020
The first shipment of masks and coronavirus test kits to the US is taking off from Shanghai. All the best to our friends in America. 🙏 pic.twitter.com/LTn26gvlOl

— Jack Ma (@JackMa) March 16, 2020
13 Chinese provinces have no active coronavirus cases being treated currently
March 16, 2020
Thirteen provinces in China no longer have any confirmed cases of the novel coronavirus to treat as of 11 a.m. local time, state broadcaster CCTV reported today.
The provinces listed are:
Tibet autonomous regions
Xinjiang autonomous region
Qinghai
Fujian
Anhui
Jiangxi
Shanxi
Hunan
Jiangsu
Chongqing
Guizhou
Jilin
Tianjin municipality
Florida, Alabama and Hawaii see spike in new coronavirus infections
March 16, 2020
Afghanistan will not be celebrating Nowruz
March 14, 2020
Indian Embassy in Italy is helping Indian students and families
March 14, 2020
Was a busy day at the Embassy yesterday with a large number of Indian students and families coming in for testing for COVID19.@DrSJaishankar @MEAIndia @harshvshringla pic.twitter.com/7xlHUsOK2H

— India in Italy (@IndiainItaly) March 14, 2020
Pakistan agrees to attend online conference of SAARC nations initiated by PM Modi
March 14, 2020
The threat of #COVID-19 requires coordinated efforts at global and regional level. We have communicated that SAPM on Health will be available to participate in the video conference of #SAARC member countries on the issue.

— Spokesperson 🇵🇰 MoFA (@ForeignOfficePk) March 13, 2020
Beware of hackers and online scams during coronavirus scams
March 14, 2020
Fake maps
Hackers are spreading malicious websites which contain coronavirus maps that seem authentic, as per findings from cybersecurity firm Reason Labs, reported Tech Radar. Once people open these malicious websites, the malware steals data, including banking information. Refer to authentic maps by our cartographers on MapsofIndia and MapdofWorld.
Coronavirus tax refund
Researchers from cyber-security firm Mimecast shed lights on this scam a few weeks ago, reported BBC. They discovered the scam in the morning and in a few hours, over 200 such cases were found, where internet users were told that they are eligible to get coronavirus refund.
Once a user clicks on "access your funds now", they are taken to a fake government website which asks the users to share their financial and tax information.
Donation to fight
Malware experts at Kaspersky first detected this where hackers send emails citing Center for Disease Control and Prevention (CDC). The mail asks users to donate in bitcoins for developing COVID-19 vaccine. Kaspersky said it detected 513 different files mentioning coronavirus that contain malware.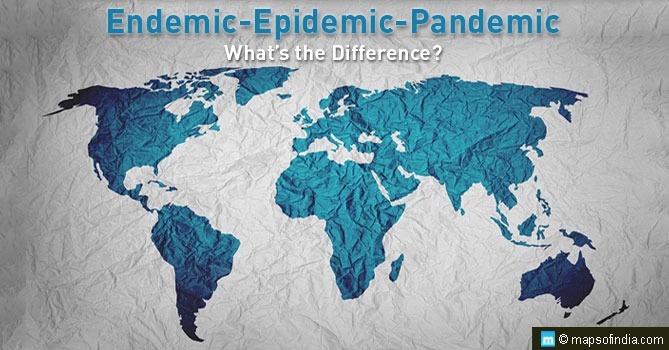 Endemic, Epidemic, and Pandemic: What's the Difference?
March 14, 2020
The question that has yet again sprung up is whether the coronavirus outbreak is epidemic, endemic, or pandemic.
When you are casually using the word epidemic, then it may not require a lot of intricacies. However, when it comes to the public health response, disease prevention, and better control of diseases, knowing the real meaning of the words is very important.
To understand the difference, it is essential to know what they are. Let's first check the etymology of the words to have a clearer idea. Click HERE to read the full story.