Wisconsin Map with Cities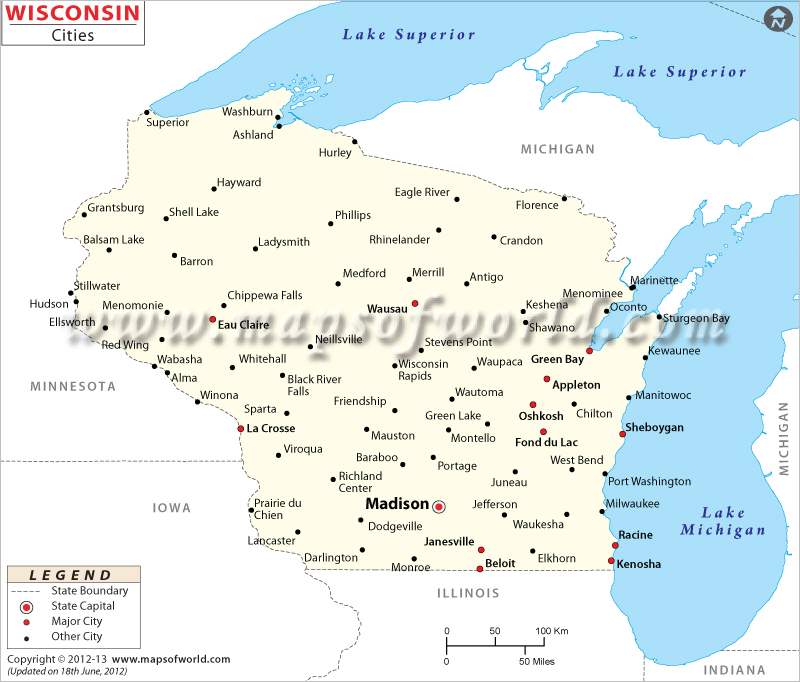 Wisconsin Map with Cities
Learn all about the different cities in Wisconsin with the Wisconsin Map with Cities. This map allows you to explore the various cities of the state of Idaho, making it easier to locate the cities on the map.
Cities in Wisconsin
Wisconsin has a bunch of cities, and each one is special in its own way. Some cities are really busy with lots of exciting things to do, while others are calm and surrounded by beautiful scenes. Wisconsin's cities have something for all kinds of people. Whether you enjoy the lively city buzz, the peacefulness of nature, or the interesting culture in town, you'll find something amazing in Wisconsin's cities. No matter if you love outdoor adventures, enjoy arts and culture, or just want to try local treats, you'll discover your own happy place in Wisconsin's cities.
How Many Cities are in Wisconsin
Wisconsin has a lot of cities – a total of 779, to be exact. Each city adds its own special touch to the mix of things you can do in the state. Whether you like the buzz of big cities or the coziness of small towns, Wisconsin's cities give you many options. The Wisconsin Map with Cities helps you easily find and explore each one.
Largest Cities in Wisconsin
The biggest cities in Wisconsin are like lively centers full of chances for fun and learning. Some of the most important cities in Wisconsin are Milwaukee, Madison, Green Bay, Kenosha, Racine, and Appleton. These cities have cool places to visit, special things to see, and lots of culture. People who live there and people visiting can enjoy many things and have a great time.
Safest Cities in Wisconsin
Some cities in Wisconsin really focus on making sure their residents are safe and happy. They do things to create secure and friendly places to live. Places like Mequon, Muskego, Franklin, Greendale, and New Berlin are known for being some of the safest cities in Wisconsin. They work hard to keep crime rates low and make sure everyone feels really safe. This makes these cities great places for families and people who want to live well.
Best Cities to Live in Wisconsin
Wisconsin has cities where life is really great and there are many good things. Some of the best places to live in Wisconsin are Madison, Milwaukee, Eau Claire, La Crosse, and Green Bay. These cities have good jobs, great schools, and fun things to do. No matter if you love nature, history, or just being in a lively community, these cities have something for everyone. They make sure you have a happy and enjoyable life.
Feel free to explore the Wisconsin Map with Cities, you can find all the cities marked on the map.
List of Cities in Wisconsin
City Name

County Name

Population (2010)

Milwaukee
Milwaukee
Washington
Waukesha
594,833
Madison
Dane
233,209
Green Bay
Brown
104,057
Kenosha
Kenosha
99,218
Racine
Racine
78,860
Appleton
Calumet
Outagamie
Winnebago
72,623
Waukesha
Waukesha
70,718
Oshkosh
Winnebago
66,083
Eau Claire
Chippewa
Eau Claire
65,883
Janesville
Rock
63,575
West Allis
Milwaukee
60,411
La Crosse
La Crosse
51,320
Sheboygan
Sheboygan
49,288
Wauwatosa
Milwaukee
46,396
Fond du Lac
Fond du Lac
43,021
New Berlin
Waukesha
39,584
Wausau
Marathon
39,106
Brookfield
Waukesha
37,920
Beloit
Rock
36,966
Greenfield
Milwaukee
36,720
Franklin
Milwaukee
35,451
Oak Creek
Milwaukee
34,451
Manitowoc
Manitowoc
33,736
West Bend
Washington
31,078
Sun Prairie
Dane
29,364
Superior
Douglas
27,244
Stevens Point
Portage
26,717
Neenah
Winnebago
25,501
Fitchburg
Dane
25,260
Muskego
Waukesha
24,135
Watertown
Dodge
Jefferson
23,861
De Pere
Brown
23,800
Mequon
Ozaukee
23,132
South Milwaukee
Milwaukee
21,156
Marshfield
Marathon Wood
19,118
Wisconsin Rapids
Wood
18,367
Cudahy
Milwaukee
18,267
Onalaska
La Crosse
17,736
Middleton
Dane
17,442
Menasha
Calumet
Winnebago
17,353
Menomonie
Dunn
16,264
Beaver Dam
Dodge
16,243
Oconomowoc
Waukesha
15,712
Kaukauna
Outagamie
15,462
River Falls
Pierce
St. Croix
15,000
Whitewater
Jefferson
Walworth
14,390
Hartford
Dodge
Washington
14,223
Chippewa Falls
Chippewa
13,679
Pewaukee
Waukesha
13,195
Glendale
Milwaukee
12,872
Hudson
St. Croix
12,719
Stoughton
Dane
12,611
Fort Atkinson
Jefferson
12,368
Baraboo
Sauk
12,048
Two Rivers
Manitowoc
11,712
Cedarburg
Ozaukee
11,412
Waupun
Dodge
Fond du Lac
11,340
Port Washington
Ozaukee
11,250
Platteville
Grant
11,224
Marinette
Marinette
10,968
Monroe
Green
10,827
Verona
Dane
10,619
Burlington
Racine
Walworth
10,464
Portage
Columbia
10,324
Elkhorn
Walworth
10,084
Reedsburg
Sauk
10,014
Merrill
Lincoln
9,661
Sparta
Monroe
9,522
St. Francis
Milwaukee
9,365
Shawano
Shawano
9,305
Sturgeon Bay
Door
9,144
Tomah
Monroe
9,093
Delavan
Walworth
8,463
Plymouth
Sheboygan
8,445
Rice Lake
Barron
8,438
New Richmond
St. Croix
8,375
Antigo
Langlade
8,234
Ashland
Ashland Bayfield
8,216
Jefferson
Jefferson
7,973
Rhinelander
Oneida
7,798
Sheboygan Falls
Sheboygan
7,775
Ripon
Fond du Lac
7,733
Lake Geneva
Walworth
7,651
Monona
Dane
7,533
New London
Outagamie
Waupaca
7,295
Delafield
Waukesha
7,085
Altoona
Eau Claire
6,706
Waupaca
Waupaca
6,069
Prairie du Chien
Crawford
5,911
Lake Mills
Jefferson
5,708
Milton
Rock
5,546
Berlin
Green Lake
Waushara
5,524