South Carolina City Maps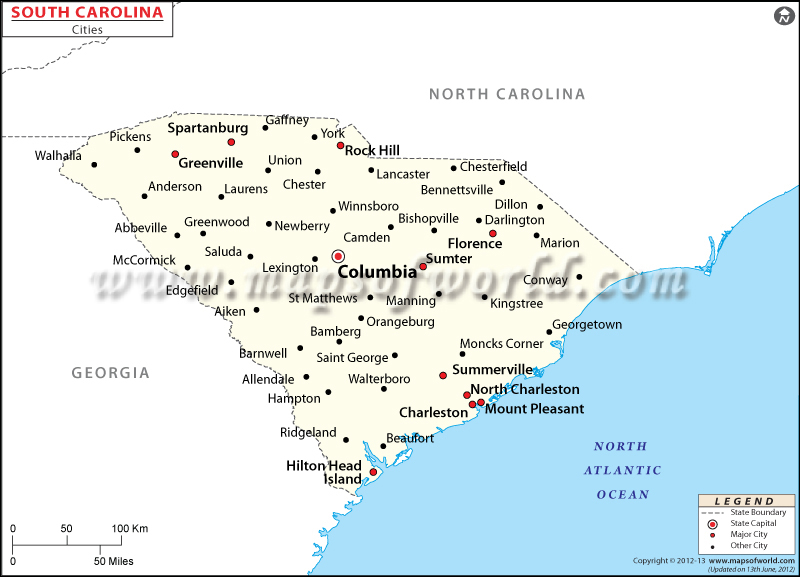 About Cities in South Carolina
Nicknamed 'The Palmetto State', South Carolina is located in the southeastern United States. Be it marshes, tidal flat-lands, or mountains, the state is blessed with unparalleled beauty. From the Pinnacle Mountain to the Myrtle Beach, South Carolina is truly an ideal vacation destination.
The state capital and the largest city is Columbia which features tourist attractions such as Finlay Park, Town Theatre, Columbia Museum of Art, and Richland Library.
Fort Sumter National Monument, where the American Civil War began, near Charleston (the oldest city in South Carolina) is one of the most prominent places to visit in the US. Known for rich history, magnificent harbor vistas, and well-preserved architecture, Charleston emits an uplifting vibe. Cities of Rock Hill and North Charleston host several seasonal events. Greenville and Summerville are other fast-growing cities in South Carolina.
Getting in and Around
Charleston International Airport (CHS), Greenville-Spartanburg International Airport (GSP), and Myrtle Beach International Airport (MYR) are among the busiest airports in the state. Amtrak operates four passenger routes in South Carolina: Crescent, Palmetto, Silver Meteor, and Silver Star. Major interstate highways passing through are I-26, I-95, I-20, and I-85.
List of Cities in South Carolina
| City Name | County Name | Population (2010) |
| --- | --- | --- |
| Taylors | Greenville | 21,617 |
| Wade Hampton | Greenville | 20,622 |
| St. Andrews | Richland | 20,493 |
| Socastee | Horry | 19,952 |
| Seven Oaks | Lexington | 15,144 |
| Berea | Greenville | 14,295 |
| Gantt | Greenville | 14,229 |
| Five Forks | Greenville | 14,140 |
| Dentsville | Richland | 14,062 |
| Ladson | Berkeley Charleston | 13,790 |
| Red Hill | Horry | 13,223 |
| Parker | Greenville | 11,431 |
| Oak Grove | Lexington | 10,291 |
| Red Bank | Lexington | 9,617 |
| Woodfield | Richland | 9,303 |
| Garden City | Horry | 9,209 |
| Little River | Horry | 8,960 |
| Lake Wylie | York | 8,841 |
| Sangaree | Berkeley | 8,220 |
| Boiling Springs | Spartanburg | 8,219 |
| Sans Souci | Greenville | 7,869 |
| Powdersville | Anderson | 7,618 |
| Murrells Inlet | Georgetown | 7,547 |
| Lugoff | Kershaw | 7,434 |
| Burton | Beaufort | 6,976 |
| Welcome | Greenville | 6,668 |
| Centerville | Anderson | 6,586 |
| Valley Falls | Spartanburg | 6,299 |
| Homeland Park | Anderson | 6,296 |
| Laurel Bay | Beaufort | 5,891 |
| Belvedere | Aiken | 5,792 |
| Lake Murray of Richland | Richland | 5,484 |
| Piedmont | Anderson Greenville | 5,103 |
| Brookdale | Orangeburg | 4,873 |
| Forestbrook | Horry | 4,612 |
| Clearwater | Aiken | 4,370 |
| Newport | York | 4,136 |
| Southern Shops | Spartanburg | 3,767 |
| Northlake | Anderson | 3,745 |
| Dunean | Greenville | 3,671 |
| Saxon | Spartanburg | 3,424 |
| India Hook | York | 3,328 |
| North Hartsville | Darlington | 3,251 |
| Lesslie | York | 3,112 |
| East Gaffney | Cherokee | 3,085 |
| Dalzell | Sumter | 3,059 |
| Lakewood | Sumter | 3,032 |
| Hopkins | Richland | 2,882 |
| Gloverville | Aiken | 2,831 |
| Arcadia | Spartanburg | 2,634 |
| Graniteville | Aiken | 2,614 |
| Elgin | Lancaster | 2,607 |
| Alcolu | Clarendon | 429 |
| Springdale | Lancaster | 2,574 |
| Edisto | Orangeburg | 2,559 |
| Arial | Pickens | 2,543 |
| Cherryvale | Sumter | 2,496 |
| Wilkinson Heights | Orangeburg | 2,493 |
| Golden Grove | Greenville | 2,467 |
| South Sumter | Sumter | 2,411 |
| Privateer | Sumter | 2,349 |
| Shell Point | Beaufort | 2,336 |
| Roebuck | Spartanburg | 2,200 |
| Slater-Marietta | Greenville | 2,176 |
| Judson | Greenville | 2,050 |
| Bonneau Beach | Berkeley | 1,929 |
| Winnsboro Mills | Fairfield | 1,898 |
| Monarch Mill | Union | 1,811 |
| Fairforest | Spartanburg | 1,693 |
| Watts Mills | Laurens | 1,635 |
| Gadsden | Richland | 1,632 |
| Wedgefield | Sumter | 1,615 |
| Mayo | Spartanburg | 1,592 |
| Joanna | Laurens | 1,539 |
| Utica | Oconee | 1,489 |
| Eureka Mill | Chester | 1,476 |
| Langley | Aiken | 1,447 |
| Murphys Estates | Edgefield | 1,441 |
| Irwin | Lancaster | 1,405 |
| Stateburg | Sumter | 1,380 |
| City View | Greenville | 1,345 |
| Catawba | York | 1,343 |
| East Sumter | Sumter | 1,343 |
| Tigerville | Greenville | 1,312 |
| Buffalo | Union | 1,266 |
| Warrenville | Aiken | 1,233 |
| Oakland | Sumter | 1,232 |
| Cane Savannah | Sumter | 1,117 |
| Lake Secession | Abbeville | 1,083 |
| Inman Mills | Spartanburg | 1,050 |
| Pinopolis | Berkeley | 948 |
| Gayle Mill | Chester | 913 |
| Wallace | Marlboro | 892 |
| Bucksport | Horry | 876 |
| Startex | Spartanburg | 859 |
| Fair Play | Oconee Anderson | 687 |
| Riverview | York | 681 |
| Enoree | Spartanburg | 665 |
| Lydia | Darlington | 642 |
| Converse | Spartanburg | 608 |
| Clifton | Spartanburg | 541 |
| Mulberry | Sumter | 529 |
| Promised Land | Greenwood | 511 |
| Russellville | Berkeley | 488 |
| Jacksonboro | Colleton | 478 |