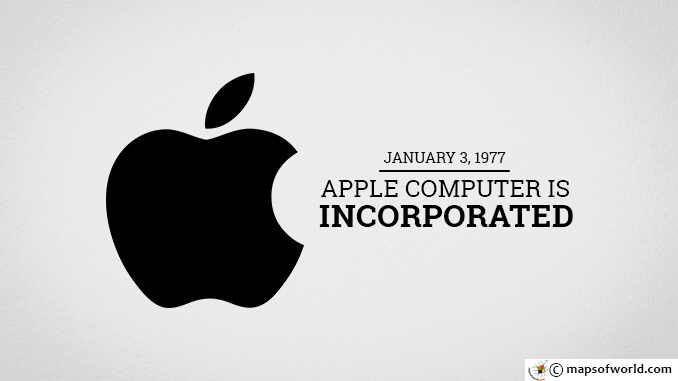 Apple Inc, the largest publicly traded company of the world by market capitalization, with over 72,800 full-time employees and a value of about $415 billion (March 2013) was incorporated as Apple Computer, Inc. by Steve Jobs, Steve Wozniak, and Ronald Wayne on January 3, 1977 . At the age of 20, living in his parents' place in Los Altos, California, college dropout Steve Jobs spent most of his time in his parents' garage with his friends "Woz" and Wayne. Here, they founded Apple Computer on April 1, 1976 and lay the foundation for Apple's revolutionary approach to personal computing. While Jobs and Woz were to see Apple through the heady days of success, Wayne sold his Apple shares for $800 three months after its inception.
"I found what I loved to do early in life. Woz and I started Apple in my parents' garage when I was 20. We worked hard, and in 10 years Apple had grown from just the two of us in a garage into a $2 billion company with over 4,000 employees.", said Steve Jobs about the origin of Apple Inc.
The original Apple I microcomputer was a do-it-yourself kit sold in 1976 for about $666. Even so it was far ahead of any of the other computers sold at the oldest computer store – the Byte Shop. Apple grew as a path-breaking computer manufacturer in the decade that followed. In January 1984, Steve Jobs introduced the Macintosh – the earliest computer that was within reach of an ordinary user and which offered a graphical user interface. The Mac's Superbowl ad made news and grew the brand further. By 1985 Apple Inc. had grown to be a 4,000+ strong organization.
Jobs, by then, had grown into an unstoppable force. Keen on implementing his ideas irrespective of the consequences, Jobs antagonized many on the Apple board including former Pepsi President John Sculley who had joined Apple. A predictable power struggle ensued and the Apple board of directors decided to side with Sculley. Steve found himself out of the organization he had founded and resigned from Apple.
By 1987, Apple introduced Mac II – it seemed for a while that Apple would rule the roost in personal computers but this was not to be. In 1991, Apple released its first generation of PowerBooks but Sculley had started to lose interest in Apple and was replaced by Michael Spindler in 1993. All attempts at profitability, however, seemed futile and Gil Amelio became the next CEO. In 1996, Apple announced the acquisition of NeXT, an organization set up by Steve Jobs after he left Apple for US $429 million. Steve returned to Apple and the following year he became the CEO.
Jobs remained the CEO of Apple Inc. till his abdication in 2011. Apart from being a persuasive salesman and an enterprising visionary, Jobs remained among the leading entrepreneurs of the century. His presence breathed new life into Apple. He announced an almost new board and also worked on a 5-year patent cross-license with Microsoft, traditionally considered an ace competitor of Apple.
From 1998 on Jobs went on to multiply the profitability of Apple thus sending the stocks soaring. In 2001, Apple launched the first Apple Store and subsequently added to its retail line. The success of these stores was quite phenomenal. The same year, Apple announced its first non-computer product in many years – the iPod. But it was not till 2003 that the iPod took off with the launch of iTunes. The iTunes Music Store came to hold a 70% market share in the field of legal online music download services. Between 2003 and 2006, Apple's stock rose from about $6 per share to over $80. Jobs' phenomenal vision and insight into consumer electronics needs translated into the launch of the iMac, the iPhone, and the iPad – each quickly becoming essential belongings worldwide. Despite his health concerns Steve was actively involved with Apple Inc. and actively led the Worldwide Developers Conference of 2006 and 2008. By 2007, Apple Computer Inc. dropped "Computer" from its name, reflecting a shift in the organization's focus towards consumer electronics.
In January 2011, Jobs went on an indefinite leave of absence to manage his health. Despite his struggle with cancer, Steve attended the launch of the iPad 2 in March 2011 and the Worldwide Developers Conference of 2011. In August 2011, Steve resigned as the CEO of Apple. Tim Cook who had overseen operations in Steve's absence took over. Following Job's death as well, Apple has been growing at a steady pace and is claiming its place as one of the most successful technology majors of the world.
Apple Inc. is currently the world's second largest information technology company in terms of the revenue it generates. From 2008 to 2012, it has been the most admired company in the world. Apple Inc now owns 408 retail stores in 14 countries of the world, apart from the online Apple Store and iTunes Store. According to the Omnicom Group's "Best Global Brands", Apple is now the world's most valuable brand and is among the top ten Fortune 500 companies.