French Polynesia Map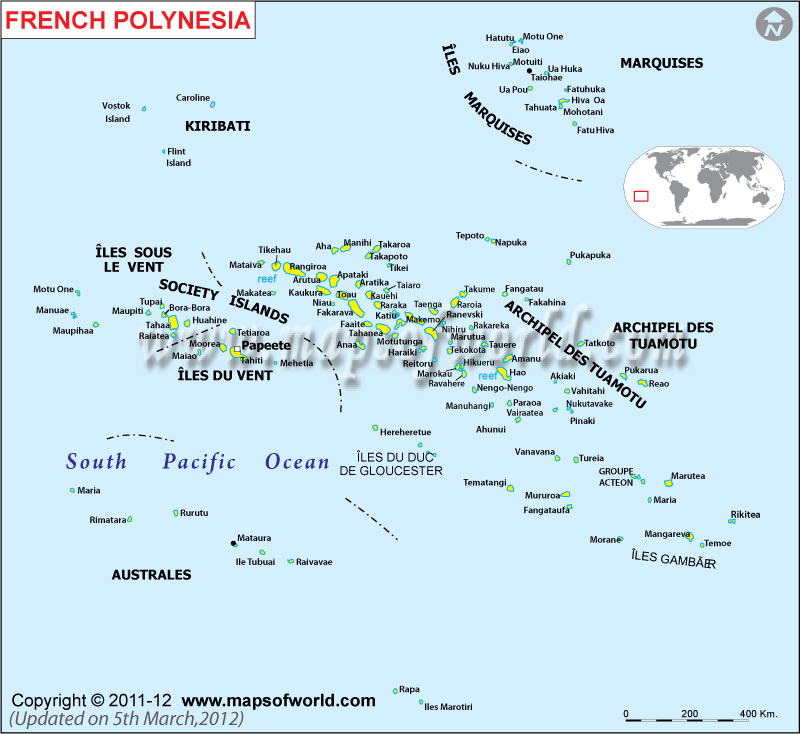 About French Polynesia
Explore this French Polynesia map to learn everything you want to know about this country. Learn about French Polynesia location on the world map, official symbol, flag, geography, climate, postal/area/zip codes, time zones, etc. Check out French Polynesia history, significant states, provinces/districts, & cities, most popular travel destinations and attractions, the capital city's location, facts and trivia, and many more.
| | |
| --- | --- |
| Full name: | French Polynesia. |
| Capital City: | Pape'ete. |
| Language: | French |
| Currency: | Tahitian, French and English. |
| Religion: | Protestant Catholic, Mormon, Seventh-day Adventist, Buddhist, and Confucianist. |
| National Anthem: | La Marseillaise. |
| Newspaper: | Tahiti Beach Press, La Dépêche de Tahiti and Les Nouvelles. |
| Places to Visit: | Bora Bora Island, Papeete, Rangiroa, Cathedral of St Michael, Fare Potee, Hiva Oa, Musée de Tahiti et des Îsles, Point Vénus, Gauguin Museum and many others. |
| Transport: | Travel by air with Qantas, Air New Zealand, Air France, Hawaiian Air, AOM French Airways, Corsair that fly from United States to Tahiti. The international flights reside at Faaa Airport in Papeete. Cruise ships are also available for travelling. |
| Shopping: | Marquesan woodcarvings, shell jewelry, Tahitian perfumes, Monoi Tiare Tahiti (coconut oil made of Tahiti's national flower), vanilla beans, Black pearls, and pareu fabric. |
Rejuvenate your senses while you come across the wonderful expanses of nature in the serene land of French Polynesia.
Take a spectacular tour to the to the lagoons of Rangiroa or scuba dive in the magnificent lagoon beaming with beautiful tropical fishes.
Experience the swank flavours of the French culture well blended with the South Pacific appeal as one desires to travel here.
Location Of French Polynesia
The French Polynesia, an overseas country is nestled in the southern region of Pacific Ocean placed about halfway in the midst of Australia and America.
Physical Map Of French Polynesia
French Polynesia covers about a total land area of 4,167 square kilometers. It is made up of several groups of islands, the largest and most populated of which is Tahiti. The place is comprised of one coral atoll and four volcanic islands that are surrounded with coral reefs from all over.
The volcanic Islands that emit lava while ascending above the sea level can be separated into two major parts:
Windward islands (Made of islands like Tahiti, Moorea, Maiao, Mehetia, Tetiaroa)
Leeward islands. (Made of Raiatea (the largest), Bora Bora, Maupiti, Huahine, and Tahaa islands)
The islands that are placed here are:
•  Austral Islands
•  Bass Islands
•  Gambier Islands
•  Marquesas Islands (9 islands without any coral reef)
•  Society Islands (which includes Tahiti)
•  Tuamotu Archipelago (80 islands wherein half still remains isolated)
The relative islands within this region are Ahe, Bora Bora, Hiva `Oa, Huahine, Maiao, Maupiti, Mehetia, Moorea, Nuku Hiva, Raiatea, Tahaa, Tetiaroa, Tubuai, and Tupai.
The flag of French Polynesia was officially accepted during the year 1984. The flag is designed with the color red and white well chosen from the Tahitian flags. The beautifully designed pirogue is placed in the center of the illustrated emblem that denotes the sun and the sea, which has its resemblance with other flags in the region. Five figures within the flag denote the major islands located in this region.
Climate Of French Polynesia
French Polynesia enjoys a tropical kind of weather condition being sunny and pleasant throughout the year. The Climate becomes cooler with gentle breezes flowing from the Pacific.
There are two seasons affecting the region:
•  The weather is sultry and humid, during November to May with about 85 degrees F temperature.
•  The weather is dry and cooler during the month of June to October with about 82 degrees F temperature.
The place experiences slight amount of down pouring during the warmer season along with trade winds that make the weather aptly romantic.
But in the case of Tahiti and the other relative island associated with the place is affected with reverse climatic condition while being placed below the Equator.
Flora And Fauna Of French Polynesia
Among the vivid French Polynesian flora that are presently located here it was the ancient travelers who came across these scenic beauty by chance, They discovered the Tiare Tahiti or the Gardenia taitensis species which is popularly known as the national flower of of this region. The fern named maire even typifies Tahiti at present. With the help of these flowers Polynesians make necklaces or head-crowns that are used during the local ceremonies .
The trees that are grown here include Coconut palms, the pandanus palm, kapok, ironwood, Australian pine, giant bamboo, Tahitian chestnut. Names of Flowering plants that are found here in abundance include hibiscus, gardenia, oleander, frangipani, bougainvillea, poinsettia, heliconias, bird of paradise, ginger, and many others.
Among the sea life mention can be made of the tiger-sharks, Manta rays, giant turtles, Gray sharks, whales and dolphins that are cozily situated here. There are about 90 different variety of bird species seen in French Polynesia. Itatae (white tern) or hopping Indian mynah bird are some among them that find a cozy habitat in this location.
People Of French Polynesia
The people of Tahitians greet one another with the word Good day, which is spelled as Bonjour in their native language. The people do not like to shake hands with each and every one in any kind of small gathering. The Tahitian way of welcoming a guest can be spelled as Ia orana as per their local language. Local people believe in joie de vivre, which means joy of life, as one would notice in their lifestyle. One is expected to take off their shoes while visiting a guest's house.
The people love socializing and partying around and are known for their hospitality and kindliness behavior. The population constitutes of races coming from Maohi (Maori), Europeans, Asians and others. French is locally spoken while English is widely accepted.
Arts, Culture And Music Of French Polynesia
Art: Petroglyphs gained wide popularity in this region as a graphical art form that denoted a noble character. One would even come across the wooden or stone human figured statuettes, which was known as ti'i or tiki in the Marquesan language this place.
Music: The Tahitian Choir's recording, which came in the form of himene tarava, recorded by Pascal Nabet-Meyer became a massive hit in the region and initiated the origin of music within the land of French Polynesia. The native people indulge in dancing whatsoever maybe the cause. Be it just for enjoyment or be it defying their enemy, be it celebrating one's victory or be it engaging oneself just for a festive cause, dancing has been a major aspect of Polynesian society. Otea is considered as a dance celebrated by the local men whereas upa upa is usually taken part by a couple. Arioi is their major professional group who perform during a particular celebration that is held in this region. Hawaiian and Spaniards brought about stringed instruments during the period of 17 th century like the pu, a conch shell that was used for delivering a particular announcement. Vivo is a nose flute, which was used during a particular function that was accompanied with the native song and dance.
Culture: Family bonding is considered as a supreme factor in the Polynesian culture. Children are the sole possession who shares affection with their grandparents. The people indulge in recreational activities like soccer, canoe races, surfing, wrestling, boxing, javelin throw and archery.
Economy Of French Polynesia
The economic growth of French Polynesia largely depends on commodities that are imported within the region, from tourism and from the financial aid delivered by France.
People presently have engaged themselves in agricultural industry pertaining to noni fruits, which is utilized in making medicines. Coconut, vanilla, vegetables and fruits are some of the commodities that are mainly cultivated here.
The natural resources of this region are timber, fish, cobalt. The black Tahitian pearls are the major source of revenue income within the country. The commodities that are exported include: cultured pearls, coconut products, mother-of-pearl, vanilla, shark meat and other goods.
The commodities that are imported include: fuels, foodstuffs, equipment and much more.
Stay connected at Mapsofworld for all relevant information about the French Polynesia Island.