North Carolina City Maps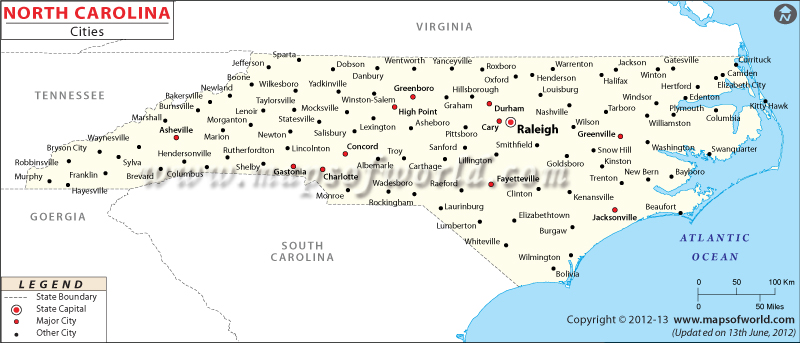 North Carolina, located in the southeastern United States, is the 28th most extensive state. It is the 9th most populous state in the United States. Charlotte is the most populous city in the state. As per a 2016 estimate, Charlotte had a population of 842,051 residents. Raleigh, the seat of Wake County, is the second most populous city in the state. It had a population of 458,880 residents as of 2016. Greensboro is the third largest city, with a population of 287,027 people. North Carolina cities with more than 100,000 people are Durham, Winston-Salem, Fayetteville, Cary, Wilmington, and High Point. Leland, a town in Brunswick County, is the least populous, with an estimated population of 18,843 people as of 2016.
Cities in North Carolina
Nicknamed the 'Old North State, North Carolina is located in the southeastern United States. The state is known for pristine beaches, delicious barbeque, high-end pottery, and prestigious universities.
Also called the 'Queen City, Charlotte is the largest in the state. The Harvey B. Gantt Center for African American Arts + Culture, Bechtler Museum of Modern Art, Carolinas Aviation Museum, Freedom Park, Discovery Place, and NASCAR Hall of Fame are major tourist attractions in Charlotte. Known for its abundance of oak trees, Raleigh is the state capital of North Carolina, and Asheville is the largest city in western North Carolina.
Wilmington, a port city, is famous for its historic downtown and a mile-long Riverwalk. Durham, Greensboro, Fayetteville, and Greenville are other significant cities in North Carolina worth visiting.
Getting In and Around
Charlotte Douglas International Airport (CLT) and Raleigh–Durham International Airport (RDU) are the international gateways to the state. Amtrak trains Silver Star, Carolinian, Palmetto, and Piedmont, serving the major cities in the state. Interstate highways (I-40, I-85, I-95, and I-77) and state highways (NC 24, NC 87, NC 42, and NC 903) traverse the state.
List of Cities in North Carolina
| City Name | Population (2011) |
| --- | --- |
| Albemarle | 15,903 |
| Asheboro | 25,012 |
| Asheville | 83,393 |
| Burlington | 49,963 |
| Charlotte | 731,424 |
| Concord | 79,066 |
| Durham | 228,330 |
| Eden | 15,527 |
| Elizabeth City | 18,683 |
| Fayetteville | 200,564 |
| Gastonia | 71,741 |
| Goldsboro | 36,437 |
| Greensboro | 269,666 |
| Greenville | 84,554 |
| Havelock | 20,735 |
| Henderson | 15,368 |
| Hickory | 40,010 |
| High Point | 104,371 |
| Jacksonville | 70,145 |
| Kannapolis | 42,625 |
| Kinston | 21,677 |
| Laurinburg | 15,962 |
| Lenoir | 18,228 |
| Lexington | 18,931 |
| Lumberton | 21,542 |
| Monroe | 32,797 |
| Morganton | 16,918 |
| New Bern | 29,524 |
| Raleigh | 403,892 |
| Roanoke Rapids | 15,754 |
| Rocky Mount | 57,477 |
| Salisbury | 33,662 |
| Sanford | 28,094 |
| Shelby | 20,323 |
| Statesville | 24,532 |
| Thomasville | 26,757 |
| Wilmington | 106,476 |
| Wilson | 49,167 |
| Winston-Salem | 229,617 |