Tanzania City Map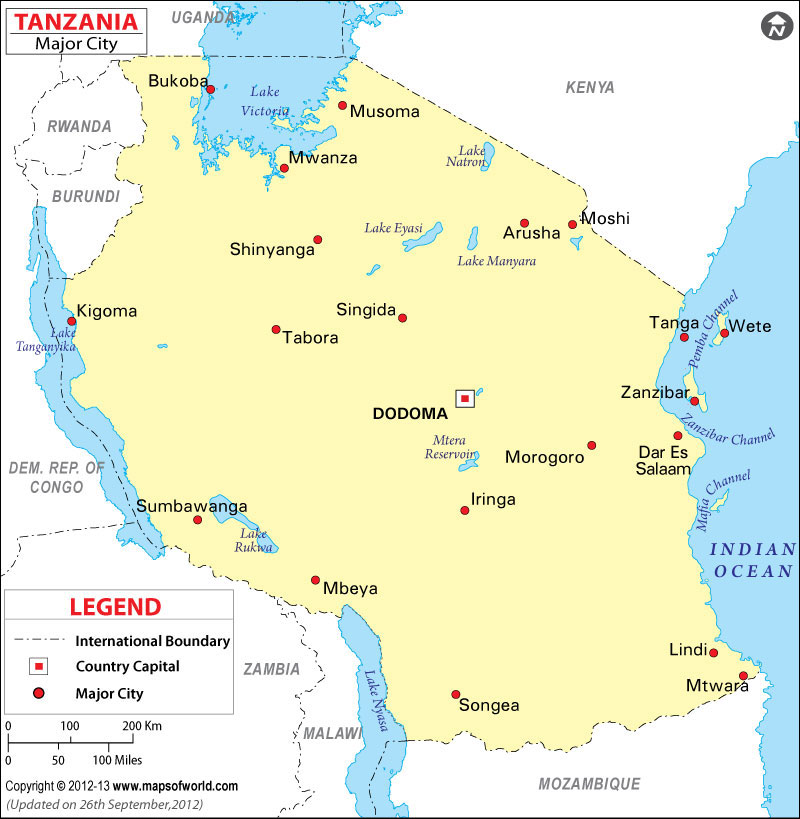 Tanzania cities form an integral part of the economy of Tanzania. There are a total of 28 cities in Tanzania. All these cities have made the Tanzanian economy richer.
Some of the cities of Tanzania have made a mark in the international market for their commercial as well as social significance. The locations of many Tanzania cities have made them a popular tourist hub also.
Zanzibar is considered to be one of the most important cities of Tanzania. The city is located at a distance of 36 kilometers from the mainland of Tanzania. Zanzibar is also known as the stone town of Tanzania.
Apart from Zanzibar, there are other important Tanzania cities also in the African country. Dar-es Salam is another vital city in Tanzania. It was the capital of Tanzania but the city of Dodoma became the country's capital in the year 1973 replacing Dar es Salam. Today Dodoma is the political city in Tanzania, with all the important government offices and departments in the city.
Arusha is another vital city in Tanzania, rich in natural beauty. The city is also home to several renowned national parks and sanctuaries.
All the cities in Tanzania have some special features, which are typical of the city. Almost all Tanzania cities have developed themselves both industrially and culturally, but maintain an eco-friendly atmosphere despite all the developments.
| | | |
| --- | --- | --- |
| | Famous Cities to Visit in Tanzania | |
class="table_right_corner"
| City Name | Population |
| --- | --- |
| Dar es Salaam | 2 698 652 |
| Mwanza | 436 801 |
| Zanzibar City | 403 658 |
| Arusha | 341 136 |
| Mbeya | 291 649 |
| Morogoro | 250 902 |
| Tanga | 224 876 |
| Dodoma | 180 541 |
| Kigoma | 164 268 |
| Moshi, Kilimanjaro | 156 959 |