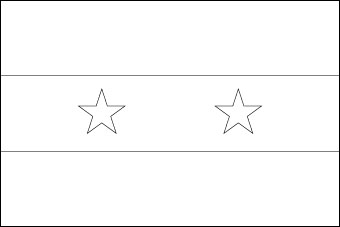 Download Picture of Syria Flag Outline for kids to color
Syrian Flag Description
The flag of Syria is divided horizontally into three equal bands of red, white, and black from top to bottom. Across the center white stripe are two green five-pointed stars, spaced evenly in the center.
The Syrian flag incorporates the four pan-Arab colors, which represent the various dynasties that ruled the region in history. The combination of colors was first used to represent the region during the 1916 Arab Revolt.
The red symbolizes the Khawarij, an Islamic group of the seventh century, whose flag was red. The red also symbolizes the Hashemites. The white represents the Umayyad Dynasty, who used white as their color of mourning. The Umayyads Caliphate lasted from 661 to 750. Black symbolizes the Prophet Mohammad as well as the Abbasid Caliphate. The green, which is less prominent on the Syrian flag than on many other Arabic nations, represents the Fatimid Caliphate. Another set of meanings are ascribed to the colors in Syria's flag: red for the sacrifices made in the fight for freedom, white for peace, black for Syria's colonial history.
Syrian Flag History
The current flag of Syria was first adopted in 1958 when the United Arab Republic was formed, and when the union dissolved in 1961, the flag was no longer used. Later, on March 30, 1980, this flag was again adopted by Syria to represent the country's commitment to the Arab world.
| | |
| --- | --- |
| National symbol(s): | hawk |
| National colors: | red, white, black, green |
| National anthem: | |
| Name: | "Humat ad-Diyar" (Guardians of the Homeland) |
| Lyrics/Music: | Khalil Mardam BEY/Mohammad Salim FLAYFEL and Ahmad Salim FLAYFEL |
| Country | Syria, Syrian Arab Republic |
| --- | --- |
| Designed by | NA |
| Adopted | 22 February 1958, abandoned on 28 September 1961; readopted on 30 March 1980 |
| Revision | NA |
| Design and Colors | A horizontal tricolour of red, white, and black; charged with two green stars at the centre. |
| Size Ratio | 2:3 |