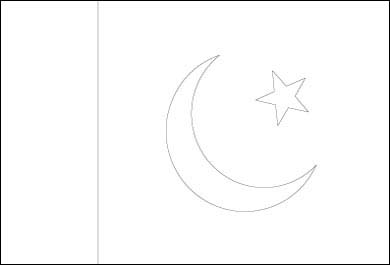 Download Picture of Pakistan Flag Outline for kids to color
Pakistan Flag Description
The flag of Pakistan is known by the name Parcham-e-Sitāra-o-Hilāl, meaning the flag of the crescent and star. The flag is dark green, with a vertical white bar taking up a quarter of the flag on the hoist side. A white crescent moon and five-pointed star are centered on the green field.
The flag of Pakistan closely resembles the flag of the political party, the All-Indian Muslim League, which consists of the same green field, moon, and star as the flag of Pakistan, without the white stripe.
The white stripe represents the non-Muslim, religious minorities of Pakistan. The dark green color represents the Islamic religion, and the celestial symbols on the flag of Pakistan are meant to represent progress, light, and knowledge.
History of Pakistan's Flag
The region that is now Pakistan became part of the Dominion of Pakistan after the partition of India divided the land into India and Pakistan. The Dominion of Pakistan was the Muslim-majority region, adopting its flag based on the Muslim League flag upon independence. The Muslim League's flag was based on flags from early in India's history. Pakistan's leaders had the flag designed and modeled after the political party's flag to represent the new independent nation and its connection to the Muslim League.
| | |
| --- | --- |
| National symbol(s): | star and crescent, jasmine |
| National colors: | green, white |
| National anthem: | |
| Name: | "Qaumi Tarana" (National Anthem) |
| Lyrics/Music: | Abu-Al-Asar Hafeez JULLANDHURI/Ahmed Ghulamali CHAGLA |
| Country | Pakistan |
| --- | --- |
| Designed by | Amiruddin Kidwai |
| Adopted | 11. August 1947 |
| Revision | NA |
| Design and Colors | A white star and crescent on a dark green field, with a vertical white stripe at the hoist |
| Size Ratio | 2:3 |